On June 30, China Broadcast Network Digital Empowerment Conference was held in Beijing under the guidance of the National Radio and Television Administration, hosted by CHINA MEDIA GROUP. Yang Xiaowei, member of the Party Group and deputy director of the National Radio and Television Administration, Zhao Zhiguo, chief engineer of the Ministry of Industry and Information Technology, Gao Tongqing, member of the Party Group and deputy general manager of China Mobile and others attended the meeting and delivered speeches. Song Qizhu, chairman of China Broadcast Network, delivered a keynote speech. Gao Nianshu, executive director and CEO of AsiaInfo, and Liang Bin, senior vice president of AsiaInfo, were invited to attend the meeting. Gao Nianshu delivered a keynote speech on Building a "Wide" Ecology with "Info" Digital Intelligence.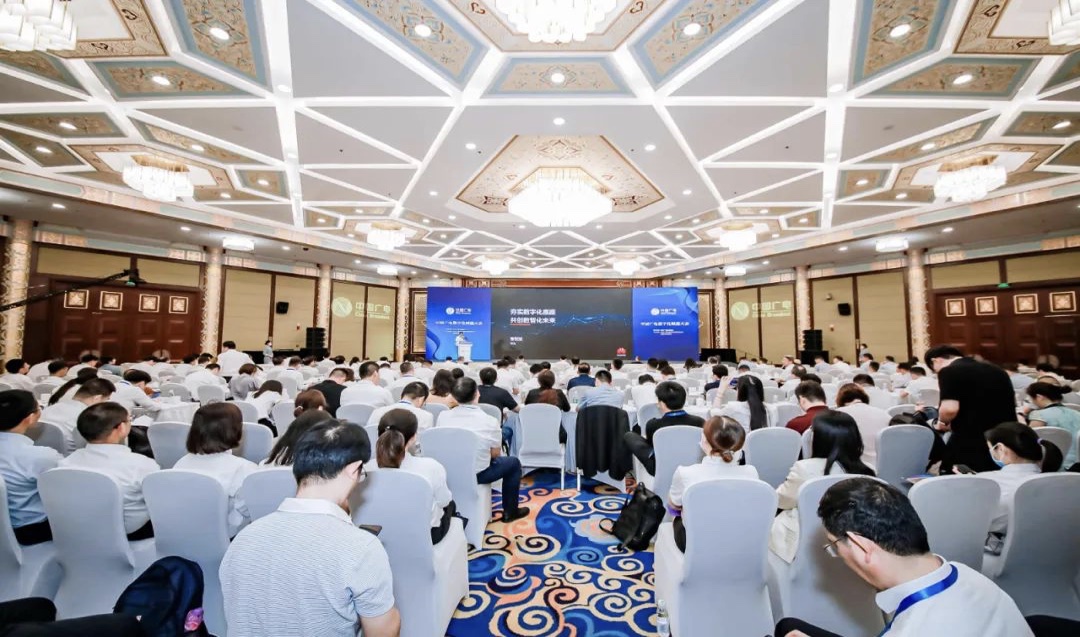 Figure: Scene of Conference
Gao Nianshu said that China is in a critical period of Digital transformation. The Overall Layout Plan for Digital China Construction issued by the CPC Central Committee and the State Council pointed out that it is necessary to consolidate the foundation of digital China construction and empower economic and social development in an all-around way. China Broadcast Network is born in response to the strategy of national cyber development and tri-networks integration. As a large central cultural enterprise that promotes the integration of "media, information and technology" and the fourth largest communication operator, it continues to speed up the construction and integration of 5G network, fixed-line network, Internet work, broadcasting, and television network and develops new business type of "network +audio-visual", which has become the main force in the construction of digital China.
Figure: Gao Nianshu Delivered A Speech
In 2022, AsiaInfo reached strategic cooperation with China Broadcast Network, to assist China broadcasting and television in promoting the construction and operation of IT systems, business expansion of vertical industries, cloud network integration, and digital operation and collaborate with China Broadcast Network to implement the development strategy of "cable+wireless+satellite+international communication+content". During the construction of China Broadcast Network 5G business centralized support system, under the guidance of leaders at all levels, AsiaInfo quickly set up teams of business support systems, electronic channels, customer service, big data, and other projects, which strongly supported the commercial use of China Broadcast Network 5G business and the number release of 31 provinces and cities.
Gao Nianshu stated that AsiaInfo had developed three major product systems with advanced technology, security, and credibility, namely "digital intelligence", "cloud network," and "IT"; formed a mature, reliable, and systematic mechanism for the implementation and delivery of major projects, and it actively participated in international and domestic industry activities and standard formulation, joined hands with partners from all walks of life to continuously promote the ecological coordination of "industry, teaching, research and application", In fields such as 5G/6G, achieving fruitful results in 5G/6G, computing power network, AIGC, and other fields. In addition, AsiaInfo, among others, took the lead in putting forward the digital intelligence operation mode of DSaaS, which is based on a unified digital product base and combined with big data, AI, and other capabilities to help enterprises build a sophisticated operating system. It has formed business advantages of "excellent product, strong service, and good operation".
Figure: Presentation PowerPoint
At present, AsiaInfo has reached in-depth cooperation with China Broadcast Network on the 700M spectrum of the 5G private network, and the two sides will give full play to the advantages of 700M coverage and low cost, relying on the 5G private network to empower digital transformation in government affairs, energy sources, transportation, finance, education, manufacturing, mining, and other fields.
Gao Nianshu expressed that AsiaInfo will give full play to its advantages of "leading both product and service" to provide China Broadcast Network with customers' full life circle operation service such as "new acquisition, promotion, improvement and retention" into C; In terms of To B, it provides comprehensive consultation and planning, business support, operation and maintenance service, jointly expands the vertical industry market, to help China Broadcast Network to accelerate the construction of a new pattern of full-business operation, becoming a leader in the construction of digital China.
On the occasion of the first anniversary of the 5G release, Gao Nianshu sends his best wishes to China Broadcast Network. Relying on the leading product and high-quality service, AsiaInfo will "maintain integrity, innovate and work together" with China Broadcast Network, jointly build a prosperous business ecology of "Broadcasting and Television +Communication" to promote the integrated development of digital technology and the real economy in China, jointly supporting the construction of digital China.