On April 17, 1993, several students studying in the United States, including Ding Jian, and I had founded AsiaInfo in Texas. It's been exactly 30 years since then.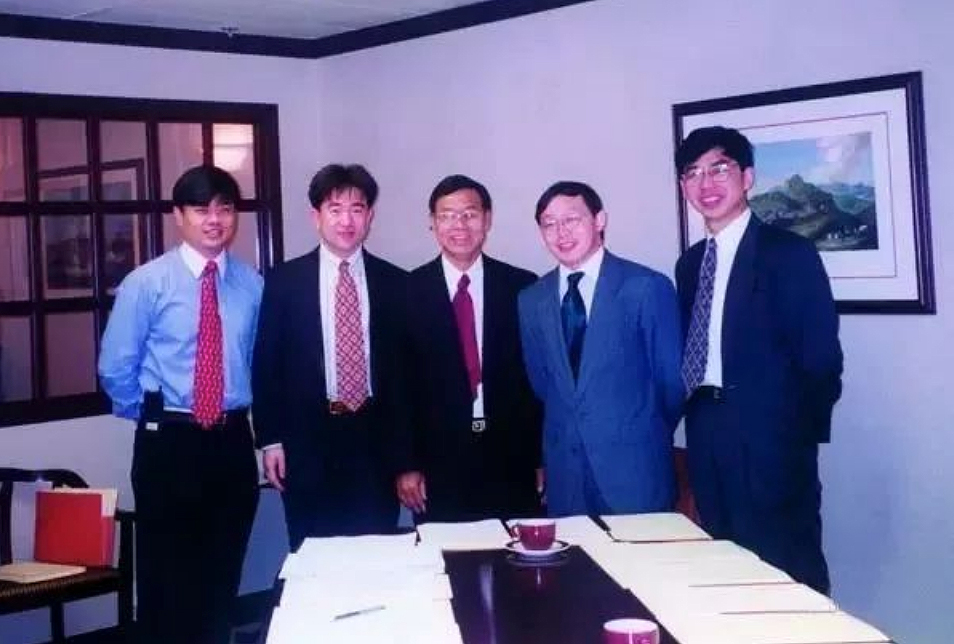 Figure: Group Photo of Key Personnel at the Initial Stage of AsiaInfo
The Analects of Confucius said: "at thirty, I stood firm", which means a man should be independent at the age of thirty.

For a human being, thirty-year-old means that this man or woman has not only touched the peak of youth, but also climbed on the ladder of maturity.
For an enterprise, it has been confronting various and complex environments every day since its establishment. As the external environments rapidly changed, and the technological trends updated with fast speed, I wonder whether we can stay firm in our mission? Whether we have been pursuing an appropriate strategy? Whether we have been conducting scientific management? Whether our services have been up to standards? ......
Any one of the sections would become a crucial winning hand for an enterprise. Especially in the field of ICT without constancy.
Fortunately, AsiaInfo has gone through 30 years of winds and rains and grown up into an enterprise with a certain accumulation and scale.
Over the past 30 years, we have sticked to the original aspiration of revitalizing China, and kept up with the path of Chinese-style modernization; Over the past 30 years, we have always adhered to the concept of technological innovation and embraced all new technologies to benefit our customers; Over the past 30 years, we have insisted on the path of scientific management, strived hard, forged ahead, and made constant progress in our business operations.
History of Resurgence: Get the Beat, It's Time to Ride the Tide
In early 1990s, the US government's "National Information Infrastructure (NII)" triggered a craze of global information construction. At that time, I was pursuing a doctoral degree at Texas Tech University. I realized that information technology would bring earthshaking changes to the economy, society, and even human civilization. "China should not get a bad start in this field", with such a simple consciousness, Ding Jian and I set up AsiaInfo on April 17, 1993. In the same year, we published "The Meaning of the US National Information Infrastructure for China's Modernization" in Guangming Daily, explaining the relationship between NII and national rejuvenation and the development of the information industry.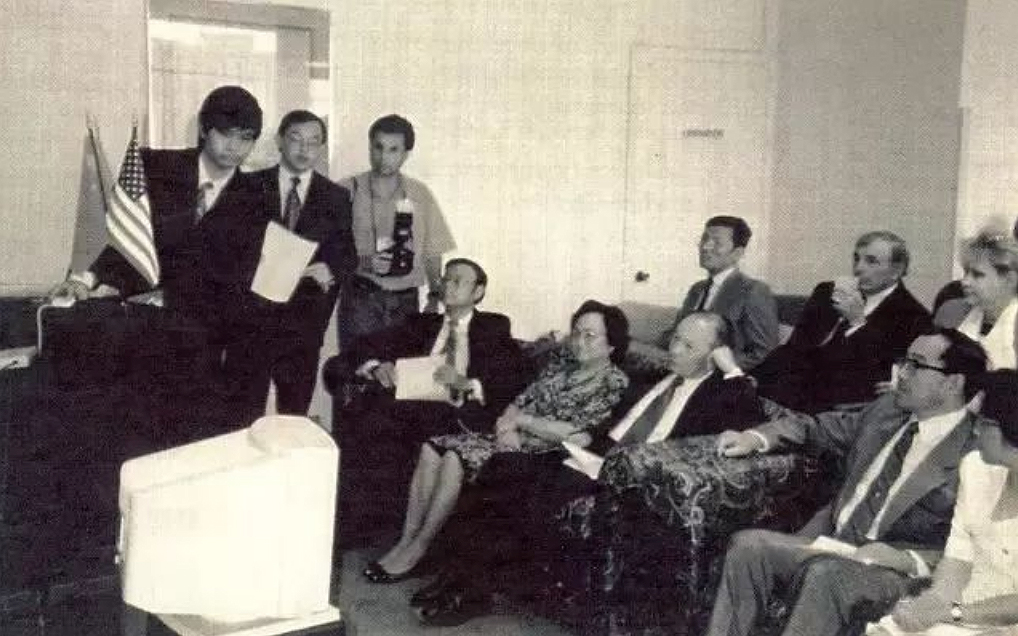 Figure: Communication between Tian Suning, Ding Jian and Mr. Li Daoyu, the Ambassador to the United States at that Time, and Others
Then, we successively undertook the construction of ChinaNet, the first commercial Internet backbone network, and several national backbone network construction projects. At the moment when the 64K Internet connection was activated, we were filled with longing for the Chinese internet and the next 30 years it has brought up. We have proved our commitment of "bringing the Internet back to China", and are therefore known as the "Internet Constructor of China" in the industry.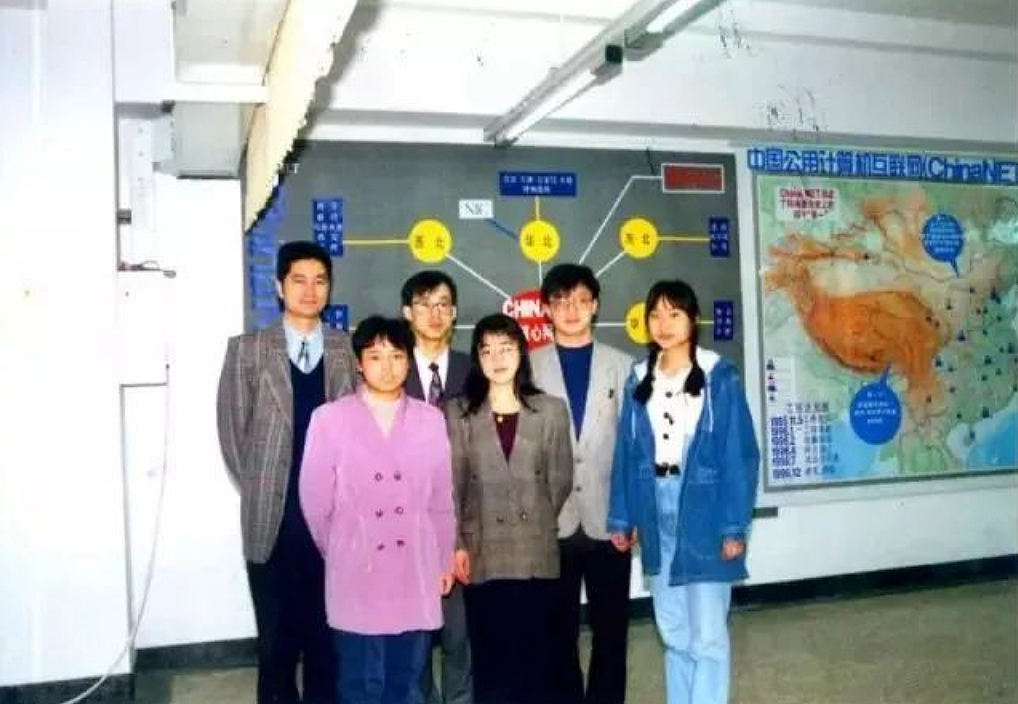 Figure: Group Photo of AsiaInfo's Employees in Front of Backbone Network
Over the past thirty years, mobile communication, as an infrastructure, has been upgraded and iterated from 1G to 5G, not only facilitating people's communication, but also leading and promoting the times changes from "telecommunication" to "consumer-oriented internet", and then to industrial internet. Since its inception, communication operators in China have paid special attention to the comprehensive application of Information and Communication Technology (ICT) to serve customers and promote socio-economic development. In this process, AsiaInfo has never been absent. In 1997, AsiaInfo broke the monopoly of international manufacturers through independent research and development, providing BSS and OSS products, solutions, and services to Chinese communication operators, and filling the blanks in the Chinese communication industry. Over the years, we have kept a leading market share in the communication operator market. Now, we're still providing high-quality support services to over 1 billion domestic communication users.
Based upon the Present: Interconnection of Industries, Still in the Ascendant
In 2014, while promoting the privatization of AsiaInfo and being delisted from the United States, I have been thinking - how will the world develop in the next decade? And what role will AsiaInfo play? We believe that 20 years after its entry into China, the Internet has fully developed in the field of personal consumption and will definitely focus on the enterprise level market in the second half. In the next 20 years, the Internet will shoulder the responsibility of changing vertical industries and reshaping social development form. Therefore, we have proposed the concept of "industrial internet".
At this stage, AsiaInfo focused on the large enterprise service market, pioneered the launch of DSaaS digital operation business, and gradually expanded its business from the communication industry to multiple industries such as broadcasting & TV, transportation, energy sources, finance, and postal services.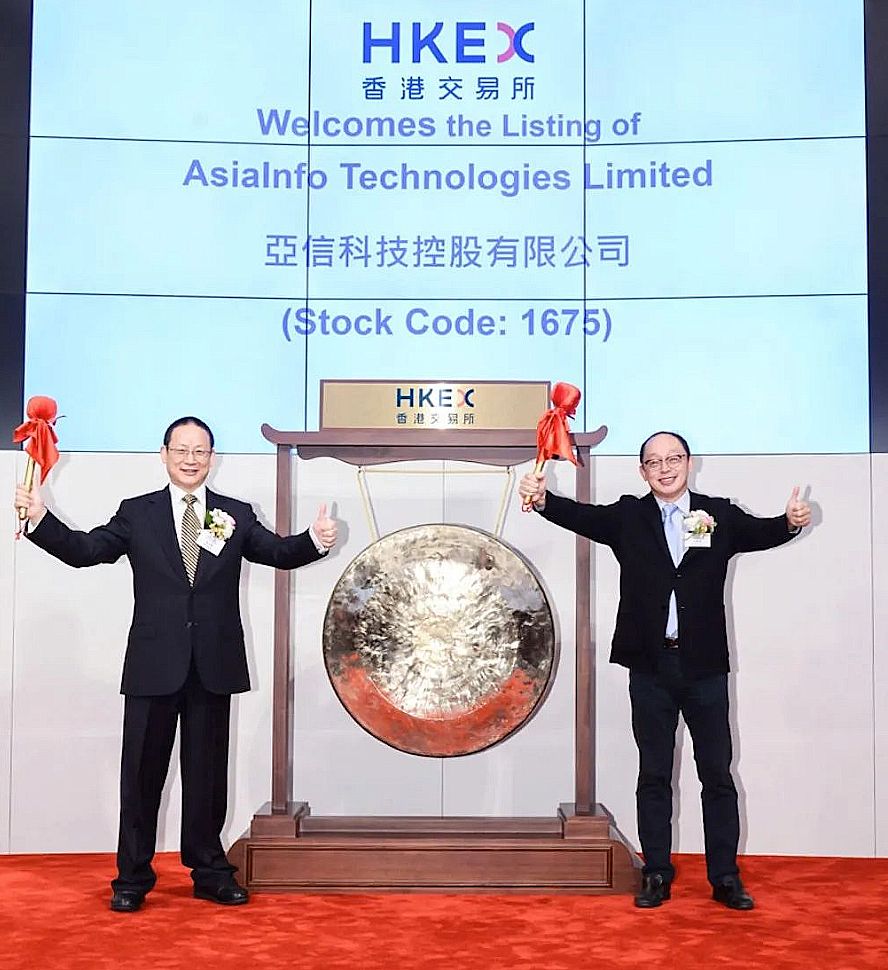 Figure: AsiaInfo Registered on the Hong Kong Stock Exchange
In December 2018, AsiaInfo has been listed on the Hong Kong Stock Exchange and established the strategy of "One Consolidation with Three Developments" in 2019, that is, in terms of traditional business, to take 5G as an opportunity to comprehensively layout, improve efficiency, and consolidate AsiaInfo's BSS market leader position; In terms of emerging businesses, AsiaInfo has been striving for the large-scale development of DSaaS digital operation business, enterprise and vertical industry cloud services, and 5G OSS network intelligence business.
After several years of continuous exploration, AsiaInfo has proven through actions and results that its strategic judgments and implementation routes formulated at the beginning are correct and feasible. For example, we will use high-quality 5G private networks to escort the operation of nuclear power machine sets and the construction of smart power plants, and rank first in the field of global nuclear power informatization construction, providing samples and examples of 5G technology applications for the global nuclear power industry. Such successful experiences are rapidly spreading and replicating in thermal and wind power plants all over the country.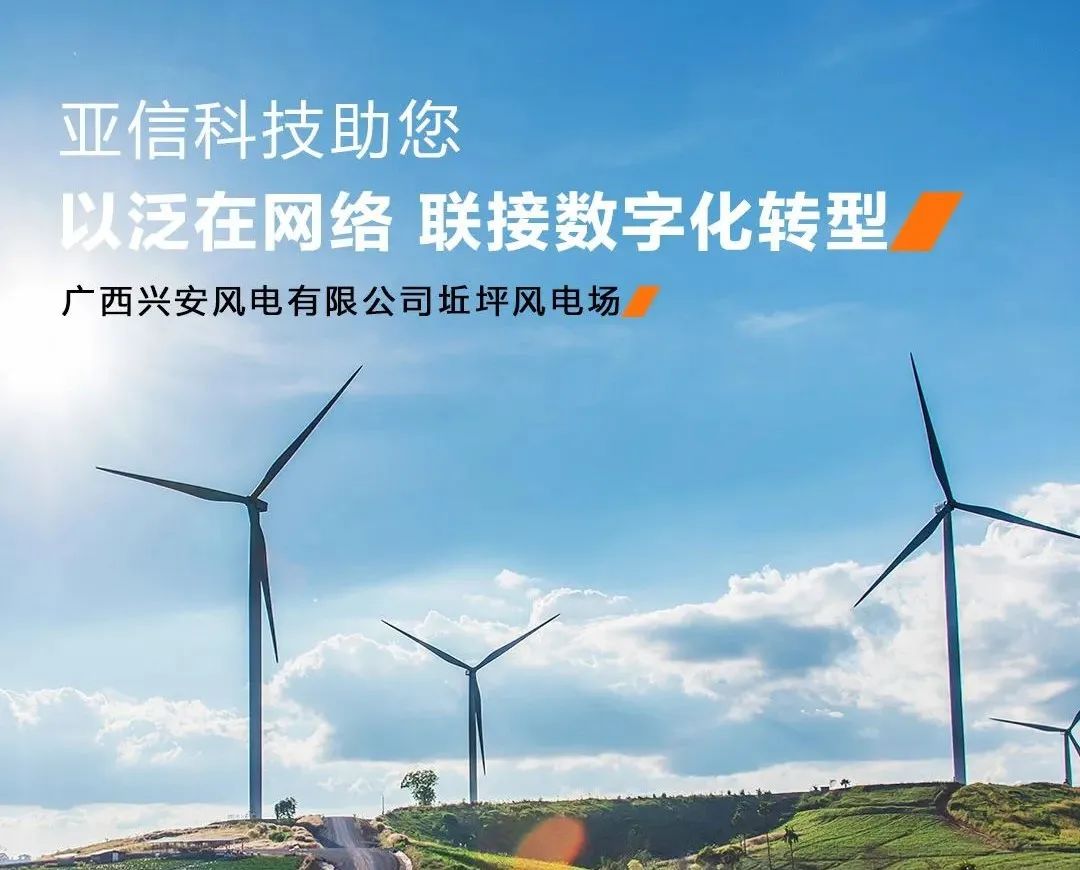 In addition, we have developed a series of "smart" solutions for industries such as transportation and government affairs, forming a series of smart scenarios; We have comprehensively used various legal data resources to help conduct digital intelligent operations and intelligent decision-making in fields such as communication, government and enterprise, automotive, and consumption with a business scale of 1 billion yuan; Our network intelligence products have been helping communication customers continue to evolve towards higher levels of autonomous networks, while also rapidly increasing their market share.
In recent years, AsiaInfo has accelerated product research and development and formed three mature product systems of "IT", "digital intelligence", and "cloud network"; AsiaInfo has advanced in construction of "One System with Three Rings" ecological systems and
In 2022, AsiaInfo acquired iResearch, with capabilities covering "consulting and planning, product research and development, implementation and delivery, system integration, intelligent decision-making, data operation, and customer services", becoming a highly recognized "full-stack capability provider of digital intelligence" in the industry.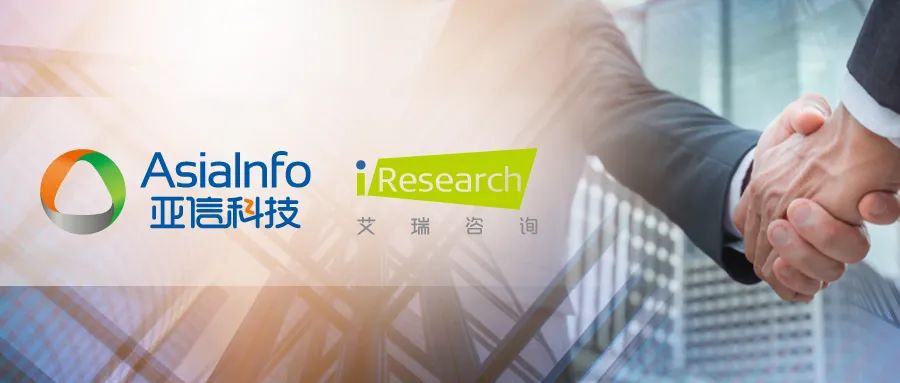 Figure: AsiaInfo was acquiring iResearch

The latest 2022 financial report shows that AsiaInfo's "Three New" business accounts for over 33% of the company's total revenue, and the embryonic form of the "second growth curve" has emerged. The company's strategic transformation has achieved initial success!

Looking Forward to the Future: We're Just Thirty, Still in AsiaInfo's Faith and Itelligence
Standing at the thirtieth year of AsiaInfo, all sorts of thoughts plunged me into a deep mood.
From Texas to Beijing, from NASDAQ to HKEX, we have rooted and sprouted our patriotic seed that we believe "Chinese software would have an impact on the world". From the establishment of the first national backbone network to the provision of "full-stack services of digital intelligence" for government and enterprise customers, we have constantly bent our efforts to pursue "high-quality products and services". From serving the communication industry to empowering hundreds of industries, we have been ascending the stairs following the beat of digital and intelligent transformation of industry.
Although a "cold snap" burst into global economic development, I still believe that only cold winter can cultivate superior species with high competitiveness. After years of tough experience, AsiaInfo's "faith" is not only "faith in information", but also "faith in belief", "faith in confidence", and "faith in trust".
At the age of thirty, we are in our noon of life, and maturity is our quality while moving forward.
At the age of thirty, stepping on the technological wave of 5G, AI, big data, and cloud computing, the land under our feet is always the foundation of our flourishing career!
Sticking to AsiaInfo's Faith and Itelligence. With infinite potential inside our team, let's grasp the opportunity of industry digital intelligence and stride forward to the next 30 years with pride!