Recently, AsiaInfo's 5G core network product system (a complete set of control plane network elements) has passed the 5G SA core network access test and trial review by the Ministry of Industry and Information Technology (MIIT), and officially obtained the network access license (NAL) for telecommunication equipment. In addition to the UPF network access license 5G user plane network elements previously obtained, AsiaInfo's complete 5G core network product system has passed the network access test of the Ministry of Industry and Information Technology and obtained the network access license, indicating that AsiaInfo's 5G core network product system now has the comprehensive large-scale commercial application capabilities targeting 5G private network.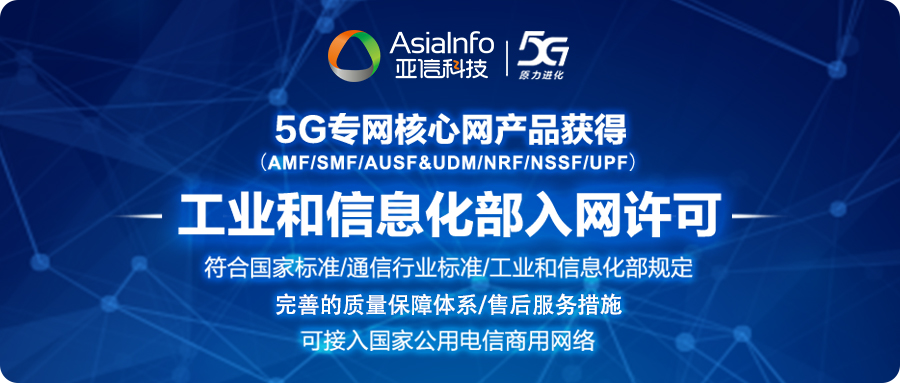 AsiaInfo, an expert in "5G private network products and services"
AISWare 5G Agile Networks is a 5G core network and wireless product system created by AsiaInfo for communication operators and private network market in the vertical industry. It satisfies the high demand of customers in the vertical industries for specificity, reliability and security of mobile communication networks during the digital transformation in the 5G era, and provides differentiated capabilities for network performance, automation and intelligent operation management.
AsiaInfo provides a complete collection of 5G core network, private network base station, 5G MEC platform and "one-stop" 5G private network operation platform for private network scenarios, and private network operation services for communication, energy and other vertical industries, and offers full-stack and end-to-end 5G private network product system, solutions and On-Premise services to customers to help various industries to promote digital intelligence transformation by relying on 5G.

Abundant industry cases and remarkable application effects
Now, AsiaInfo's private network product system has been applied in some vertical industries to accelerate their digital intelligence transformation.
Figure: Industry Application Cases of 5G Private Network
AsiaInfo built a 5G private network for a nuclear power enterprise based on 5G end-to-end, full-stack private network products and digital solutions for the energy industry to support its 45 pieces of production management business requirements in 5 categories: Equipment and Materials Management, Site and Environment Management, Work Activity Management, Personnel Safety Management, Information-Based Business Management. In this way, it helps the customers to improve the digital monitoring of the environment and equipment, and support the digitization, mobility and whole-process tracking of equipment operation and maintenance using energy specific digital solutions, while meeting the demand of enterprises for 5G private network operation and management.