Recently, the Digital Economy journal sponsored by the China Center of Information Industry Development (CCID), a subsidiary of the Ministry of Industry and Information Technology, launched the "Smart City" topic, which included the content of AsiaInfo's "Smart City Digital Operation". The following is an excerpt from the article.
In recent years, the new urbanization strategy has been further advanced in China, and large population has continued to flow into cities, which brought new challenges to urban governance, public services, and industrial development. Therefore, various places have launched smart city construction, hoping to solve development problems. In the construction of smart cities, there are often problems such as "emphasizing facilities and neglecting applications", "emphasizing construction and neglecting operations", "unreachable data and weak interconnection", etc. AsiaInfo believes that a new smart city digital operation model "based on data integration, cutting in from application scenarios, and focusing on value transformation" can enable city data to better serve the government, the public, and enterprises, and make smart cities to develop in a refined, efficient, and sustainable way.
"Value Operation" is the new trend of smart city
The first- and second-tier cities and some third-tier cities in China have relatively complete information infrastructure construction and a good urban data service foundation. A service governance system represented by "one network for all services and one network for unified management" has been formed, and refined value operation is the focus of the next step. Some cities below the third tier and county areas will face multiple tasks such as information infrastructure construction, data service system construction, and value operation in the future.
At the same time, in China's smart city evaluation standards, the weight of "citizen experience, precise governance, information resources" and other indicators related to "operation" has increased significantly compared with the past. Those indicators which are conducive to the city self-support and "value operation" of the sustainable development will become the new trend of smart city construction and the focus of city managers.
Figure: The new smart city evaluation index tilts towards operational effectiveness
There are two bottlenecks in the "value operation" of smart cities
First, there are still major deficiencies in the urban data integration and service system. Some smart city construction adopts the "vertical planning, construction and application integration" model, with different departments taking the lead in organizing, planning, construction and application. This leads to data disconnection, uneven data quality, weak governance foundation, and difficult departmental coordination. The strong digital capabilities of single field such as transportation, public security, medical care are difficult to exert value in the overall management of the city and the experience of residents. The construction of a smart city is a complex system engineering, which needs to connect the data of various departments, and needs to carry out "customer-centric" organizational and functional reconstruction.
The second is the lack of a sustainable and market-oriented operation model. The huge investment in smart city construction, coupled with the general shortage of local government fiscal revenue and the expansion of expenditure scale under the epidemic, the traditional government-led smart city model is under great financial pressure. The development model that relies too much on finance is difficult to sustain, and an innovative model is urgently needed to achieve self-support.
"Digital operation" promotes sustainable development of smart cities
The "digital operation" of smart cities is essentially "value operation" with urban data resources as the core. It focuses on urban data integration and value mining, and mobilizes social forces to participate in urban construction by building ecology, innovating application scenarios and business models. The digital operation of smart city includes three key links including data resourceization, data assetization, and data scenarioization, and finally release business value through data application.
Figure: The key links of digital operation of smart city
"Data resourceization" means that the operator, under the authorization and scope of the government, collects and stores urban data to provide data raw materials for the digital operation of smart cities.
Figure: The process of urban data resourceization
"Data assetization" refers to the refined governance of urban data resources to form high-quality data assets required for operation.
Figure: The process of urban data asseization
"Data scenarioization" refers to the encapsulation and opening of urban data assets based on application scenarios and compliance requirements, ultimately releasing data value.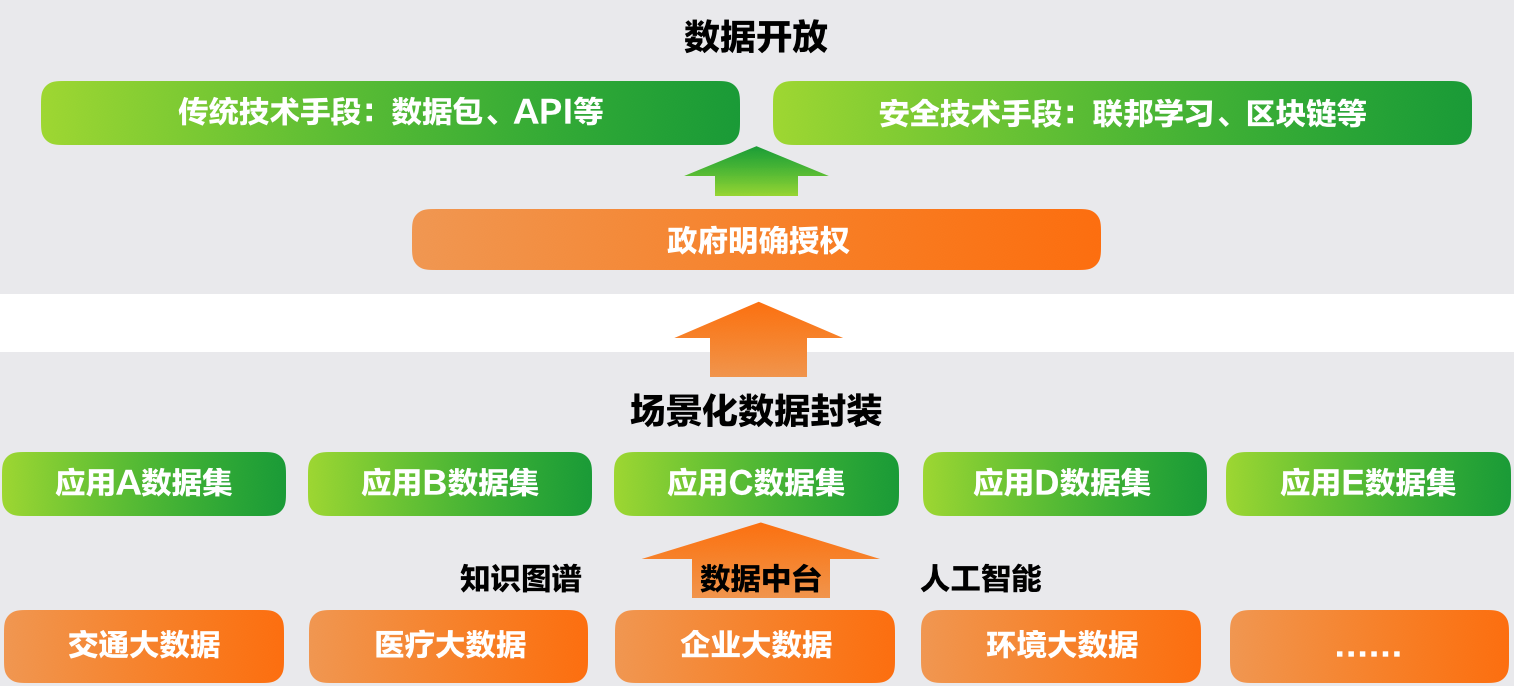 Figure: The process of urban data scenarioization
Five-pronged approach to build a smart city digital operation system
AsiaInfo believes that the construction of a smart city digital operation system needs to be promoted from five aspects: digital and intelligent technology, application scenarios, business models, organizational mechanisms, and ecological cooperation.
1. Digital intelligence technology is the base
The "urban brain" based on big data, artificial intelligence, digital twin and other digital intelligence technologies is the nerve center of the smart city, the technology platform for "resource-based, asset-based, and scene-based" urban data and the base for digital operations.

Figure: Digital intelligence technology empowers the digital operation of smart cities
2. The application scenario is the carrier
Smart city application scenarios mainly include four categories: government services, urban governance, public services, and industrial development. Data scenario-based data mining, enabling applications and operations based on the features of the above scenarios.

Typical application scenarios of smart city digital operations
3. The business model is kinetic energy
A reasonable and legal business model provides momentum for encouraging all parties to participate and realize the digital operation of smart cities.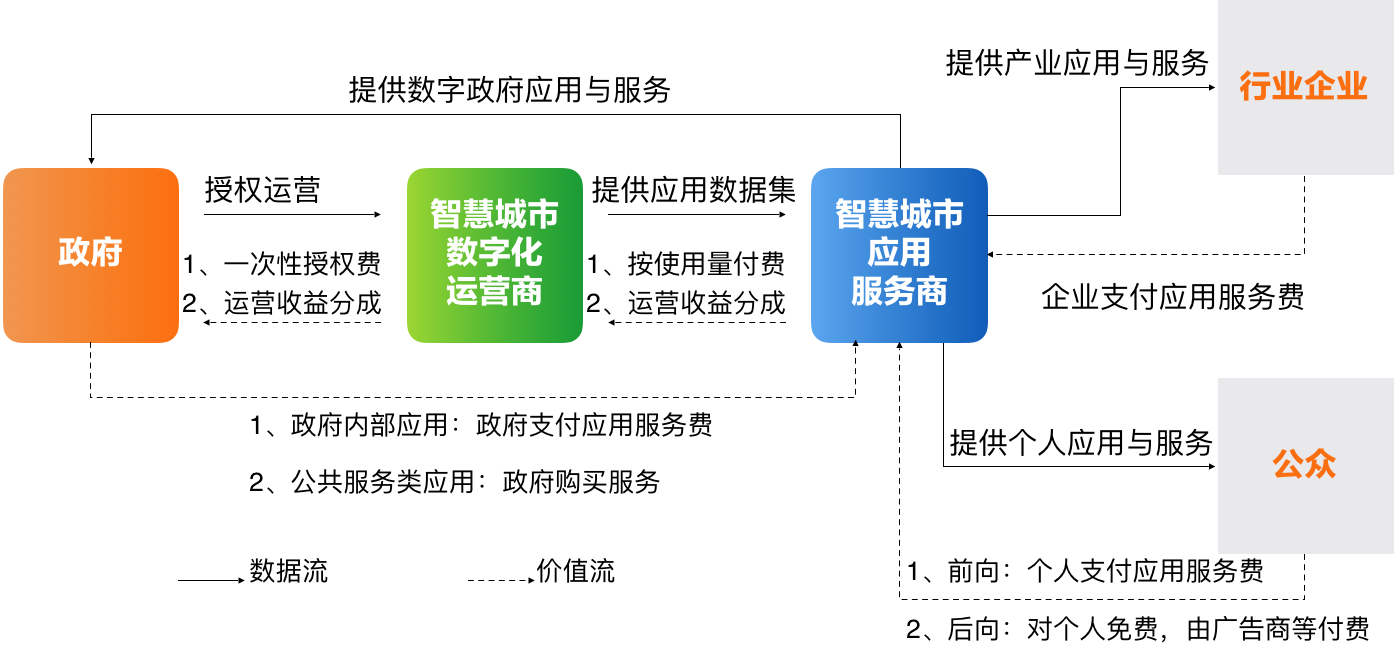 Figure: Multilateral business model of smart city digital operation
4. The organizational mechanism is the guarantee
In recent years, China has issued policies to clarify the requirements for urban data opening and encourage social enterprises to participate in the construction, which provides a guarantee for the digital operation of smart cities.
Figure: Organizational guarantee of smart city digital operation
5. Ecological cooperation is the link
Based on the distribution of rights and responsibilities and the interaction mechanism, multiple parties should be encouraged to jointly build a smart city digital operation ecology, promote the integration of production, education, research and application, and continue to innovate the operation model.
Figure: Smart City Digital Operation Ecology
AsiaInfo helps smart cities develop efficiently and sustainably
AsiaInfo is committed to exploring the road of "digital operation" of new smart cities:
1. Strengthen the top-level planning capabilities of smart cities, cooperate with governments at all levels to explore the value of urban data, help government customers improve the level of data governance, and provide data services for urban applications;
2. Innovate business models and application scenarios, promote industrial ecological integration, and help smart cities create a closed loop of value operations;
3. Strengthen digital and intelligent technology and product research and development, and create an integrated capability system for planning, construction and operation.
The digital operation of smart city is a new subject and systematic project. With solid technology, product accumulation and profound operation practice, AsiaInfo explores and breaks through the current bottleneck of smart city development, strives to form a scalable and replicable operation system, and shapes the new model for urban operation in the future.