AsiaInfo recently passed the EC Ready (Edge Computing) test, an edge computing product review jointly launched by China Academy of Information and Communications Technology (CAICT) and Computing and Networking Convergence Industry and Standards Promotion Committee, China Communications Standards Association (CNCISPC), with the excellent performance of its All-in-One Edge AI.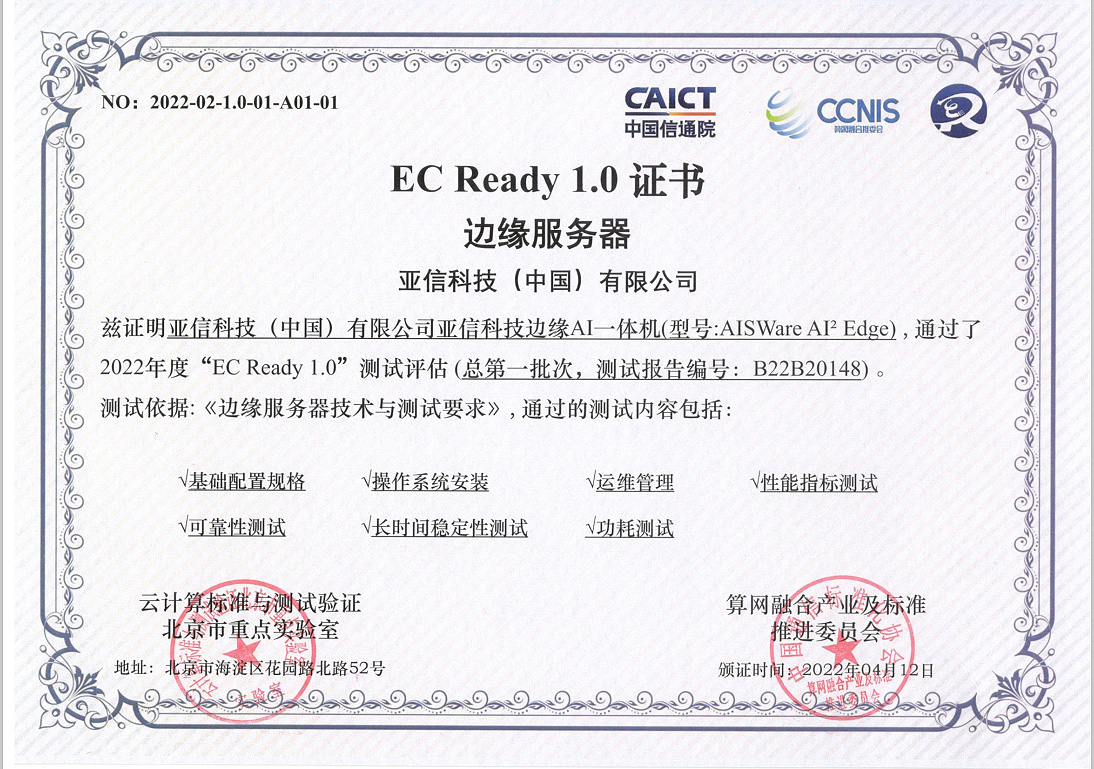 Picture: Certificate of test
Three Trophies at One Stroke!
EC Ready, List of Major Products & Outstanding Solution Award
Not long ago, All-in-One Edge AI has been shortlisted in the List of Major Enterprises and Products for Security and Emergency Response in Beijing, developed for safe production, disaster prevention & mitigation and emergency management of Ministry of Industry and Information Technology and Beijing Municipal Party Committee and People's Government.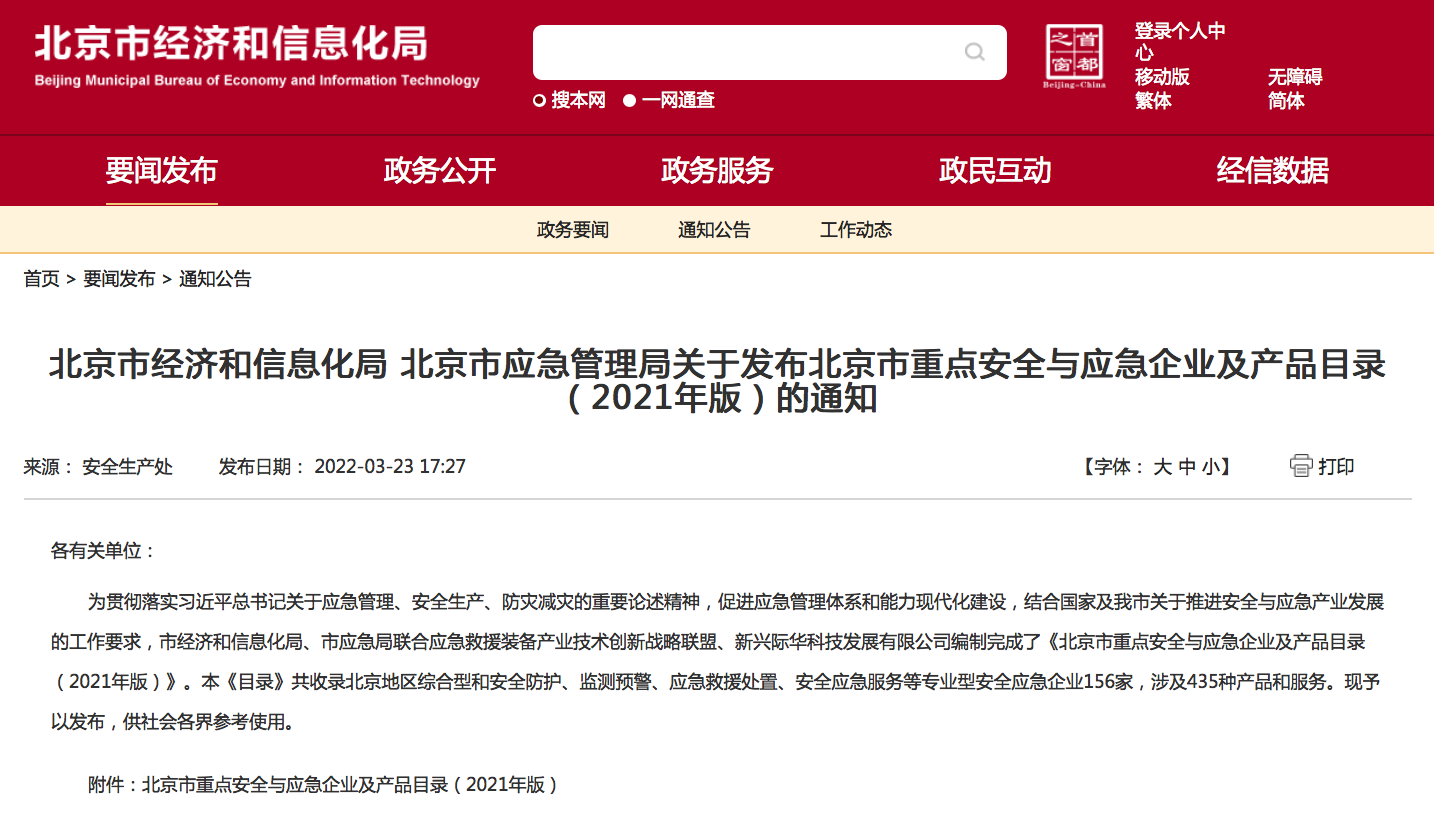 Picture: Notice on the Release of List of Major Enterprises and Products for Security and Emergency Response in Beijing
The solution has also been honored with "Outstanding Solution Award of the Year" in the "Contest of Top Edge Computing Solutions 2021" organized by CAICT and CNCISPC, after a comprehensive evaluation in terms of baseline capacity, integrated innovation, industrial impact and benefits.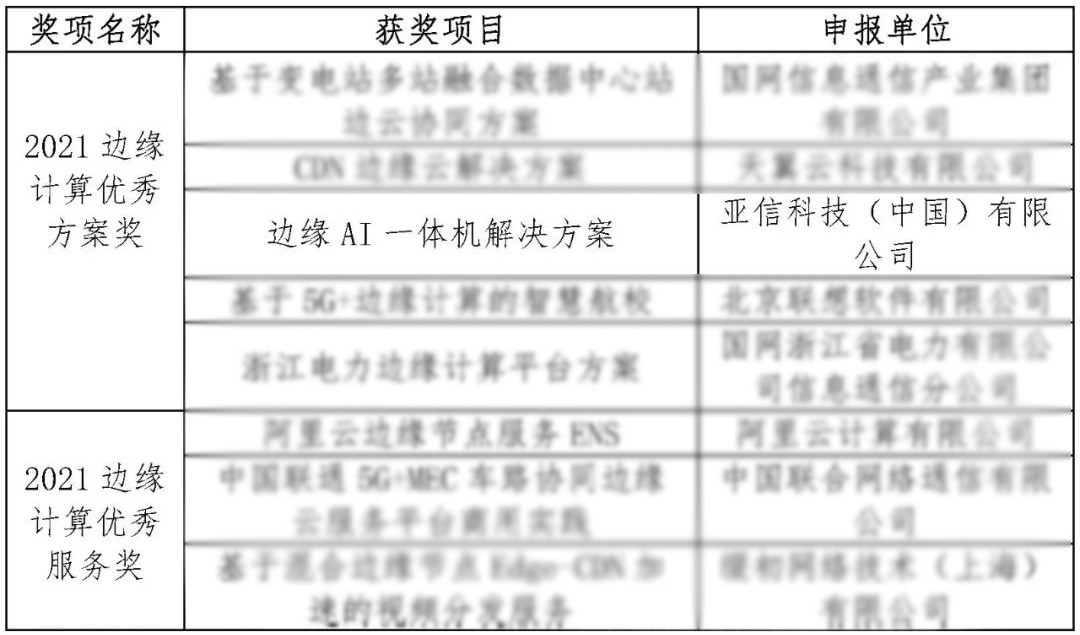 Picture: AsiaInfo won Outstanding Edge Computing Solution Award 2021
Edge computing is a key capability in accelerating widespread application of 5G and spurring digital transformation of various sectors. As an authoritative third-party review organization in the field of edge computing, EC Ready aims to stimulate healthy and normalized development of the edge computing industry via industrial review, standards setting, industrial cooperation and project application. Its review results have been used as a major basis of product R&D by manufacturers and product selection by industrial users. It is shown in the review that AsiaInfo's All-in-One Edge AI demonstrate excellent parameters and has passed all 28 review items.
AsiaInfo All-in-One Edge AI
Intelligentizes Edge Applications and Empowers Various Sectors with Outstanding Performance
Applicable to all edge scenes in the industry, AsiaInfo All-in-One Edge AI deploys AI capabilities to edges in a lightweight manner with hardware and software integration. Capable of scene-specific customization, requirement-based scalability, it enables cloud-edge collaboration and integrated supervision, and features diversified forms, powerful computing, high compatibility, interface flexibility, decoupling of hardware & software, adaptive layout, quick deployment and readiness for use.
Since its launching in the market in 2020, this solution has quickly gained a large market with its powerful performance, and found applications in communications, finance, energy and government service to intelligentize and empower production management in industrial parks, communities, construction sites, power plants and IDC computer rooms.