The internationally renowned iF Industrie Forum Design announced iF Design Award 2022 winners on April 11. A 3D visualization system of AsiaInfo Digital Building stood out from 10,776 entries from 57 countries and regions in the world and was honored "iF DESIGN AWARD GOLD". Among the top ten winners including such big players as Samsung, Huawei, Philips and Xiaomi, AsiaInfo ranked the seventh.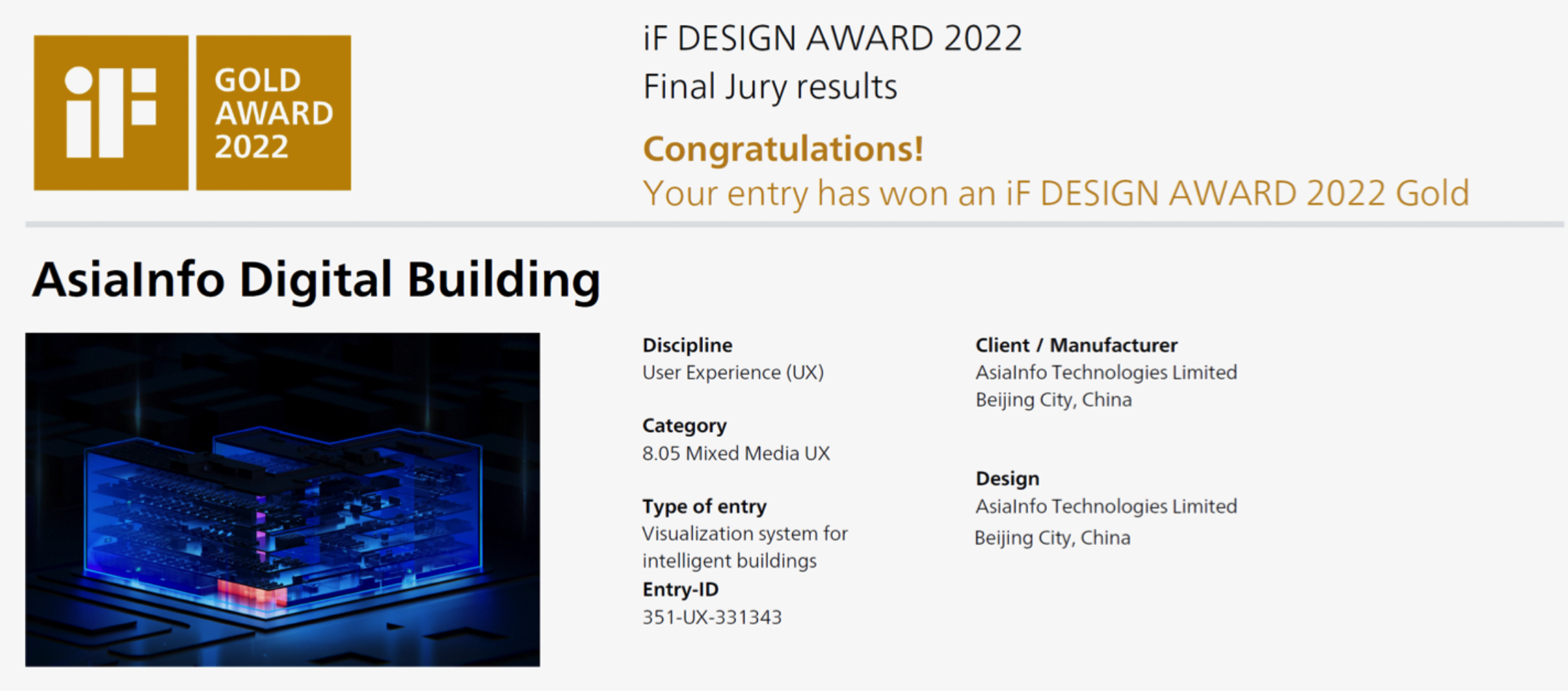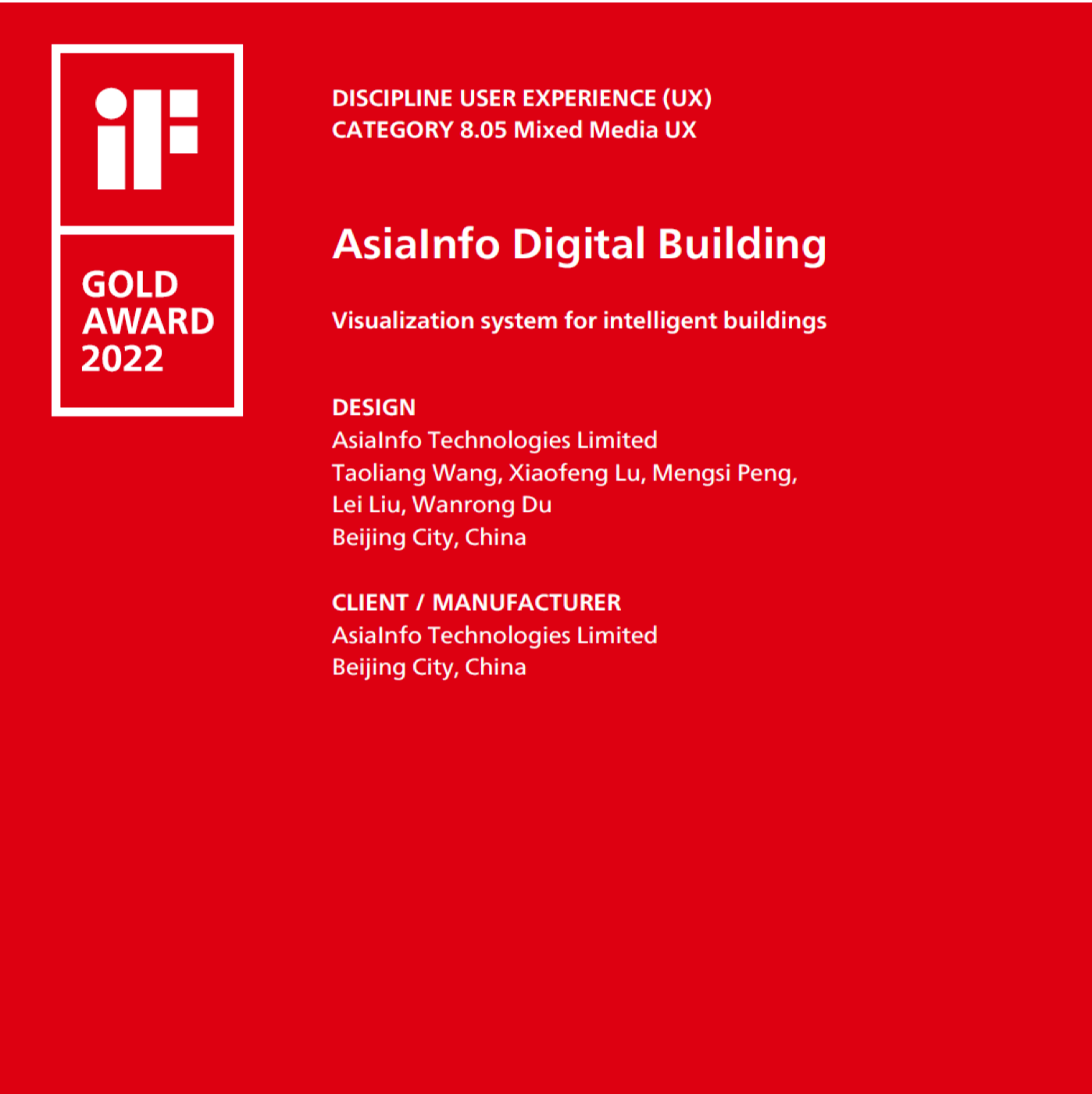 Photo: AsiaInfo Won iF DESIGN AWARD GOLD
iF Design Award -
The most authoritative and influential design award in the world
Established in 1954, iF Design Award is an annual competition organized by iF Industrie Forum Design, the industry design institution with the longest history in Germany. Reputed all around the world with its criteria of "Independence, Preciseness, Reliability", it has been billed, together with Red Dot Design Award and International Design Excellence Awards (IDEA), as top three design awards worldwide. As one of the most authoritative and influential industrial design awards, it is often referred to as the "Oscar" in product design. In 2022, less than 1% of the candidates win iF DESIGN AWARD GOLD.
Photo: AsiaInfo Ranked among the Top List of iF User Experience
AsiaInfo 3D visualization system
A Vision beyond Your Imagination!
Designed based on AISWare HyperView, a AsiaInfo's 3D visualization platform, the iF DESIGN AWARD GOLD winner AsiaInfo Digital Building is powered by 5G, IoT, big data, AI and digital twin to create a "humanistic, sensitive and intelligently growing" digital lifeform with applications in security monitoring, convenient access, risk prevention and accurate service, representing a perfect embodiment of AsiaInfo's people-oriented commitment.
AISWare HyperView is an industrially leading 3D visual scene building system independently developed by AsiaInfo on the back of big data, AI and IoT technology and features full-process 3D scene arrangement capability. It simplifies and connects complicated data in real world by linking data collection & modeling and model processing & presentation with company businesses to directly export intuitive, vivid, efficient and real-time 3D virtual scenes with rich diversity.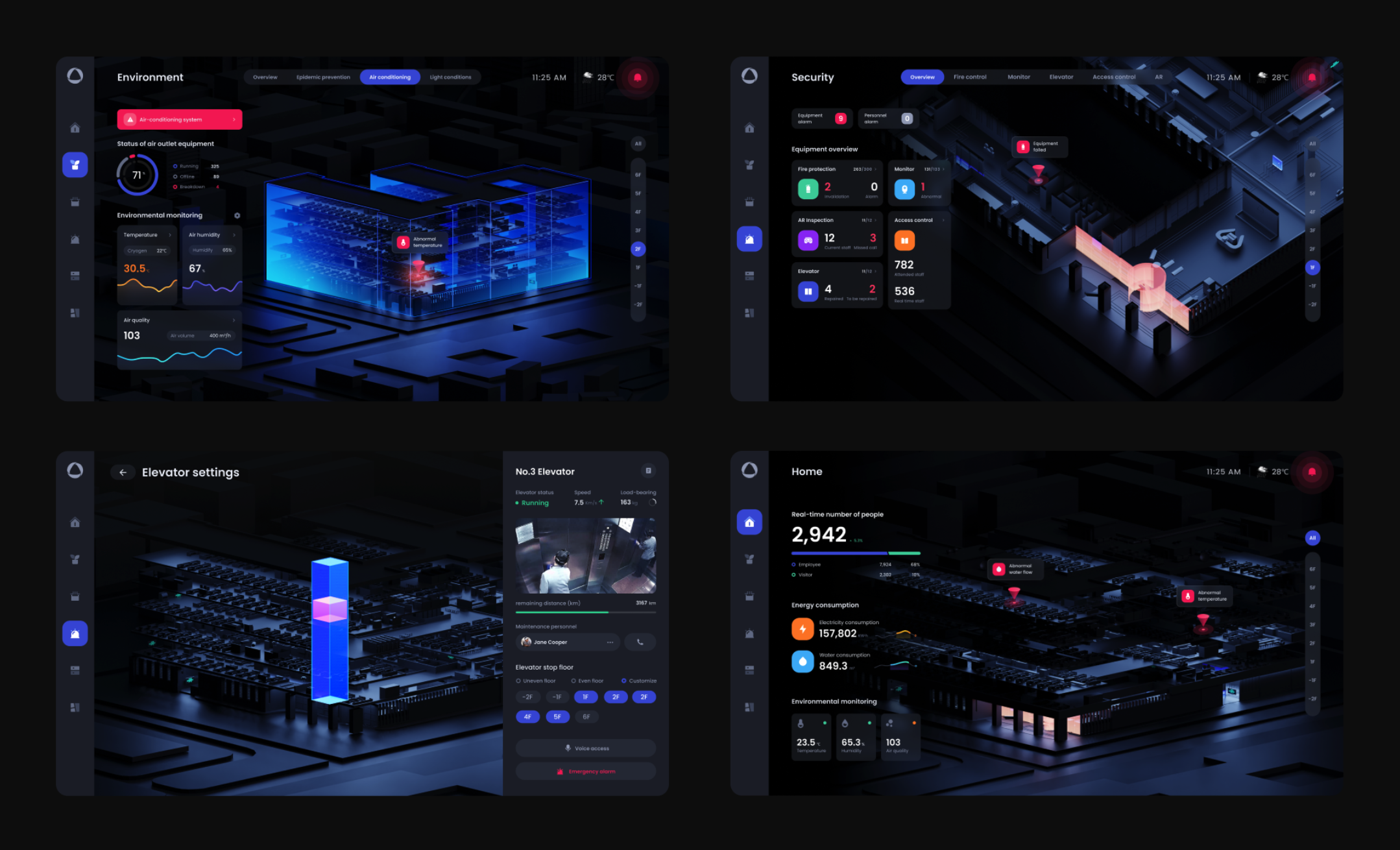 Photo: AsiaInfo AISWare HyperView 3D Visualization System Design
The product delivers visualized representation of massive information related to invisible matters, such as temperature, humidity and air current, with the support from IoT, to enable intuitive and comprehensive understanding of dynamic and static information concerning visual and invisible matters and systematically improve operation & maintenance management of parks, plants and buildings.
With a visual editing platform to offer, AISWare HyperView can quickly visualize "anything in the world" with its easy-to-learn feature and one-stop development. In this way, it helps people to better perceive, understand and manage the digital world, empowers customers in uncovering the value of their own data assets, and drives companies' switch to digital intelligence.
The progresses in 5G, IoT and AI technology have prompted the upgrade from 2D to 3D of 3D visualization platforms represented by AISWare HyperView, bridged the gap between the real and digital worlds, and effectively broadened our horizon. In the future, "3D data visualization" capable of interfacing with multiple management systems can be incorporated into production and management activities of governments and companies to arm various sectors with digital "visions of the future".