Forrester, a well-established ICT research and advisory firm, published Now Tech: Matrix of Leading Chinese Suppliers of AI Systems 2022 in March 2022. AsiaInfo appeared on the list with its AISWare AI², a general artificial intelligence system (AI² for short). Such celebrated manufacturers as Baidu, SenseTime and NVIDIA are on the list as well. This is the third digital intelligence product of AsiaInfo that has been shortlisted by international research and consulting authorities, following AISWare AIRPA (robot process automation platform) and AISWare Data OS (data middleground), marking AsiaInfo's gradual rise to be a market leader in the field of digital intelligence.
Photo: AISWare AI² Appeared on Now Tech: Matrix of Leading Chinese Suppliers of AI Systems 2022
AISWare AI²
Offering a complete set of AI ecosystem services intelligentizing and empowering all sectors and scenes
As the infrastructure required for large-scale intelligent services, AISWare AI² serves as the center of smart middleground of companies and a platform enabling companies' intelligence-oriented transformation. It offers step-by-step building of algorithmic model and full-lifecycle management for companies, helps companies to summarize their businesses into algorithmic models, supports exploiting business value by data scientists via machine learning and smart middleground building by companies, and intelligentizes data-driven applications in all business areas to ultimately offer large-scale intelligent services that can be reused, combined and innovated.
As a complete AI ecosystem, AI² offers edge AI solutions with cloud-edge collaboration and targeting both hardware and software to deploy diversified and powerful AI capabilities of AsiaInfo to edges in a lightweight manner. Available in various sizes and forms, edge AI products are capable of meeting application needs in several business scenes by users from finance, energy and communication industries to serve the society and improve the livelihood of the people.
Currently, AISWare AI² has found application in finance, energy, communication and transport sectors as well as e-government and is widely recognized by customers and research institutes with its cutting-edge technology and powerful features. It has won several major awards, including Wu Wen Jun AI Science & Technology Award 2021, First and Second Prizes of AIIA "AI Innovation and Application Competition" 2021, ITU 5G AI/ML 2021 Champion in China and Award of Excellence in World Final, Third Prize of Global AI Innovation Contest 2021, Grand Prize of the First China PRA + AI Developer Competition, TMForum Catalyst Team Award - Sustainability Impact 2021 and QbitAI Top 10 AI Products 2021.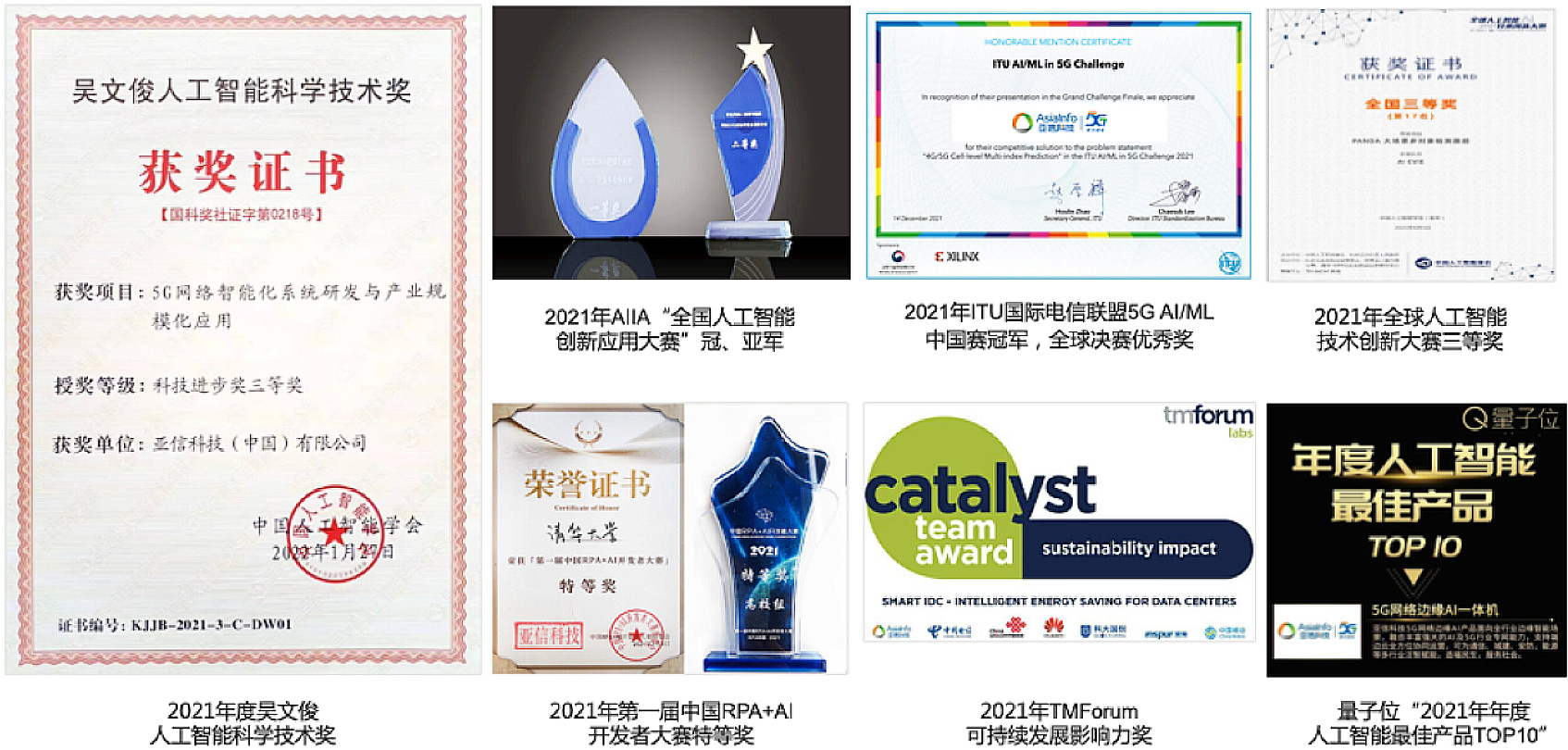 Photo: Some Honors of AISWare AI²
In the future, AsiaInfo will remain committed to further studies on AI technology, developing high-quality enterprise-class AI products and solutions, intelligentizing and empowering vertical industries, and spurring full development in Chinese AI technology and market.
About Forrester
Forrester is one of the most influential research and advisory firms in the world. It works with business and technology leaders to drive customer-obsessed vision, strategy, and execution that accelerate growth and is widely recognized as a thought leader and a trustworthy advisory service provider. Forrester Now Tech is one of Forrester's report series with the greatest influence and the highest market recognition in China and even the world. It serves as a key standard and basis for evaluating market size and product features of manufacturers all over the world.