Recently, the internationally renowned research and consulting company Forrester released Now Tech: Robotic Process Automation in China Q4 2021, a research report on global mainstream RPA suppliers for the Chinese market. AsiaInfo was included in the report with its data intelligence system product AISWare AIRPA ("AIRPA"), and was shortlisted as "Typical Suppliers in China's RPA Market" together with UiPath, Microsoft, SAP, Ping An Technology, and Alibaba Cloud. This is the first time for AsiaInfo's RPA product to be included in the research report of an internationally authoritative organization, marking that AsiaInfo joins the advanced level of RPA market.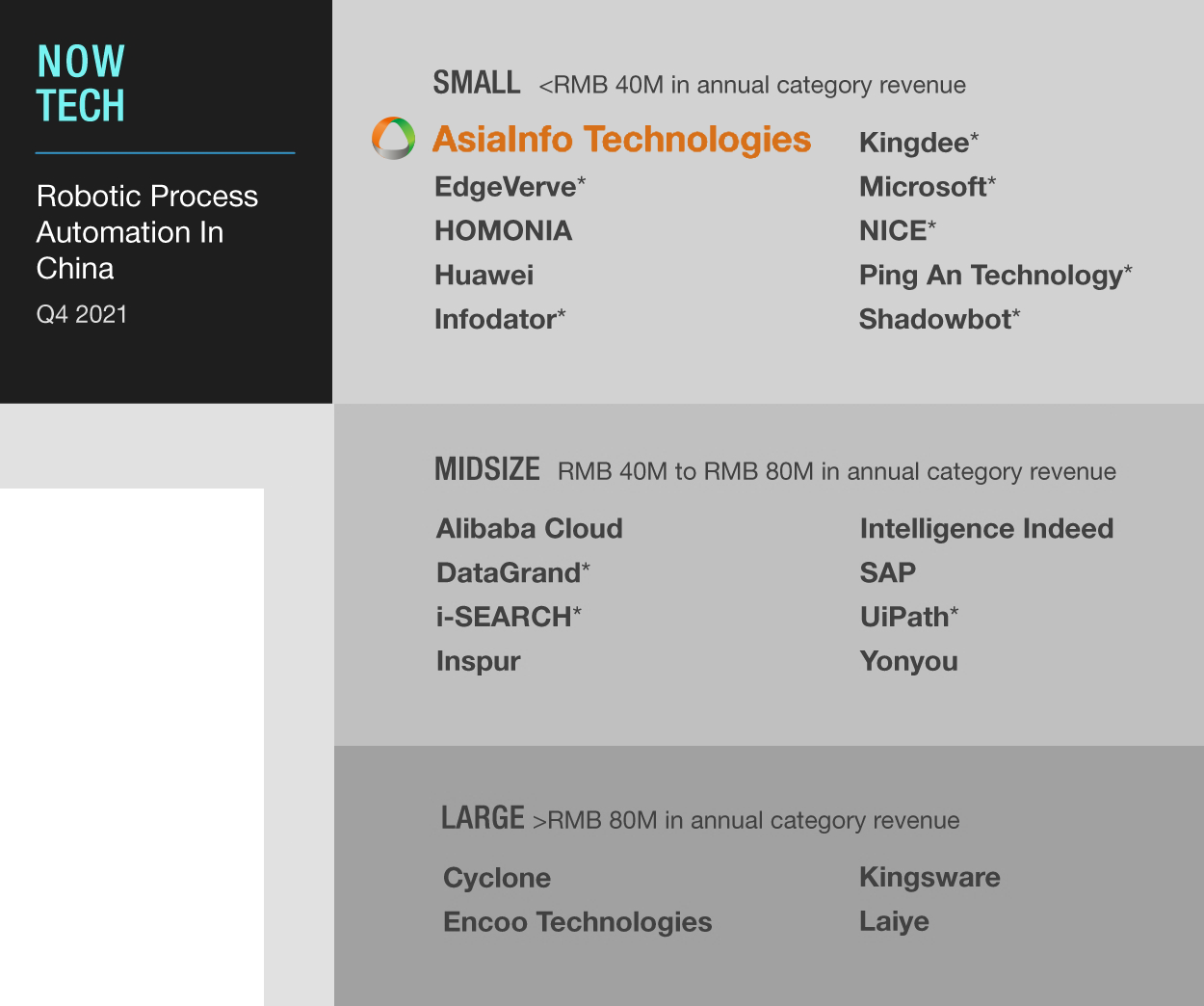 Photo: AsiaInfo AISWare AIRPA was included in Global Mainstream Supplier Matrix of Forrester 2021 Now Tech
AIRPA, the creator of the digital labor
Characterized with light weight, non-invasion, intelligent process, security and controllability, and adaptability to a wide range of businesses, AIRPA can provide customers with simple, efficient, flexible and intelligent robotic process automation solutions, which has been widely used in the transformation process of reducing costs and increasing efficiency for government and enterprise customers in various fields. The "digital labor" suite created based on AIRPA provides enterprises with customized scenario-based process robot editing design, which can efficiently output the digital labor with high scalability, flexibility and plasticity, so as to help enterprises improve production efficiency and realize digital and intelligent transformation.
AIRPA has been implemented and provided automation solutions in the fields of communication, government affairs, energy, and finance, covering multiple demand scenarios such as the daily production and operation of enterprises, smart government affairs handling, automated operations of IT, intelligent data collection, entry, and transportation, which has been fully recognized by customers. A provincial operator has arranged over 400 process robots to be on duty, saving about 46000 man-days per year.
In the first half of 2021, AIRPA passed the Level 3+ (the highest level) capability evaluation certification of the China Academy of Information and Communications Technology at one time, and successively won the 2020-2021 Outstanding Innovative Software Product awarded by the China Information Technology Industry Federation, and the "Excellent Project" of 2021 Leading Scientific and Technological Achievements awarded by the China International Big Data Industry Expo, the National Champion and Grand Prize of 2021 China RPA+AI Developer Competition, 2021 "Zhi Jiang" Outstanding Case of RPA Industry Promotion Alliance, etc.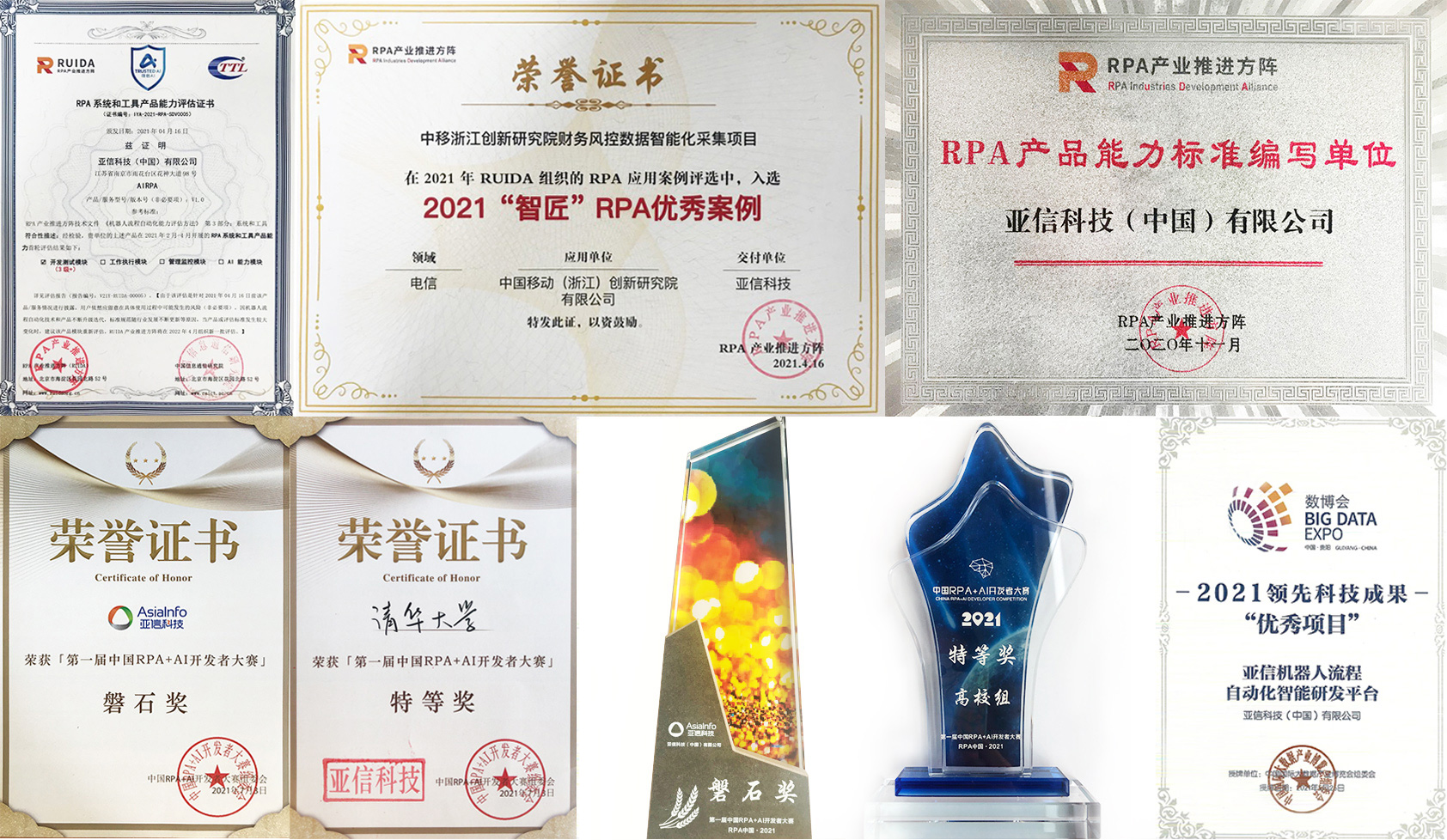 Photo: Some awards and qualifications of AsiaInfo's AISWare AIRPA
AsiaInfo will continue to work on the market of business process automation, and digital and intelligent transformation of enterprises, improve production efficiency of enterprise, create high-quality enterprise-level AI products and solutions, accumulate scenario practice, and establish industry benchmarks, so as to boost the development of China's RPA technology and market.
About Forrester
Forrester is one of the most influential research and consulting firms in the world. Forrester helps business and technology leaders use customer obsession as the corporate vision, development strategy and execution to accelerate business growth, and is recognized as a thought leader and reliable advisor. Forrester Now Tech, as one of the most influential and market-recognized report series of Forrester in China and even in the world, is an important criteria and basis to evaluate the market scale and product function of global vendors
Now Tech: Robotic Process Automation in China Q4 2021 classifies China's RPA products into three major categories: intelligent automation platform, enterprise-level RPA platform, and platform for specific areas. It identifies the corresponding index requirements of each category of RPA, and studies and analyzes 22 different types of RPA suppliers from the dimensions of development scale, product functions, service areas, and key customers, providing important reference for enterprise decision-makers.