On December 28, AsiaInfo Technologies (China) Inc. (AsiaInfo) and KylinSoft Co., Ltd. (KylinSoft) has reached a strategic cooperation in Beijing to deepen the cooperation of both parties in product adaptation and vertical industry development, and jointly promote the construction of the domestic software ecosystem. Witnessed by Gao Nianshu, Executive Director and CEO of AsiaInfo, and Han Guang, General Manager of KylinSoft, Wang Liping, Vice President of AsiaInfo, and Diao Xiaoyan, Vice President of KylinSoft, signed the cooperation agreement on behalf of the two parties. Chen Wu and Dr. Ouyang Ye, Senior President of AsiaInfo, and Xiao Fang and Li Xiangkai, Vice President of KylinSoft, attended the signing ceremony.
Photo: The site of signing
Jointly developing the vertical industry markets through mutual assistance in capabilities and complementary advantages
According to the agreement, both parties will give priority to introducing the products of the other party in developing the vertical industry, so as to jointly empower the digital transformation of government and enterprise customers. As both KylinSoft and AsiaInfo have conducted businesses in vertical industries such as government affairs, finance, communications, energy, transportation, and medical care, there is a broad space for both parties to cooperate in promoting the digital transformation of government and enterprise customers, smart city construction and operation, and information technology innovation. Integrating the respective technologies, products and services into the business ecosystem of both parties will contribute to providing customers with comprehensive solutions and service support. Besides, in light of the profound reserves of scientific research abilities, the two parties will also cooperate in such fields as joint research and project application.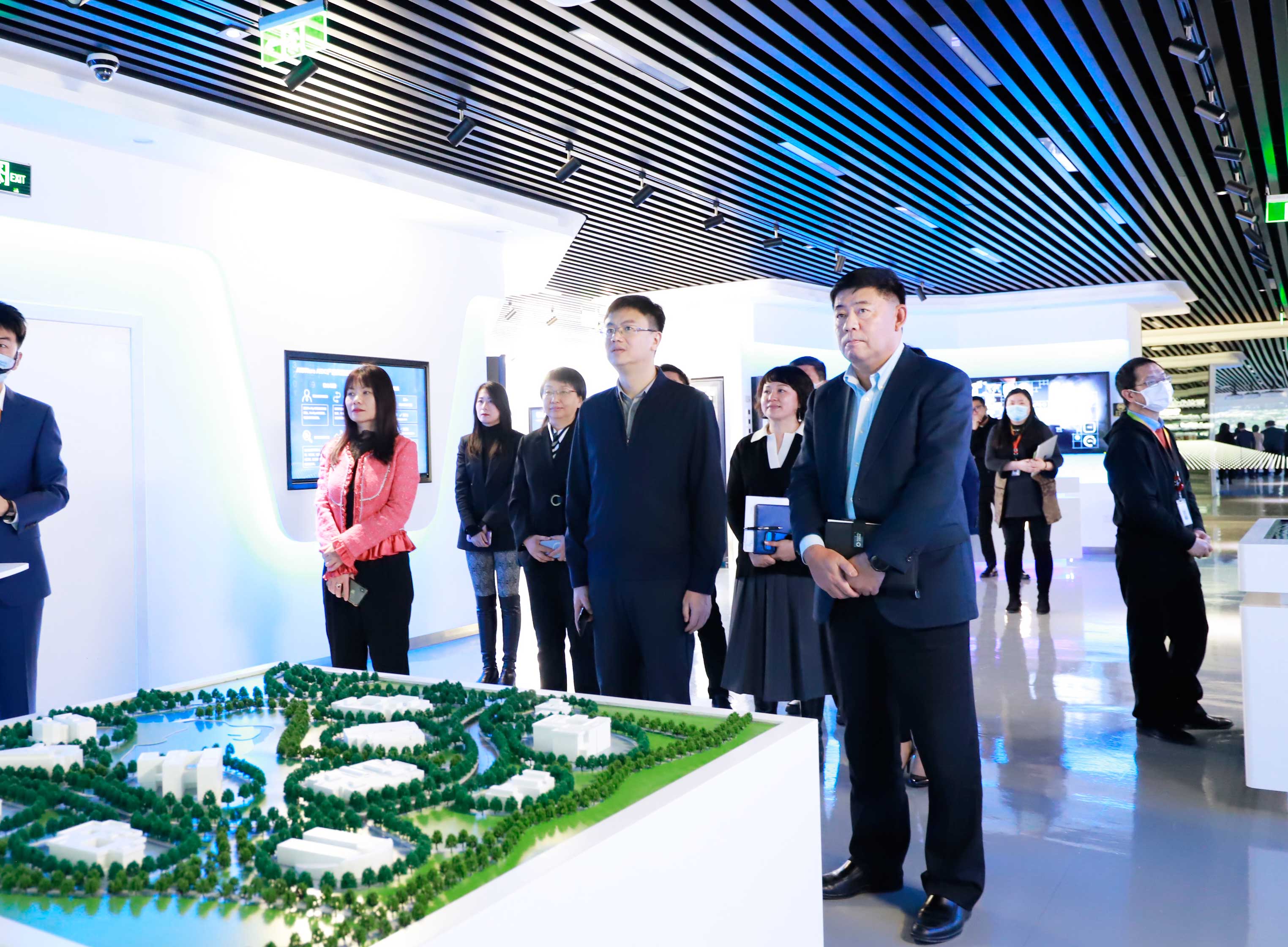 Photo: The visit to the multimedia exhibition hall
Promoting product adaptation of both parties to co-build the network information industry ecosystem

KylinSoft is a major enterprise under China Electronics Corporation (CEC) devoted to domestic information infrastructure construction, providing safe and reliable operating system products and solutions, which contributes core forces to the ecosystem construction of independent operating system in China. Since AsiaInfo and KylinSoft are both key software companies within the national planning layout, they are highly consistent in promoting independent innovation of domestic software.
Previously, at the "2021 Ecosystem Conference on PKS Safe and Advanced Green Computing" co-sponsored by the Tianjin Municipal People's Government and CEC, AsiaInfo officially joined the "Kylin Application Ecosystem Alliance" and became the core ecosystem partner of KylinSoft. The members of the Alliance will make joint efforts to integrate resources for industrial development, optimize the environment for industrial development, and enhance the technological innovation and service levels in China, in order to co-build a new pattern for the development of the network information industry.
Photo: The blessing video from Gao Nianshu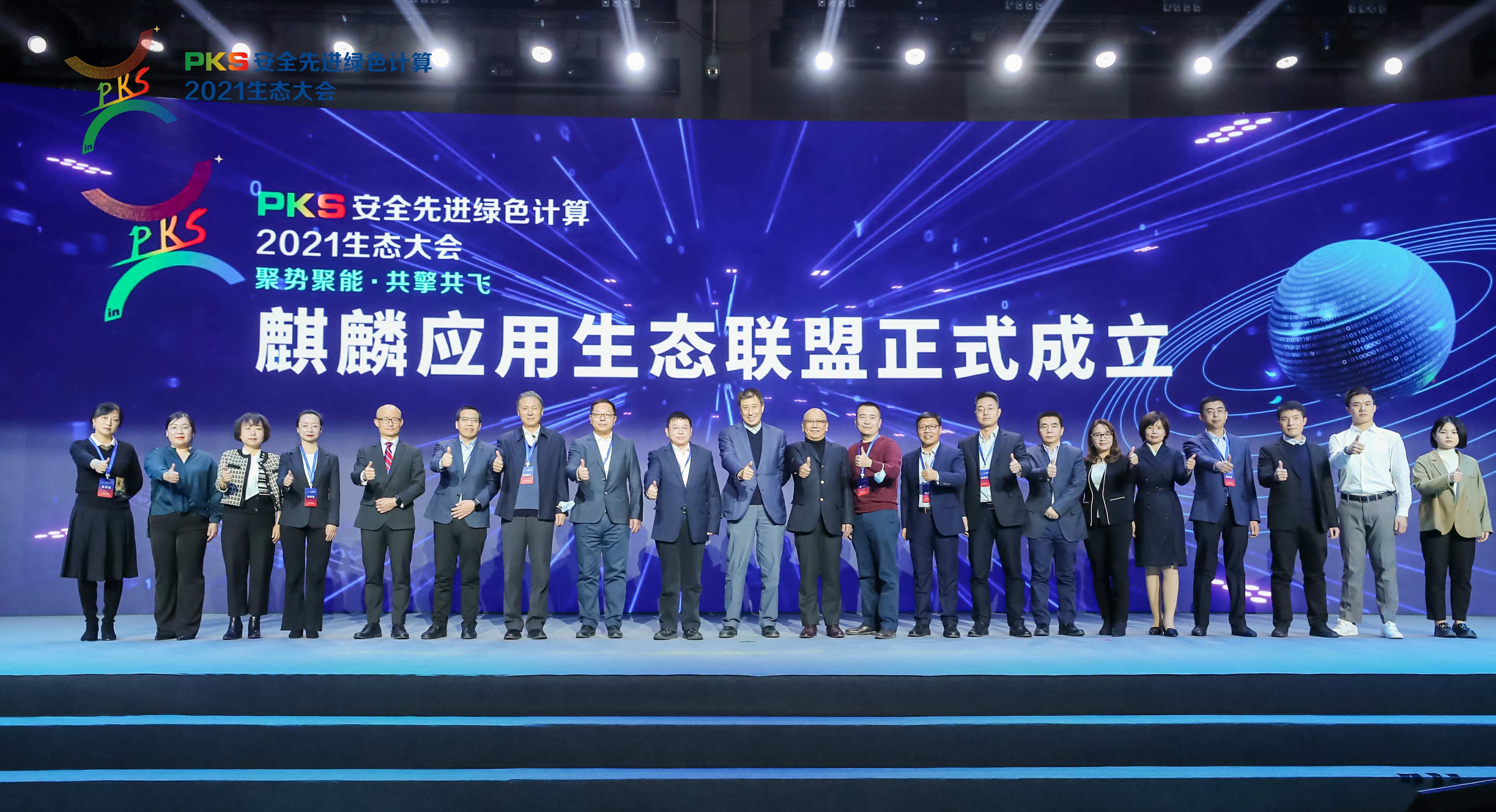 Photo: Inauguration ceremony of the Alliance
Gao Nianshu said that KylinSoft has made remarkable achievements in the field of domestic operating system, and AsiaInfo has developed a To B and To G business capabilities featuring "excellent products, strong services, and skilled operations" in the process of serving large enterprises and government agencies in the past 30 years and formed a relatively complete software product system including big data, database, middleware, multi-cloud management platform, Paas platform and AI platform through R&D, so that there would be a broad space for both parties to cooperate in product adaptation, independent innovation and ecosystem co-construction.
Han Guang stated that since KylinSoft occupies a considerable share in the domestic operating system market, and AsiaInfo has achieved remarkable results in product R&D and business practices, both parties, as high-tech companies, will play an active role in the tide of national digital transformation. He believed that both parties should take the opportunity of signing the contract to accelerate the adaptation of software products, integrate their products into the empowerment system of the other party, and advance the construction of independent innovation ecosystem of China.
Wang Kun, Deputy General Manager of Public and Government Affairs Center of AsiaInfo, Yang Miao, Senior Director of Strategy and Marketing Center of AsiaInfo, and Li Jiping, General Manager of Communications Division of KylinSoft, attended the signing ceremony.