Recently, the "Cloud Business Operation Platform" built by AsiaInfo for CE Cloud under China Electronics Corporation ("CEC") has been officially launched and runs efficiently and smoothly. The platform is a full-service and hybrid cloud operation platform that carries cloud service sales, customer management, and control and operations of cloud resources. The launch of the platform provides a high-quality carrier for CE Cloud to construct a cloud business system featuring "security first, dedicated public cloud, openness and innovation", and adds an important link to the construction of a safe and reliable "Architecture of China".
AsiaInfo assists CE Cloud in building an autonomous, controllable and fully functional full-service cloud platform
CE Cloud is a digital economy infrastructure designed for governments, public service agencies, and large group companies by CEC through integrating multi-party cloud service capabilities. As a dedicated public cloud, CE Cloud has the full-stack capabilities of IaaS, PaaS, and SaaS, providing customers with safe and reliable full-scenario solutions of "cloud-edge-end".
The "Cloud Business Operation Platform" of CE Cloud undertaken by AsiaInfo consists of multiple subsystems such as e-commerce portal, CRM, accounting, billing, cloud management, etc. Based on domestic CPU and operating systems, it coordinates and uses software and hardware resources such as computing, storage, network, security, application, etc., to carry the full life cycle operation support of the "sale, management, and use" from hitting the shelves, ordering, billing, management, control to operations of cloud products of CE Cloud. It also provides a credible and reliable "one-stop" cloud product and service purchase platform for CE Cloud users.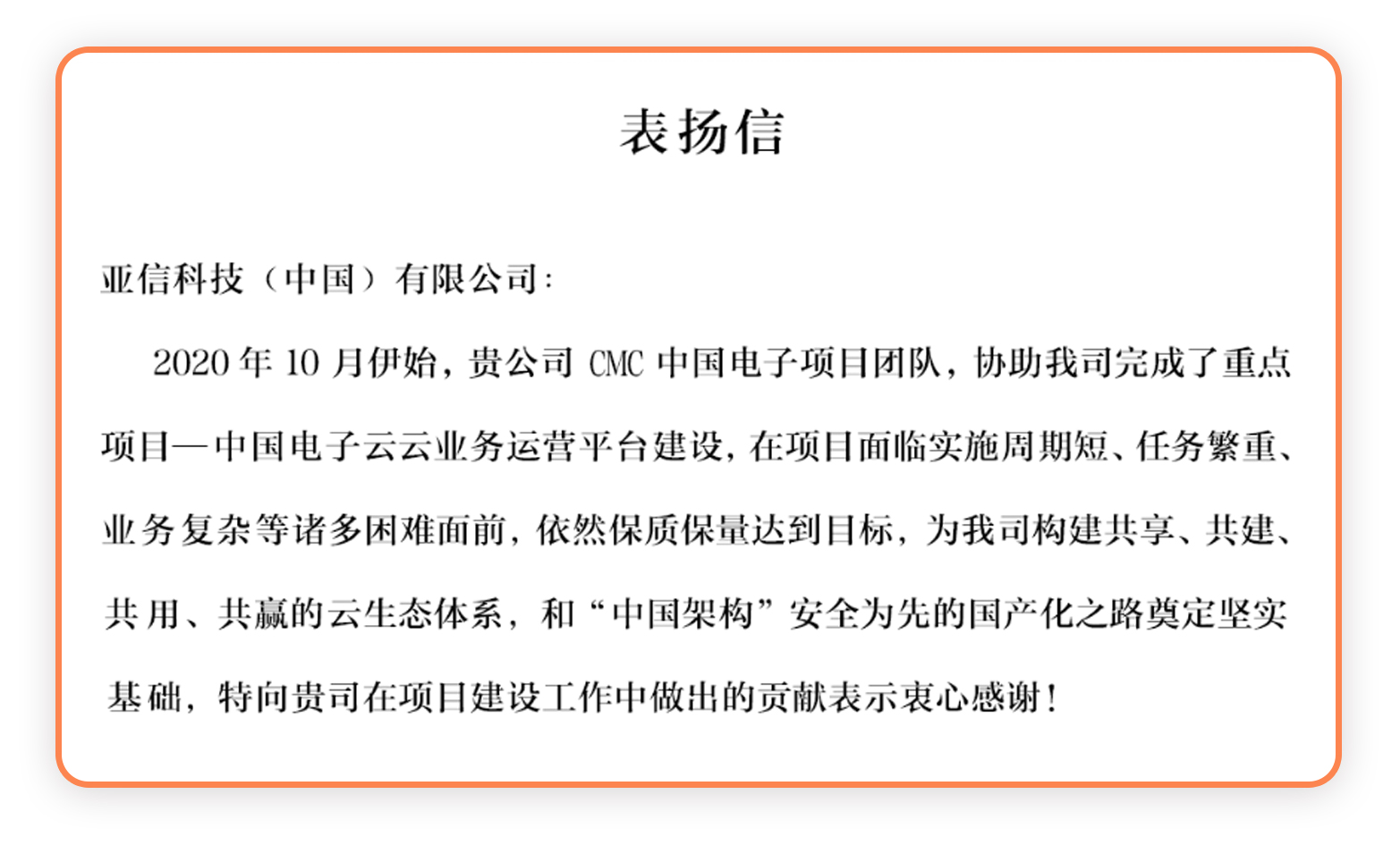 Photo: Commendatory letter of the client (partial)
AsiaInfo uses "products + services"
to contribute to the construction of "Cloud Operation Platform" of CE Cloud
In April 2021, AsiaInfo and China Electronic System Technology Corporation (CESTC) reached a strategic cooperation, as the two parties have complementary advantages and business collaboration in cloud MSP, smart city, PaaS platform construction and ecosystem co-construction. The "Cloud Operation Platform" of CE Cloud is the first project of strategic cooperation between the two parties. During the construction, AsiaInfo not only applied its traditional superior products — AISWare CRM for customer relationship management, and the ultra-large-scale and ultra-high-precision AISWare Billing, but also fully tested AsiaInfo's cloud MSP capabilities and the hybrid cloud operating system AISWare CloudOS.
AISWare CloudOS is a cloud management operating system with open capabilities, strong compatibility, and high credibility. With features such as cloud native architecture and "carrier-grade" business support capabilities, it is suitable for unified control of heterogeneous resources and can help government and enterprise customers quickly build private clouds and manage public clouds, establish an efficient and secure cross-cloud connection, guarantee the application, data migration and disaster recovery, and form unified orchestration, invocation and control capabilities of cloud service, so as to efficiently manage cloud resources, and output cloud capabilities. The solutions formed based on this product have passed the "Trusted Cloud" evaluation of China Academy of Information and Communications Technology, and are strong leaders in terms of the aspects such as "the basic functions of building private cloud on one's own, managing public cloud, function of operations system, reliability, manageability, business migration, measurement accuracy, network access capability, product cycle, operations services, and rights protection.
As the "excellent" cloud MSP vendor evaluated by CAICT, AsiaInfo has formed a complete cloud access and use product system including cloud access tool sets, multi-cloud management platforms, hybrid cloud operating systems, and products such as AI, PaaS, DevOps, and big data; the senior expert team keeps abreast of business needs to provide customers with "cloud-intelligence-network integration" consulting planning and solutions; the mature IT project team provides customers with individualized implementation, delivery and operations services, all of which has played an important role in the urgent, challenging, and complex" construction of the "Cloud Business Operation Platform" of CE Cloud. In addition, AsiaInfo can also rely on its own DSaaS digital operation model to provide customers with value-added services and create value growth.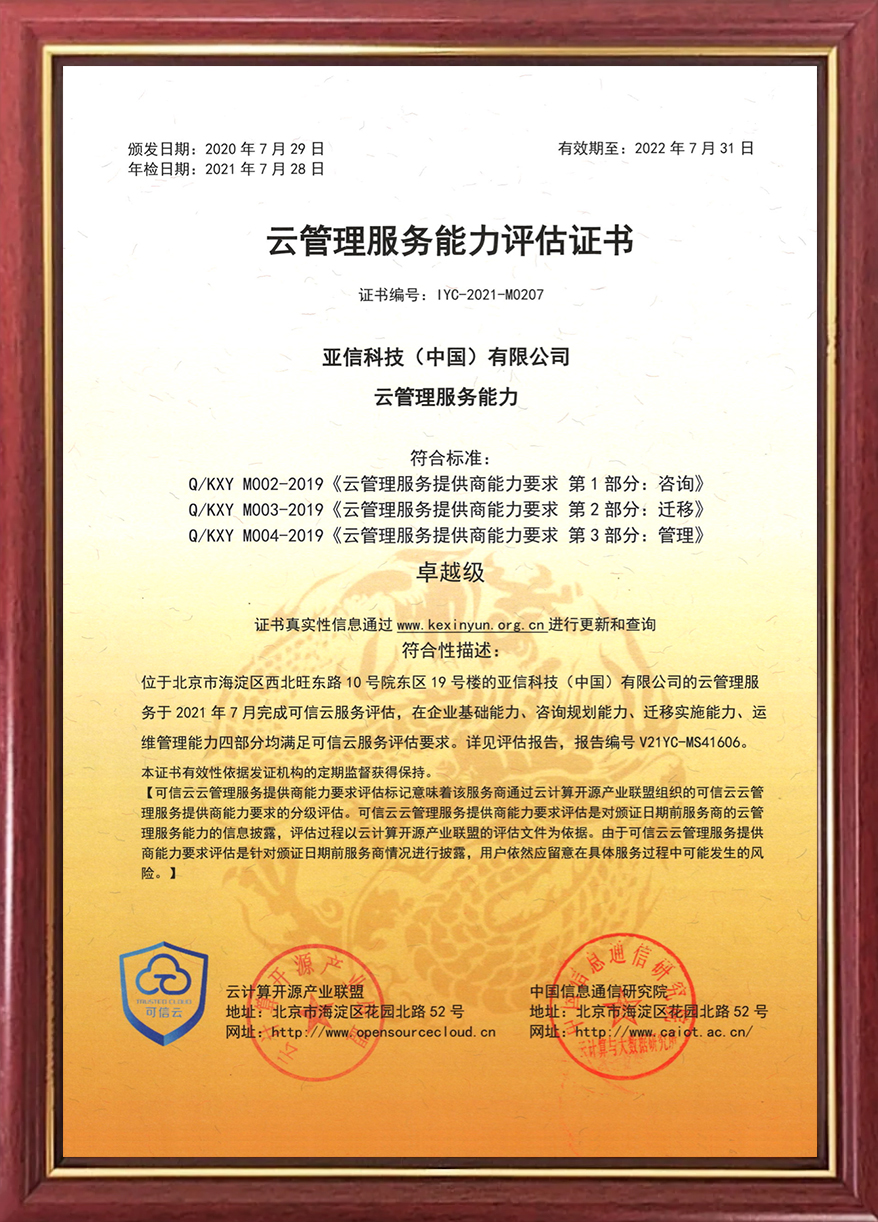 Photo: Cloud Management Service Capability Assessment Certificate
Cloud computing is a key industry in the digital economy. The "14th Five-Year Plan and Outline of the Long-term Goals for 2035" clearly propose that "focusing on hybrid cloud to cultivate industry solutions, system integration, operations management and other cloud service industries" to implement the "digital intelligence empowerment on cloud", promote the industrial digital transformation, and create new advantages of digital economy. As a pioneer in software, digital and information services in China, AsiaInfo and CESTC will make joint efforts to promote the digital transformation of government and enterprise customers, and support the construction of new types of smart cities and "Digital China".