On September 24, Hunan AsiaInfo Anhui Technology Co., Ltd., a subsidiary of AsiaInfo (hereinafter referred to as "AsiaInfo Anhui") and Jiangsu Aerospace 706 Information Technology Co., Ltd. (hereinafter referred to as "Jiangsu Aerospace 706") held the signing ceremony for strategic cooperation. The two parties will complement each other's advantages and cooperate in good faith in key industries such as information technology innovation to achieve mutual benefit and promote common development. Yang Yingnan, General Manager of AsiaInfo Anhui, and Yu Ran, General Manager of Jiangsu Aerospace 706, signed the agreement on behalf of both parties. Ren Cheng, General Manager of Smart Connection Product Department of AsiaInfo, Yu Hui, Deputy General Manager of Jiangsu 706, and others attended the signing ceremony.
According to the agreement, both parties will cooperate in various fields including automobile transportation, ubiquitous Internet of things, smart parks, and IT innovation, give full play to their industrial advantages in their respective fields, and exchange information and resources in order to jointly create industry demonstration projects and leading projects. In the field of information innovation, based on the base environment of Jiangsu Aerospace 706 adaptive to application, the adaptation with IT innovation for software and hardware products of AsiaInfo Anhui, such as middleware, antDB, AI all-in-one machine, will be carried out to provide support and guarantee for the application of new products in the field of information innovation.
Yang Yingnan, General Manager of AsiaInfo Anhui, said that both parties have common development goals and a sound basis for cooperation, and it is hoped this strategic cooperation will be taken as an opportunity to establish a closer cooperative relationship and accelerate the establishment of an IT innovation security system in relevant fields; the pilot area will be served as the co-construction site of cooperation demonstrate to build a security service support system, and carry out the adaptation of core application systems. Working together in the same direction and seeking common development will provide a strong momentum for the information-based development and digital transformation.
Yu Ran, General Manager of Jiangsu Aerospace 706, stated that both parties will start from long-term strategic needs, take important scientific and technological projects as the pulling force, and take the strategy of technological self-reliance as an effective means to further establish and improve the regular exchange mechanism, concentrate on goals and key breakthroughs, carry out in-depth cooperation in industrial software, embedded operating systems, etc., and innovate cooperation models and put more efforts into key technological breakthroughs based on complementary advantages, so as to accelerate the formation of leading, driving, and strategic scientific and technological achievements. Both parties will give full play to their respective business form advantages and innovation strengths, open up and cooperate in collaboration of tackling key problems in order to comprehensively build a new pattern of high-quality development of digital transformation services.
Hunan AsiaInfo Anhui Technology Co., Ltd. is a provincial subsidiary wholly owned and established in Hunan by AsiaInfo (stock code: 01675.HK)), which is mainly engaged in the R&D of domestically-made independent innovative database products, and also committed to the R&D and innovation of AI, 5G, IoT software and hardware, cloud computing, big data and other products. Since its establishment, it has been actively participating in the development of independent controllable and information technology innovation industries. As an important part of the construction of national independent and controllable industry chain, the AntDB database developed by the company has passed the production environment testing of China Mobile Shanghai Branch and Zhejiang Branch, achieving a syntactic compatibility same as that of Oracle, and an actual operating efficiency fully meeting the carrier-level requirements of SLA service level, which can support the full localization of network security and information technology innovation database platforms.
Jiangsu Aerospace 706 Information Technology Co., Ltd. is a provincial subsidiary wholly owned and established in Jiangsu by 706 Institute of Second Academy of China Aerospace Science and Industry Corporation. It is a core product supplier of China's information technology innovation industry, solution provider for information-based construction, and information system integrator in the digital age, with business capabilities covering consulting and design, technical research and development, integration and adaptation, IT innovation evaluation, password security, operations protection, etc. Based in Jiangsu and serving the whole country, Jiangsu Aerospace 706 is committed to the construction of domestic informatization in pillar industries including party and government administration, transportation, national defense-related science and technology, energy, and finance. It coordinates and integrates high-quality resources inside and outside the province, develops the core technologies of IT application and innovation, and realizes a collaborative operation mechanism integrating government, industry, university, research and use.
Signing ceremony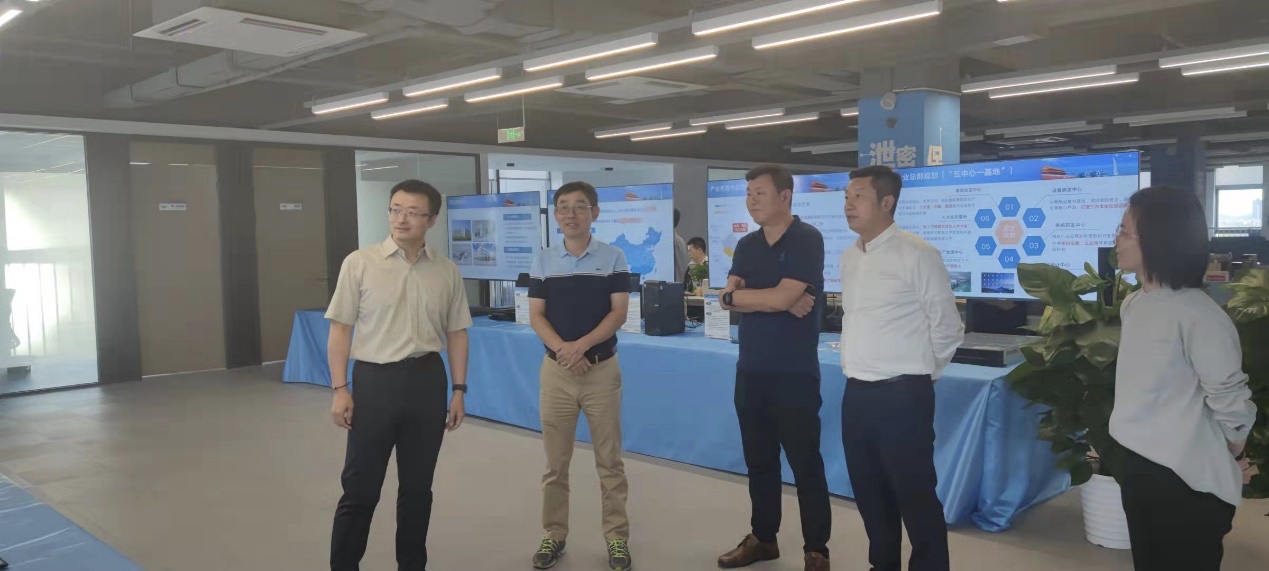 Visit to exhibition hall