On November 1, AsiaInfo Technologies Limited (stock code: 01675.HK, "AsiaInfo") and the invested company Guangdong New Vision Information Technology Co., Ltd. ("New Vision") jointly launched "Smart Construction Site Edge AI" product and solution and The White Paper on Smart Construction Site Edge AI Solutions at the China Mobile Global Partners Conference 2021, aiming to combine 5G private networks, edge computing and other intelligent means by digital and visual smart systems to achieve comprehensive empowerment, such as strengthening the supervision capability of relevant departments, reducing construction safety hazards, saving human resources, and improving operational efficiency of enterprises.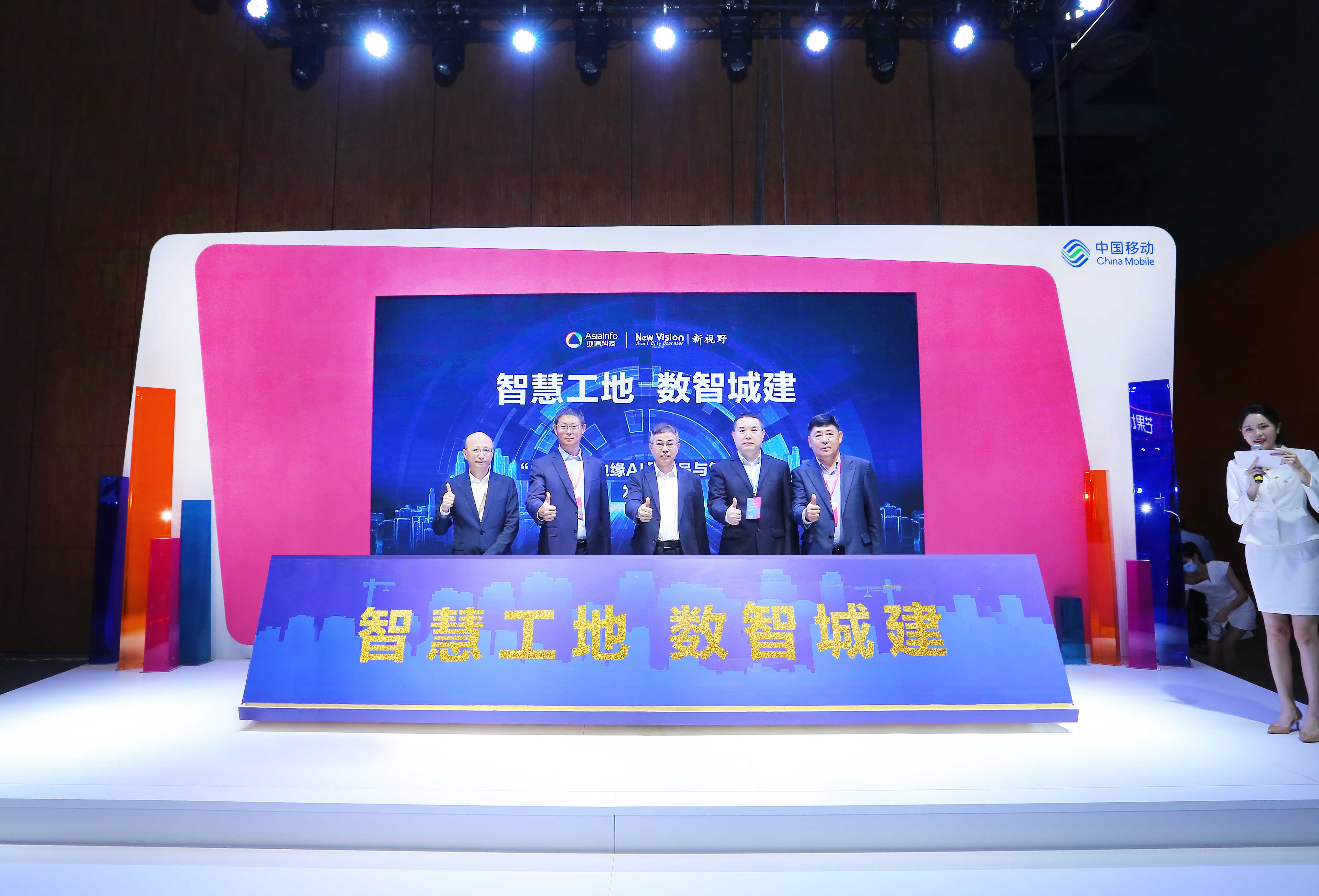 Joint Launch Ceremony
Relevant leaders of Guangzhou Municipal Housing and Urban-Rural Development Bureau, Qian Peng, General Manager of Government and Enterprise Center of China Mobile Guangzhou Branch, Liang Bin, Chen Wu, and Dr. Ouyang Ye, Senior Vice Presidents of AsiaInfo, Li Hang, Chairman of New Vision, and Du Shengtang, Deputy General Manager of New Vision, attended the launch ceremony.
"Smart Construction Site Edge AI"
Guaranteeing the operation, management and production safety of construction site
Based on AISWare AI² Edge, the "Smart Construction Site Edge AI" solution integrates the latest technical R&D and accumulated industry results of AsiaInfo and New Vision in artificial intelligence, big data, 5G, Internet of Things and other fields, and redefines the management and working methods of traditional construction site. Aiming at the pain points of project management, the solution creatively integrates the site video management, building crane safety monitoring management, on-site staff management, material management, project progress management, dust and noise monitoring management, etc. of construction companies in a coordinate, efficient, scientific and standard manner, which truly realizes the effective and in-depth cooperation between the business flow of engineering project and the on-site monitoring source data flow, realizes the intensive management on engineering project, and greatly improves the work efficiency and management effectiveness of construction companies. It is a brand-new integrated project management model that provides the construction companies and the regulatory departments of government with a package of information-based solutions of project site management.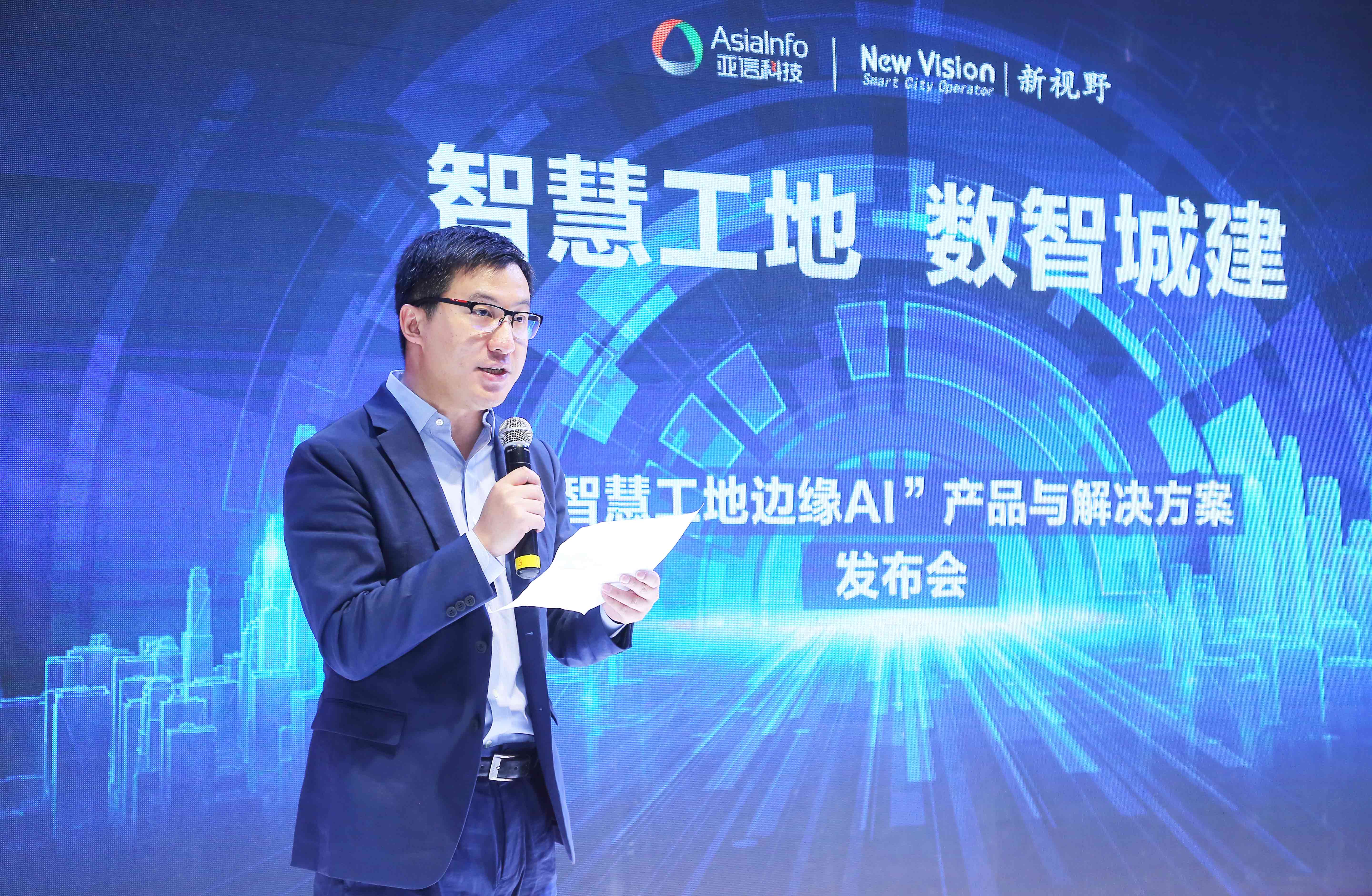 Dr. Ouyang Ye, Senior Vice President and CTO of AsiaInfo, was delivering a speech
Dr. Ouyang Ye, Senior Vice President and CTO of AsiaInfo, expresses that the digital transformation of construction industry is imminent as the traditional construction site supervision model is faced with many problems such as scattered working areas, environmental pollution, frequent safety accidents, difficult supervision, difficult personnel management, and low levels of informatization. The "Smart Construction Site Edge AI" solution integrates lightweight AI models, flexible edge computing and all-in-one equipment, which can meet the regulatory requirements of different scenarios under complex construction site environments and help realize the digital and intelligent upgrading of the construction industry.
Scene of launch ceremony
The solution efficiently realizes the management on full elements of "human, machine, material, method, and environment" on the construction site based on the collaborative management of "cloud-edge-network-end", which effectively solves the pain points commonly existed on the construction site; applies 5G technology to the construction site business management and reconstruction of business links such as image collection, video transmission, and remote communication, so as to realize timely discovery, positioning and processing of problems, and assist in improving the supervision capability and efficiency of the competent authority; uses information technologies to realize visual intelligent management and make the construction process green, safety, ecology- and environment-friendly It enables all parties involved in the project to focus more on the nature of business and achieve better development.
AISWare AI² Edge
Cross-industry application and multi-scenario empowerment
AISWare AI² Edge is a software-hardware integrated product for industry-wide edge intelligent scenarios which has a variety of specifications. It deploys AsiaInfo's powerful AI capabilities to the edge in a lightweight manner, which can meet the management and security needs of vertical industries such as communications and energy under various business scenarios, so that technology can benefit the people's wellbeing and serve the society.
"Smart construction site" solution of AISWare AI² Edge
AI is used to empower construction site management, and a data-based and visual intelligent system is applied to carry out comprehensive and three-dimensional real-time monitoring of the construction site, such as standardized operation management of personnel, real-time inspection and supervision, and prevention of safety accidents, so as to realize the information-based management of safe production at construction site.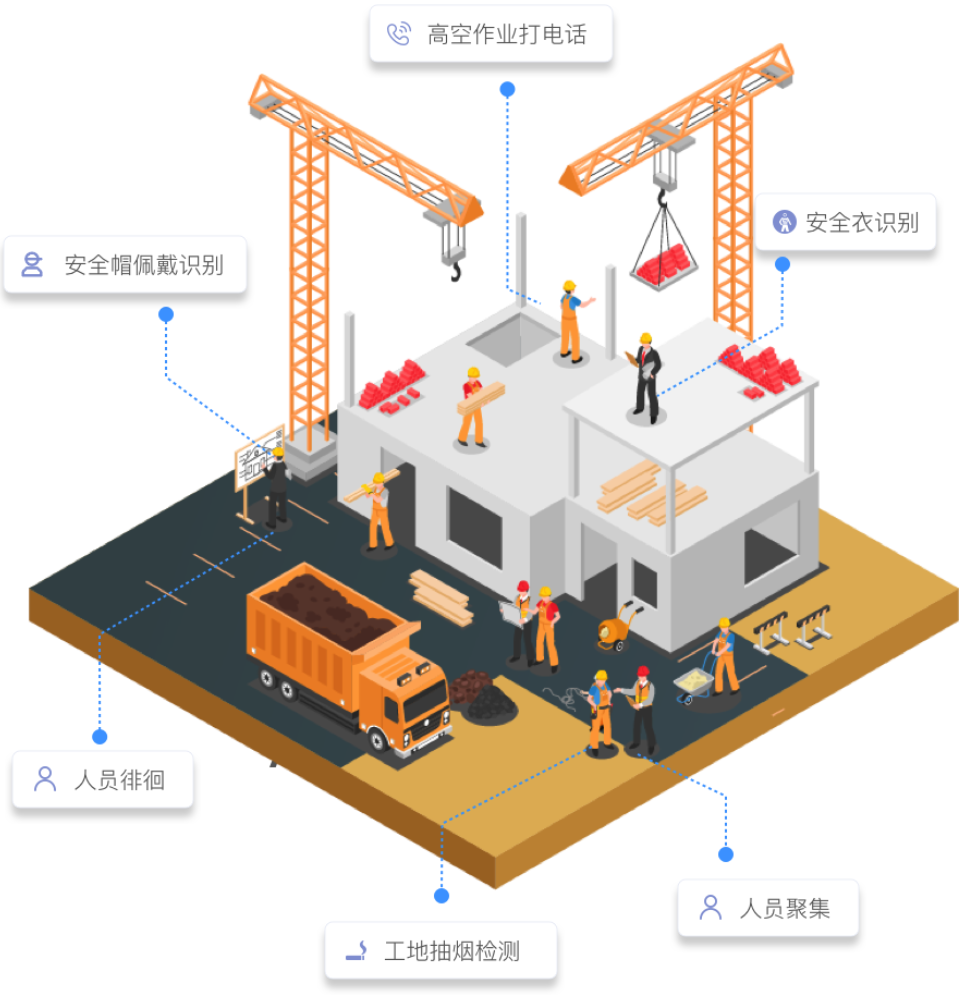 "Smart community" solution of AISWare AI² Edge
By means of the camera, face access control and other sensing terminal equipment, in combination of AI technology, community service management departments and property management companies receive the help to establish a complete smart management network for community, so as to achieve real-time management of personnel, houses, vehicles information and alarm linkage, facilitate the construction of intelligent digital communities and improve the level of intensification of community management.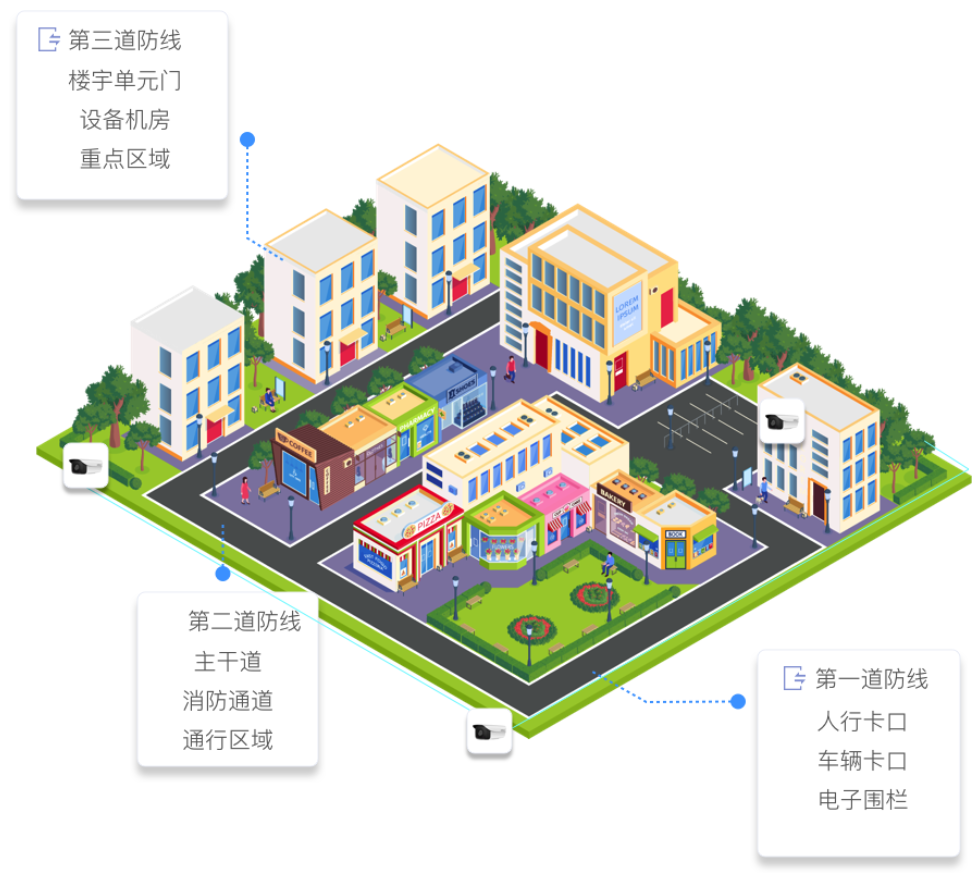 "Smart campus" solution of AISWare AI² Edge
AI technology is used to empower campus scenarios such as personnel management, security management and smart classrooms to help the campus to fully upgrade the level of intelligence.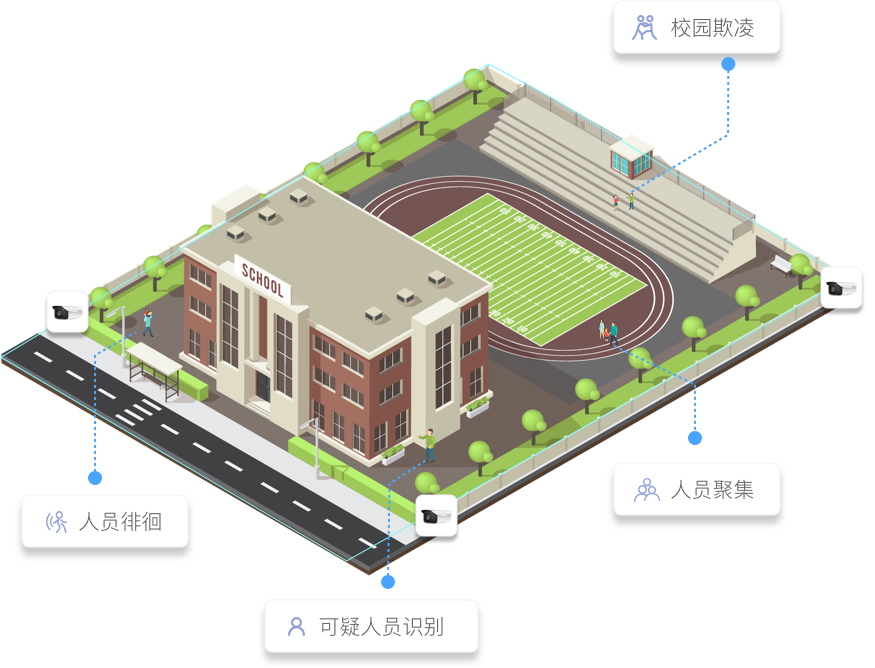 "Smart park" solution of AISWare AI² Edge
AI technology is used to empower the park to realize the visual, digital, and intelligent management of the park, improve the management level and service capabilities of the park, promote the coordinated development of economy and environment of the park, upgrade the operation guarantee ability of daily production, and build a smarter and safer park environment.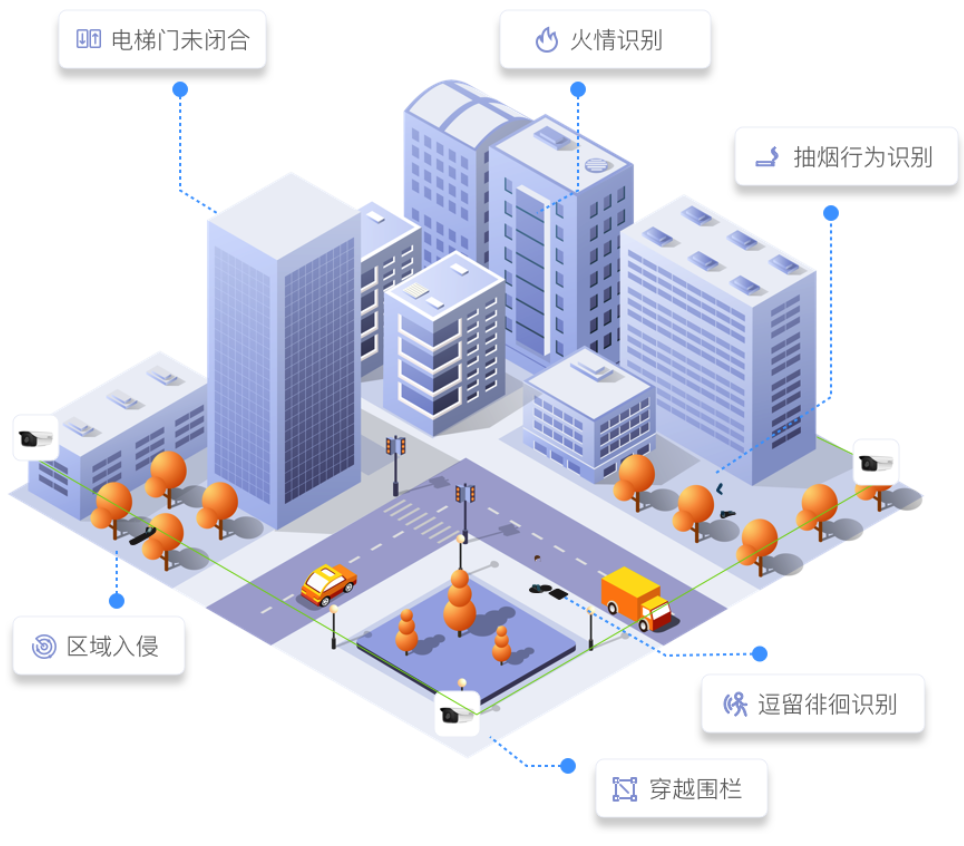 "Smart IDC" solution of AISWare AI² Edge
Through a variety of sensing terminal devices such as cameras and face access control, the intelligent inspection, management and operations platform for computer room integrating software and hardware is provided based on AI technology to furnish professional security monitoring and IT operations inspections for IDC computer room.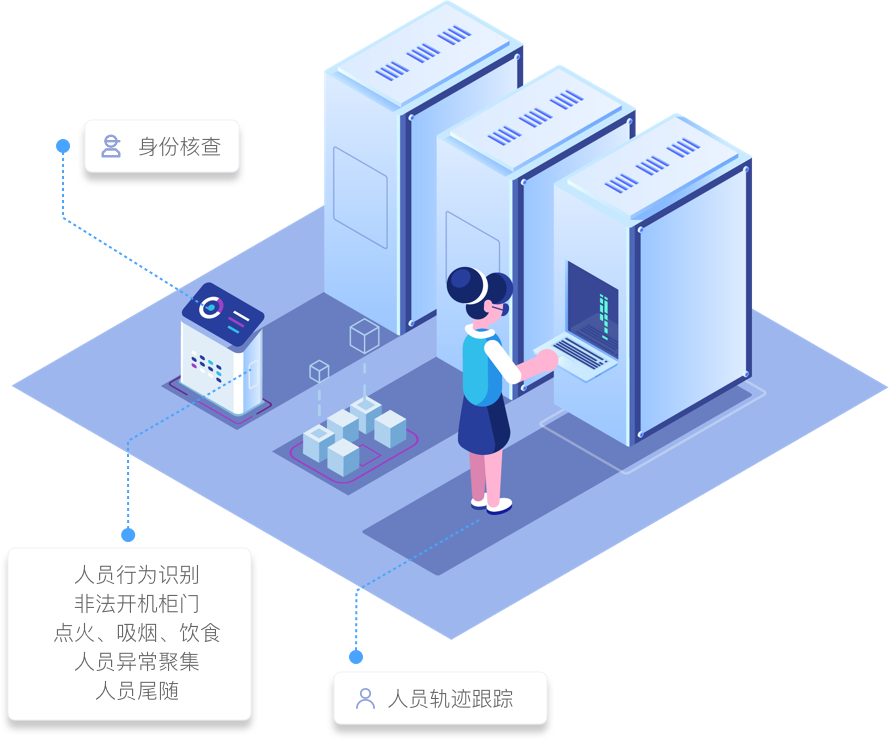 "Smart power plant" solution of AISWare AI² Edge
Online monitoring and intelligent identification and analysis can be realized based on the existing cameras of each power plant to achieve the visual and intelligent safety production supervision of all kinds of power plants, and the identification ability can be quickly expanded according to demands, so as to help all kinds of power plants improve the enterprise management, standardize the production process, intelligently prevent safety accidents, and improve the security management ability.