Recently, a delegation of teachers, doctors and masters from the School of Computer Science and School of Information and Communication Engineering of Beijing University of Posts and Telecommunications visited AsiaInfo to communicate with experts of product R&D center, launching an exchange between university and enterprise to explore science and technology.
The open day for masters and doctors
builds an exclusive communication bridge between talents and enterprises
The "Open Day for Masters and Doctors" is an exclusive time for AsiaInfo to carry out its talent strategy and communicate with the doctors and masters of universities, which has been held for many consecutive sessions.
At the AsiaInfo Exhibition Center of Scientific and Technological Innovation, members of the delegation learned about the glorious history of AsiaInfo in developing together with the science and technology of China, as well as the innovations and practices in the fields of 5G, artificial intelligence, big data, Internet of Things, digital operation, smart cities, and smart energy in recent years. The teachers and students appreciate AsiaInfo's spirit of applying researches in order to "empower the industry, promote social development, boost economic growth, and improve standards of living", and look forward to the career prospects of applying their own knowledge. Zhong Xiaoling, Recruitment Director of Human Resources Center, introduced the recruitment situation of AsiaInfo in 2021 to the delegation, and multiple business leaders and project heads in the Product R&D Center introduced the technical concepts and R&D process of AsiaInfo for further exchanges.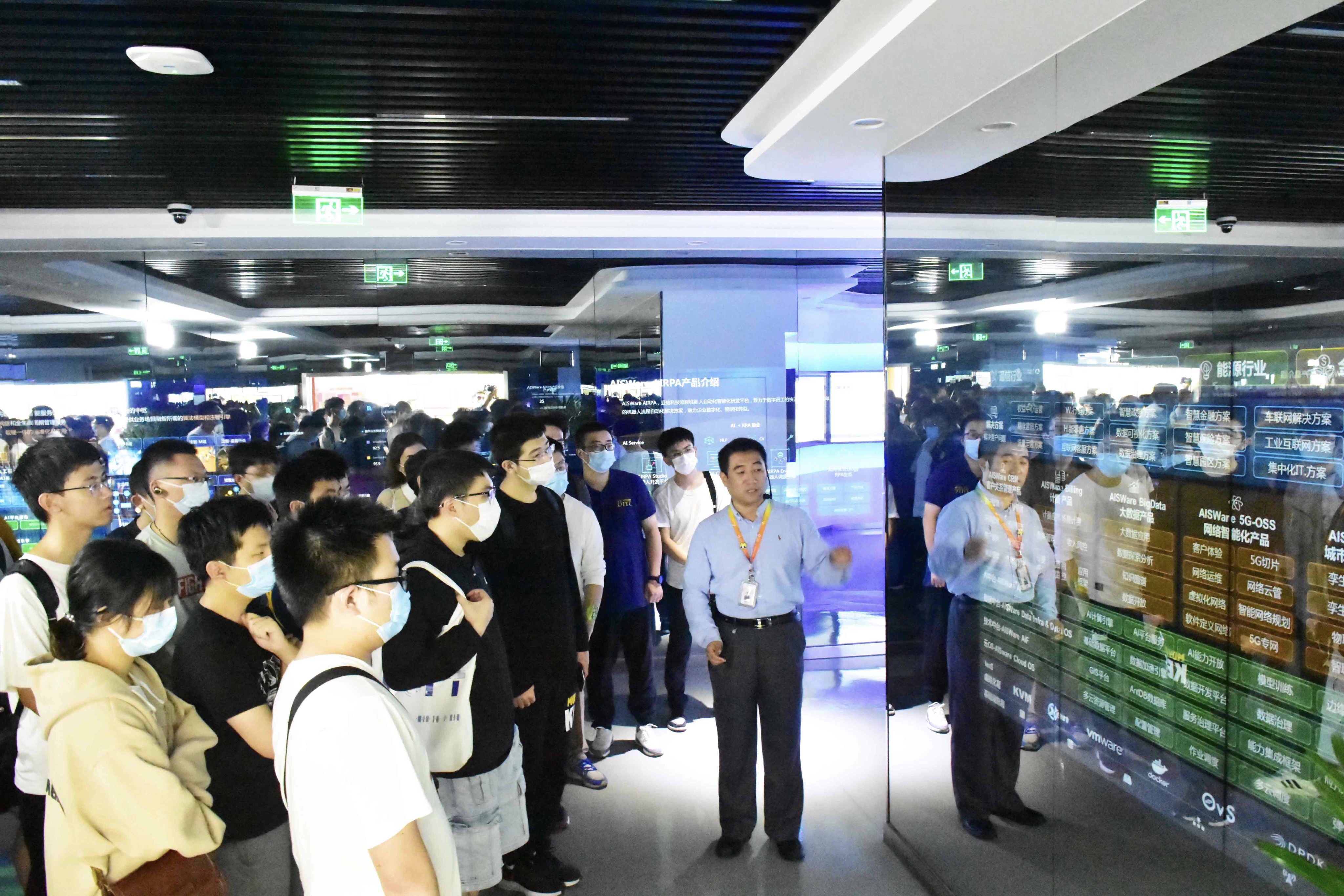 Practicing the strategy of "revitalizing enterprises with talents"
to stabilize the driving force of technological innovation
"Talents are primary resources, and innovation is the primary driving force." As a high-tech enterprise, AsiaInfo adheres to the concept of "talent first, R&D first, innovation first", and continues to increase R&D investment to empower various industries to transform and upgrade with standardized products and customized solutions.
Since its development, AsiaInfo has accumulated nearly a thousand software copyrights. AsiaInfo is not only a member unit of many international and domestic organizations such as ITU, GSMA, 3GPP, ETSI, TMF, O-RAN alliance, China Communications Standards Association, Internet Society of China, China Alliance of Industrial Internet, etc., but also has independently proposed or deeply participated in the formulation of many industry standards and technical specifications. In 2020 alone, AsiaInfo has led and contributed to the formulation of 19 international technical standards. These achievements are both the achievements of the joint efforts of all scientific researchers and the continuous increase in R&D investment of AsiaInfo.
As a leading software product, solution and service provider, AsiaInfo will give full play to its comprehensive corporate resource advantages including talents, accelerate the development of new businesses, and empower the transformation and upgrading of the industries including communications, finance, energy, transportation, government affairs, radio and television and postal services, and boost the construction of "Digital China".