"For an enterprise with a large business volume and a wide range of business types like us, we will never put all the 'eggs' on one cloud in consideration of cost control and security! "
As the digital tide is overwhelming, "looking ahead" has become the consensus of a group that has been developing for more than 20 years. From the moment the company determined its three-year strategic transformation, "accessing and using cloud properly" was included in the work schedule of Hu, Chief Engineer of the group.
Sharp tools make good work
The same goes for "accessing and using cloud"
In the process of accessing and using the cloud, the group was faced with many problems.
1. The IT system lacks a unified planning, as that the business units are constructed separately like a "stovepipe", and h heterogeneity is prominent;
2. The sources of public cloud resources are scattered, and enterprise IT resources are complex with scattered capabilities and lack of communication, making resource utilization low and sharing difficult;
3. The public cloud of a single vendor cannot fully meet the individual needs of enterprises, and the coexistence of multiple clouds poses risks to the stable development and migration of their businesses;
...
Hu said frankly, "Choosing good cloud resources is only the first step, and making good use of cloud resources does really matter." Another challenge facing the group is to achieve resource integration by the seamless connection of cloud resources with its existing IT systems, and to maximize the "value of accessing cloud" through unified and efficient management and use of different cloud resources.
AsiaInfo's AISWare CloudOS unties the knot in Hu's mind. Based on the capability of hybrid multi-cloud management, it realizes the unified management, unified scheduling, and unified operations and running of heterogeneous resources; in this way, it provides a unified cloud computing resource access interface and a unified application operating environment for upper-level applications.
After using this operating system, the unified control of enterprise cloud resources has been realized, and a "one-stop" cloud service operation and management system has been established, which effectively improves the utilization rate of IT resources and significantly reduces the costs of management and operations.
AsiaInfo's AISWare CloudOS
assists government and enterprise customers in "accessing and using the cloud"
AsiaInfo's AISWare CloudOS is a cloud management operating system with open capabilities, strong compatibility, and high credibility. It is suitable for unified control of heterogeneous resources and can help government and enterprise customers quickly build private clouds and manage public clouds, establish an efficient and secure cross-cloud connection, guarantee the application, data migration and disaster recovery, and form unified orchestration, invocation and control capabilities of cloud service, so as to efficiently manage cloud resources, and output cloud capabilities. AISWare CloudOS has excellently passed the "Trusted Cloud·· Hybrid Cloud" solution evaluation organized by the China Academy of Information and Communications Technology this year.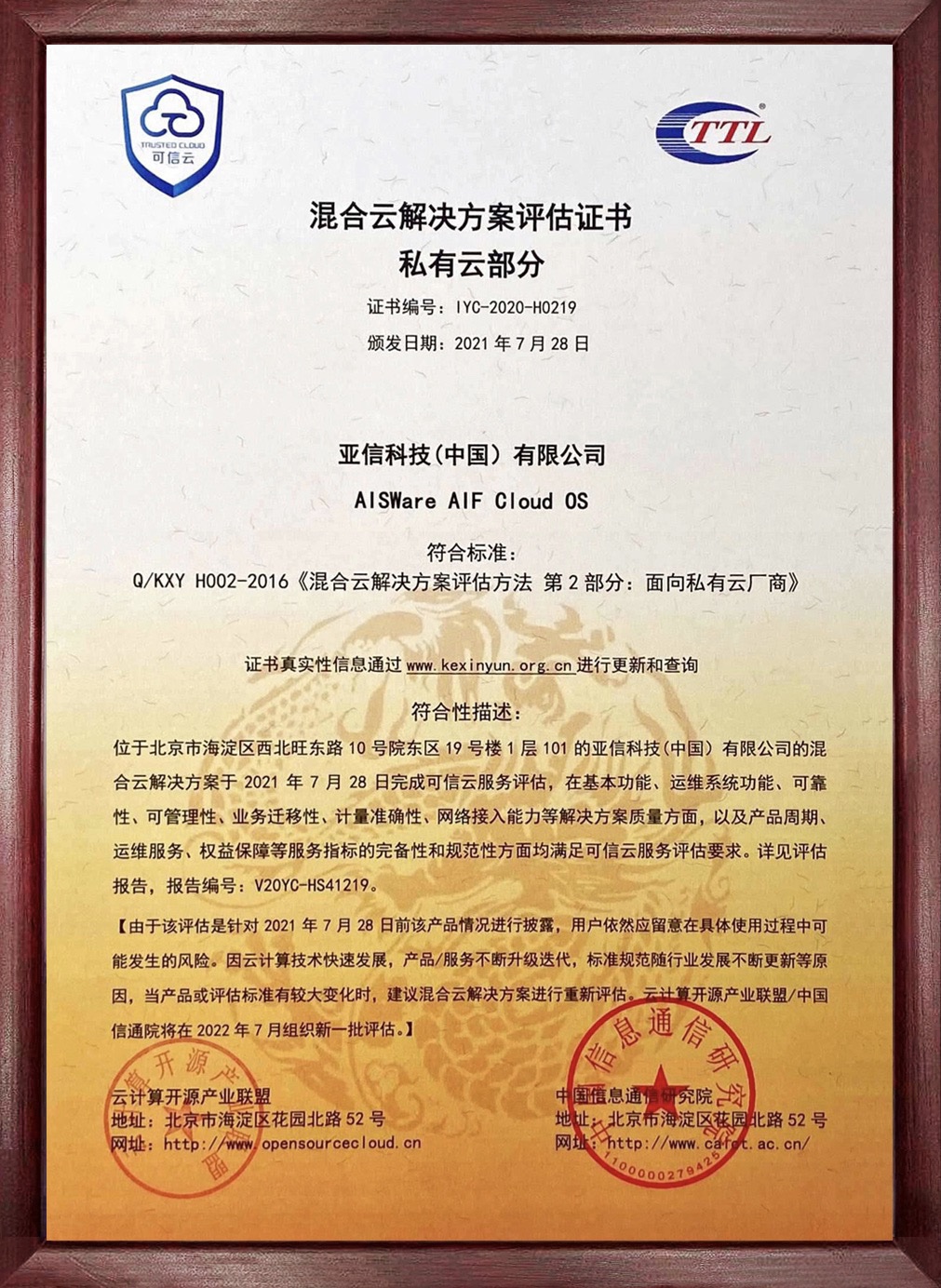 Its product advantages are mainly reflected in the following aspects:
1. "Carrier-grade" capability support, which is suitable for large businesses
Based on the research and development of AsiaInfo "carrier-grade" product and service capabilities, it is suitable for the production environment of government and enterprise customers with super-large business needs;
2. Cloud native architecture, unified control, and flexible scaling
It has the advantages of containerized deployment, microservices, and flexible scaling. It achieves unified management, scheduling, operations and running of heterogeneous cloud resources through "control center", achieves high scalability through modular and plug-in deployment, combines the private cloud, multi-cloud and hybrid cloud resources in a flexible manner to efficiently empower both internally and externally;
3. Inclusive of tradition and modernity
AISWare CloudOS can not only perform unified management and operations for multiple cloud resources, but also virtualize the traditional cloud infrastructure for the unified control with cloud native architecture, which provides enterprises with core capabilities of hybrid cloud and facilitates the IT infrastructure to smoothly migrate to modern cloud native architecture;
4. On-demand self-service
With this operating system, customers can realize "on demand" self-service similar to public cloud in a private cloud environment, instead of carrying out demand application and resource invocation through the traditional "cloud resource scheduling center";
In addition to multi-cloud management, AISWare CloudOS also provides exclusive cloud construction and multi-cloud construction services, which are widely applied in government affairs, telecommunications, finance, energy, transportation, medical service and other industries, supporting the digital intelligence transformation of government and enterprise customers.