In the era of smart connection of all things, how to make AI generate real-time and continuous intelligence and empowerment for terminal devices on the "edge side" such as sensors and cameras and strengthen cloud-edge collaboration has become a must-answer question for the development of "edge intelligence" – AsiaInfo's AISWare Edge AI edge AI recorder product has become the best choice for empowering edge services with its software and hardware integration, easy to deploy and use with its features including integration of software and hardware, ease of deployment and ease of use.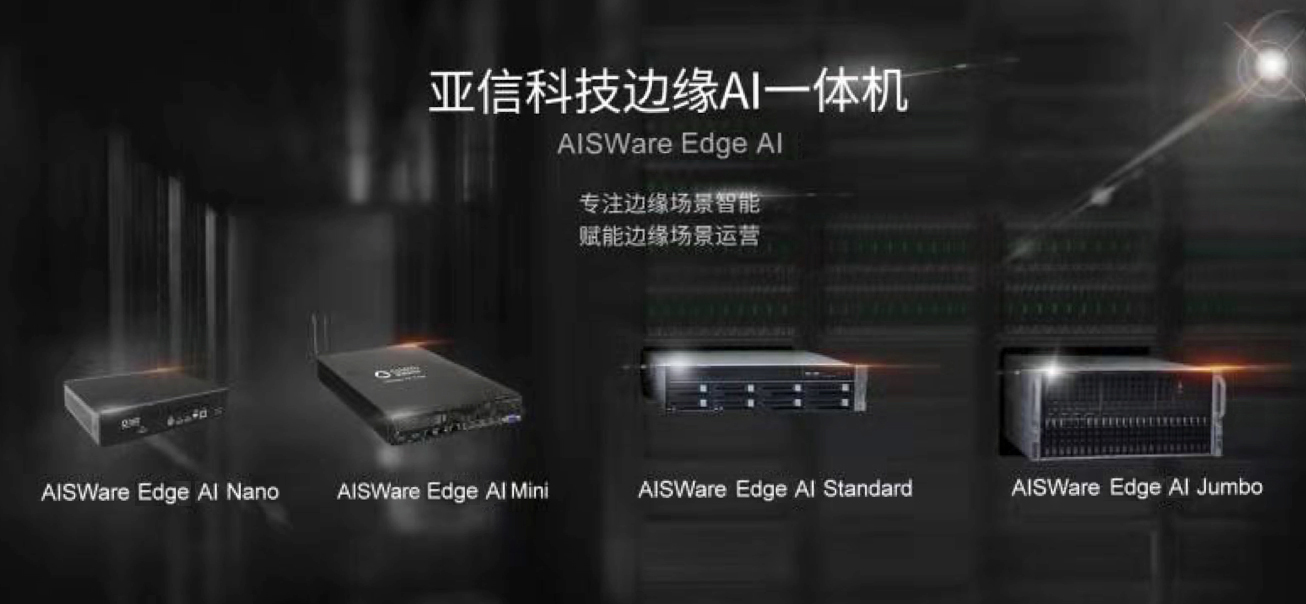 Photo: AsiaInfo Edge AI recorder series products
Technology for Social Good From possible to "enabling"
AsiaInfo's AISWare Edge AI recorder is an all-in-one product integrating software and hardware for edge business scenarios. It deploys AsiaInfo's powerful AI capabilities to edge terminals in a lightweight manner, and equips a thinking "brain" to conduct real-time analysis of video content, automatic detection of abnormal information, and proactive risk prevention and control, which promotes technology for good, and makes society smarter.
Case 1: A smart wind farm can build a strong defense line for safe energy production
An energy group used a large number of cameras to monitor production in a wind farm under the group, facing the problems such as heavy workload of manual video verification, high cost of data sending and analysis, untimely risk prediction, and high rate of missed and false reports. In order to solve the above problems, the group introduced AsiaInfo's edge AI recorder product, in order to prevent risk accidents, standardize epidemic prevention management, improve production environment governance, and realize automated, visualized, and intelligent safe production supervision with the help of technological intelligence. After the product was deployed, manual inspection workload was reduced by 60%, production accidents were reduced by nearly 80%, and risk early warning was moved up about 40 minutes on average.
Case 2: A smart construction site can keep city beautiful all the time
Reconstruction of old city is a project in the public interest to beautify the city and benefit the people's livelihood. However, issues such as safe production, pollution prevention, and noise control are putting city managers to the test. An old city reconstruction site in Xicheng District, Beijing introduced AsiaInfo's edge AI recorder product to empower site management with AI, and conduct comprehensive supervision and control of personnel, materials, and the environment through a data-based and visualized intelligent system, which standardized production process, prevented safety accidents and protected the urban environment.
Outstanding product capabilities and wide range of service adaptations
"Making edge scenarios intelligent" to empower various industries
AsiaInfo's edge AI recorder has a wide range of service adaptations, which can effectively meet the production, life, operation and management needs of parks, communities, hospitals, schools, shopping malls, factories, construction sites, and mines. Its advantages are mainly manifested in:
Scenario definition and scalability on demand
Based on service scenarios, dozens of commonly used visual perception and cognitive models, such as fire recognition, vehicle recognition, and face recognition, can be preset, and online loading and updating of service models on demand are supported, which is convenient and flexible.
Cloud-edge collaboration and integrated supervision
With the cloud bearing large-capacity data storage and structural analysis, the recorder provides fast and flexible AI reasoning capabilities for the edge, and the collaboration of terminal, edge, and cloud effectively covers the entire service process from monitoring, early warning to management.
Strong computing power and accurate recognition
Jumbo single machine supports 320 channels of video stream access, and can concurrently provide 32 channels of AI algorithm services, with a recognition accuracy rate as high as 99.99%.
Fast deployment and readiness to use
The integration of software and hardware facilitates the deployment; with functions of plug-in, networking, one-key booting-up, simple configuration provides readiness to use.
Flexible interfaces which are compatible and open
Flexible software and hardware interfaces support wired, WiFi, 4G/5G network access, provide two modes of web application and standard API to meet the needs of edge intelligence under different network environments.
Various forms and selection on-demand
Four specifications of Nano, Mini, Standard, and Jumbo are equipped, which can effectively meet the needs of a variety of service scenarios.
Soft and hard decoupling, and flexible configuration
The hardware machine body built on a general platform can flexibly expand various modules such as AI acceleration, video processing, and network communication; the software layer is decoupled from the hardware, supporting unified computing and processing under heterogeneity, which can be flexibly configured on demand.
Industry recognition ensures reliable use
The product has been awarded the honors of "2020 CIS Annual Innovative Product Award" and "2020 Excellent Solution of China's Software Industry", "2021 China Brand Day 2021 New Domestic Products for Information Technology Industry" and other honors, and listed in MIIT's Recommendation Catalog of Products and Activities of Digital Empowerment Services for SMEs in 2020.
Photo: Honor certificate of AsiaInfo Edge AI recorder series products
Accessible edge wisdom is within your reach
"Smart community" solution of AsiaInfo Edge AI recorder series products
By means of the camera, face access control and other sensing terminal equipment, in combination of AI technology, community service management departments and property management companies receive the help to establish a complete smart management network for community, so as to achieve real-time management of personnel, houses, vehicles information and alarm linkage, facilitate the construction of intelligent digital communities and improve the level of intensification of community management.
"Smart campus" solution of AsiaInfo Edge AI recorder series products
AI technology is used to empower campus scenarios such as personnel management, security management and smart classrooms to help the campus to fully upgrade the level of intelligence.
"Smart park" solution of AsiaInfo Edge AI recorder series products
AI technology is used to empower the park to realize the visual, digital, and intelligent management of the park, improve the management level and service capabilities of the park, promote the coordinated development of economy and environment of the park, upgrade the operation guarantee ability of daily production, and build a smarter and safer park environment.
"Smart IDC" solution of AsiaInfo Edge AI recorder series products
Through a variety of sensing terminal devices such as cameras and face access control, the intelligent inspection, management and operations platform for computer room integrating software and hardware is provided based on AI technology to furnish professional security monitoring and IT operations inspections for IDC computer room.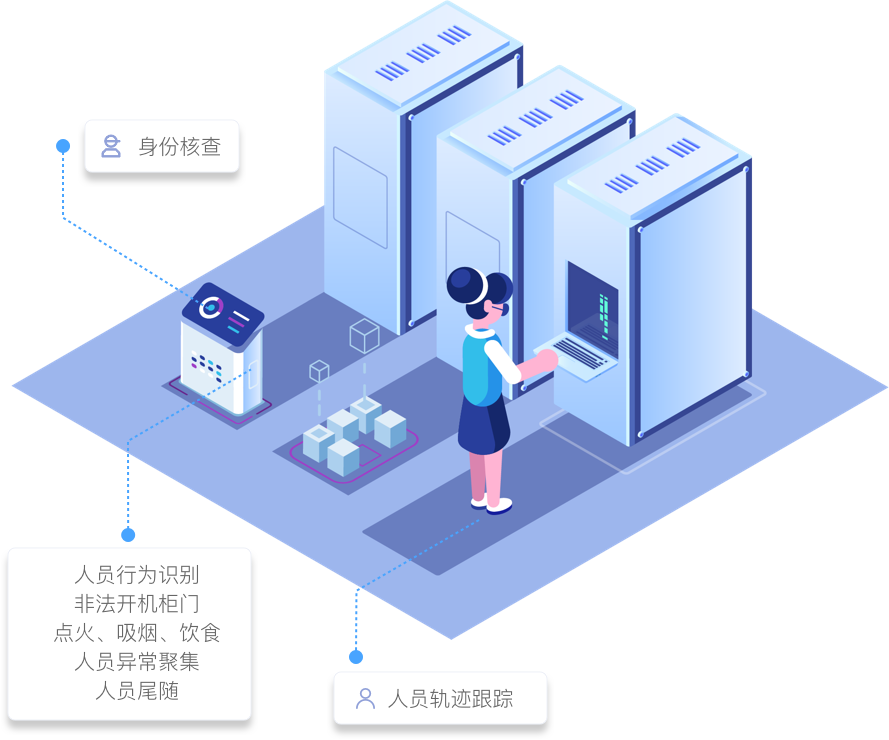 "Smart power plant" solution of AsiaInfo Edge AI recorder series products
Online monitoring and intelligent identification and analysis can be realized based on the existing cameras of each power plant to achieve the visual and intelligent safety production supervision of all kinds of power plants, and the identification ability can be quickly expanded according to demand to help all kinds of power plants to improve the enterprise management, standardize the production process, intelligently prevent safety accidents, and improve the security management ability.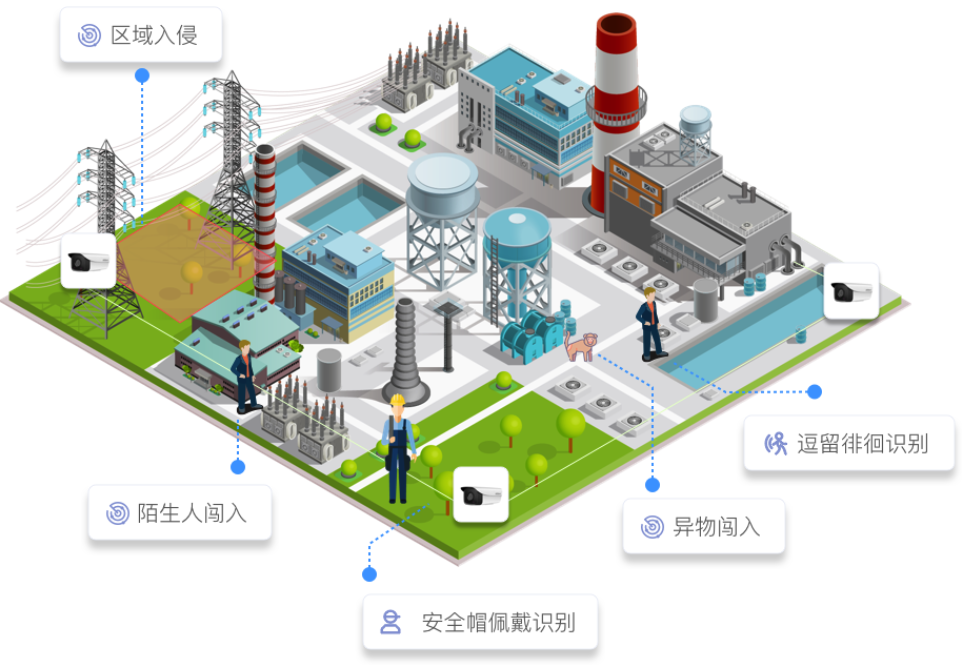 "Smart construction site" solution of AsiaInfo Edge AI recorder series products
AI is used to empower construction site management, and a data-based and visual intelligent system is applied to carry out comprehensive and three-dimensional real-time monitoring of the construction site, such as standardized operation management of personnel, real-time inspection and supervision, and prevention of safety accidents, so as to realize the information-based management of safe production at construction site.