Hosted by China Academy of Information and Communications Technology (abbreviated as: CAICT) and China Communications Standards Association, the "2021 Trusted Cloud Conference" was held in Beijing. The conference released the "Trusted Cloud" standard and evaluation results. AsiaInfo's AISWare AiDO, a product integrating R&D and operations, passed the "Trusted Cloud·DevOps" evaluation and obtained the "Advanced Level" certification, which is the most advanced, and AISWare AIF Cloud OS hybrid cloud solution passed the evaluation of "Trusted Cloud·Hybrid Cloud".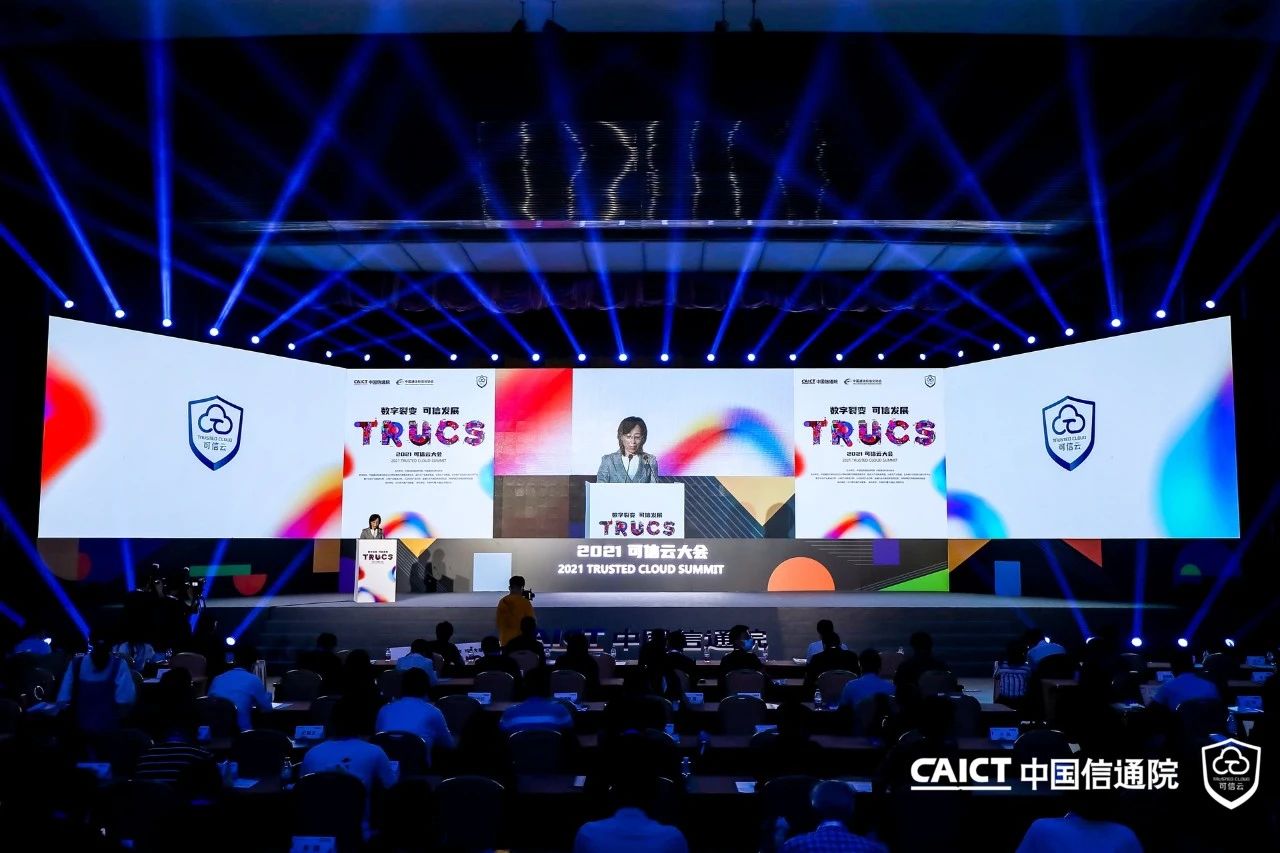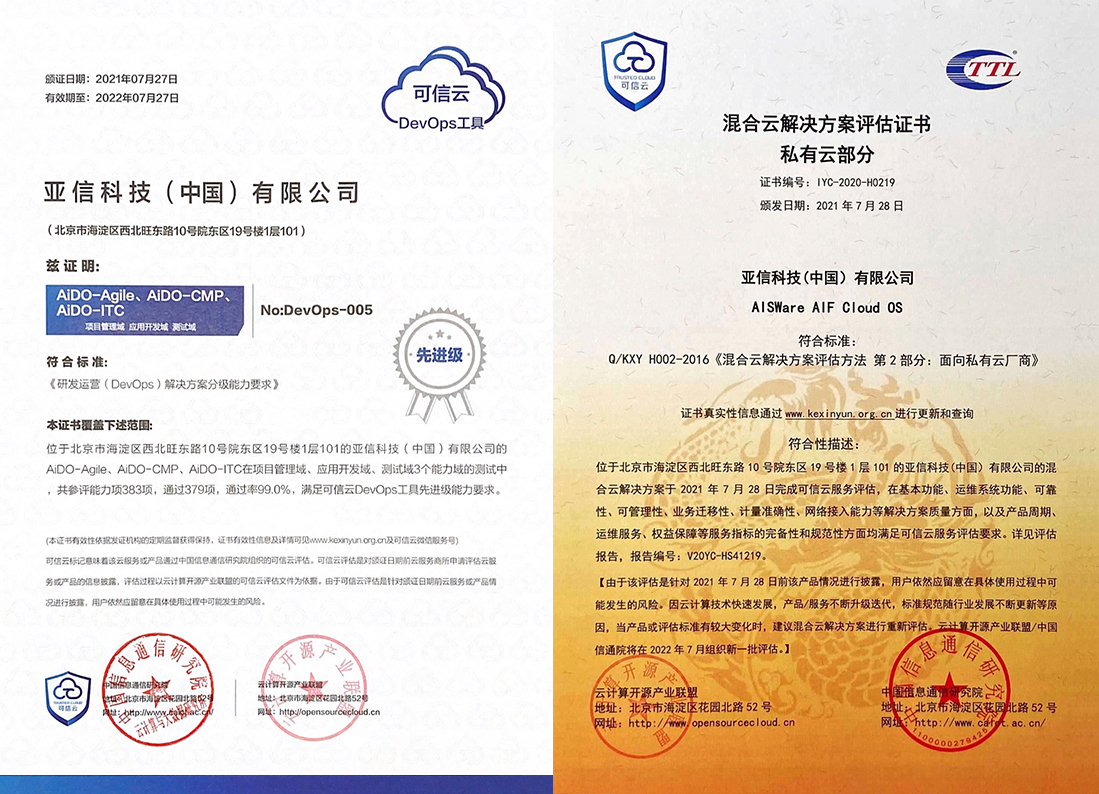 Evaluation certificate
AsiaInfo's DevOps and hybrid cloud products and solutions
assist government and enterprise customers in accessing and using the cloud to achieve efficient transformation
AsiaInfo's AISWare AiDO products and solutions integrating R&D and operations
AISWare AiDO supports waterfall and agile development models, and has a sophisticated dual-mode development system and a complete product tool chain. With mature platform, it has good openness and customization capabilities and supports modular function call. AsiaInfo DevOps solutions provide phased and step-by-step construction services to make project construction systematized, construction effects visible, and project quality more secure. It supports the consistency management of heterogeneous cloud platforms, which helps to give full play to the value of multiple cloud resources. In addition, AsiaInfo's experienced coach team also provides customers with agile coaching services. At present, the products and solutions have been widely used in the industries including communications, finance, transportation and energy.
AsiaInfo's AISWare AIF Cloud OS hybrid cloud operating system and solutions
By adopting a cloud-native architecture to build the core capabilities of "cloud management services", AISWare AIF Cloud OS achieves high scalability on modular and plug-in basis, and can flexibly combine private cloud, multi-cloud, hybrid cloud and other enterprise cloud platform systems. The solutions formed based on this product are strong leaders in terms of the aspects such as "the basic functions of building private cloud on one's own, managing public cloud, function of operations system, reliability, manageability, business migration, measurement accuracy, network access capability, product cycle, operations services, and rights protection. The solutions can help enterprises quickly build private clouds, manage public clouds, form a unified orchestration capability of cloud services, establish efficient and secure cross-cloud connections, and ensure the application, data migration, and disaster recovery between private and public clouds.
With policy guidance and authoritative evaluation
"Cloud computing" boosts the fast development of digital transformation
Accessing and using the cloud are a key part of the digital transformation of traditional industries. The "14th Five-Year Plan and Outline of the Long-term Goals for 2035" list cloud computing as one of the key industries of digital economy, and clearly propose that "focusing on hybrid cloud to cultivate industry solutions, system integration, operations management and other cloud service industries" to implement the "digital intelligence empowerment on cloud", promote the industrial digital transformation, and create new advantages of digital economy.
As the most authoritative annual event in the field of cloud computing in China, the "Trusted Cloud Conference" has attracted great attention of the industry. The "Trusted Cloud Evaluation" is an authoritative evaluation system for cloud computing services and has become an indicator for the development and application of cloud technology.
As the highest-level cloud MSP (excellent level certification) vendor in China, AsiaInfo keeps abreast of the actual needs of government and enterprise customers for cloud access and use. Based on "carrier-grade" cloud management products and cloud service capabilities, it provides a full range of cloud access consulting, migration, management, and cloud value-added services to help government and enterprise customers "achieve greater, faster, better and more economical results" in accessing and using the cloud and promote the efficient transformation of various industries.