Recently, the 2021 Information Technology Application Innovation Forum themed "Celebrating the 100th Anniversary of the Founding of CPC, Embarking on New Path of Information Innovation" had its grand opening in Changsha, Hunan, demonstrating the latest achievements of information technology application innovation (abbreviated as: information innovation) to promote the all-round development of the industry. Chen Fei, Vice Governor of Hunan Province, attended the meeting and delivered a speech. Academicians of the Chinese Academy of Engineering, relevant leaders of MIIT, Hunan Province, and Changsha City, industry experts, and representatives of leading enterprises gathered together to discuss the "information innovation". AsiaInfo appeared at the exhibition with its self-developed AISWare AntDB database and AISWare Flying Server middleware. Chen Fei and other leaders visited the booth of AsiaInfo.
AsiaInfo configures in two "basic software" fields
As the three "basic software", database, middleware, and operating system are essential core parts of IT system. Based on nearly 30 years of "carrier-grade" product R&D and rich practical experience, AsiaInfo has created AISWare AntDB database and AISWare Flying Server middleware by paying close attention to industry application scenarios. At present, these two products and their personalized solutions have been implemented in the industries including communications, finance, energy, transportation, postal service, medical care, and radio and television.
Distributed database product AISWare AntDB
It can better support HTAP, and has efficient OLAP capabilities and massive OLTP processing capabilities, which can effectively reduce the complexity of database business and customers' cost to use. In addition, it also supports mainstream domestic chips and operating systems under the CPU architectures such as ARM, X86, etc., and has been compatible and adapted with many domestic hardware manufacturers. It is highly compatible with international mainstream commercial databases, and has good parallel disaster recovery performance for heterogeneous databases. It is transparent to applications, with low development, operations, and learning costs. The original "migration evaluation technology" helps customers perceive the migration process, which provides a relatively complete migration and operations tool system.
AntDB was awarded "2021 Excellent Project of Leading Scientific and Technological Achievement".
Middleware product AISWare Flying Server
AISWare Flying Server is a WeB middleware container software that meets the J2EE8 specification. It mainly consists of WeB container and EJB container, providing a high-performance and stable operating environment for various WeB applications and APPs, and providing specifications and solutions for the development and deployment of Web, interface applications, and EJB background applications.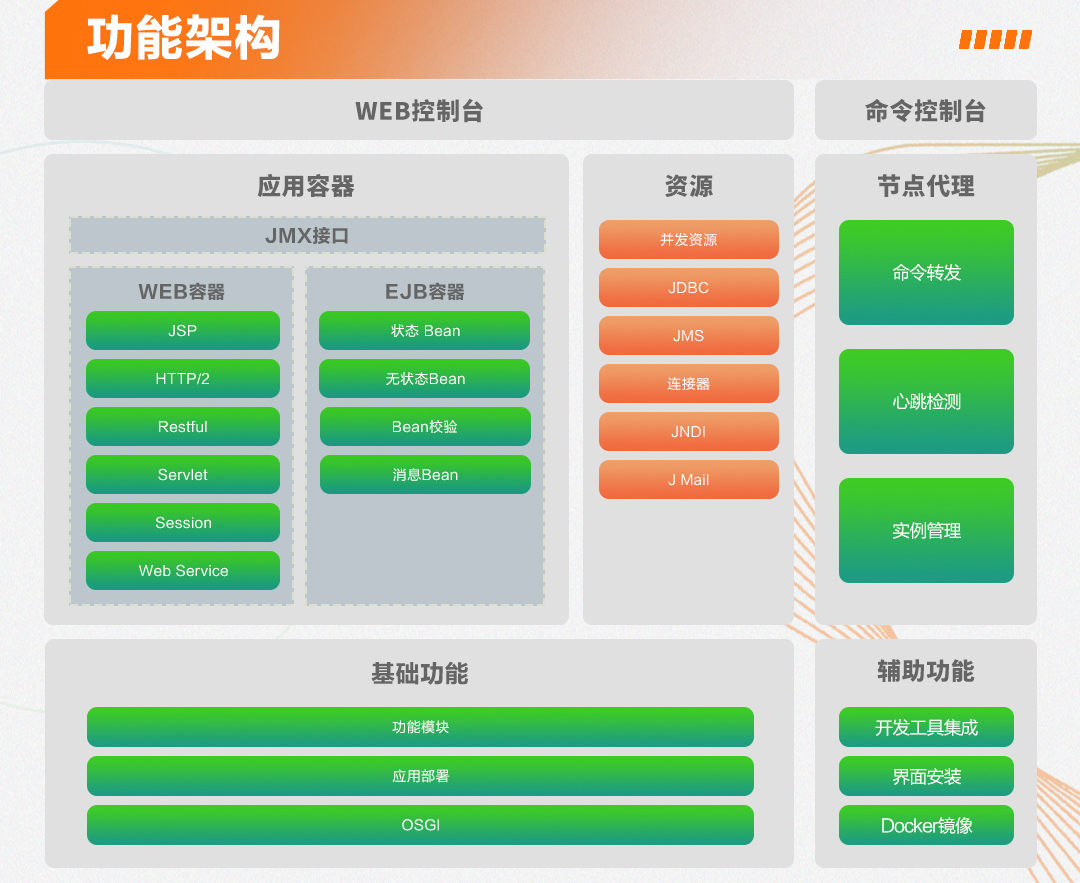 Compatible with domestic operating systems, hosts, upstream and downstream domestic software and other Web middleware scenarios, the product provides multiple functions such as management operations, low-level monitoring and configuration frameworks, supports stand-alone and cluster deployment environments, and can meet Web middleware demands in various industries.
Through independent innovation and ecological co-construction, the rise of national software boosts the development of "information innovation"
The "information innovation" industry is critical to technological development, industrial transformation and even national security of China.
As a leading software product, solution and service provider, AsiaInfo always takes independent innovation as the soul of business development. In the future, AsiaInfo will continue to increase R&D investment, cooperate with partners from all walks of life to promote the construction of national software ecosystem, continue to do what it can do to boost the development and growth of national software and the innovation of information technology applications, and contribute to building a national information security barrier and promoting the digital transformation of the industry!