Hosted by China Academy of Information and Communications Technology (abbreviated as: CAICT), the "2021 Trusted Blockchain Ecological Conference" was held in Beijing on July 13. Leaders from the Ministry of Industry and Information Technology and the SASAC attended the conference and delivered speeches, and industry experts and representatives of leading companies gathered together. The conference announced the companies and products that passed the blockchain capability evaluation this time. AsiaInfo AISWare STC was listed among them with its excellent performance in core technology, supporting services, and operations management.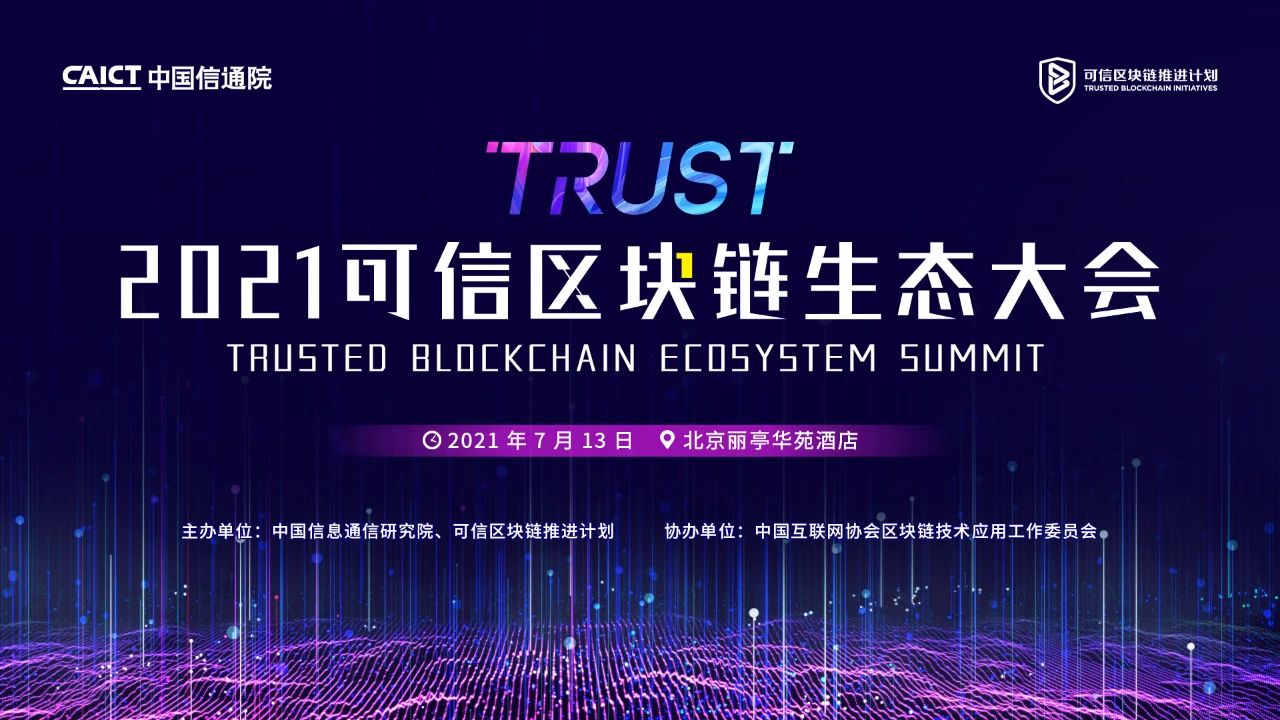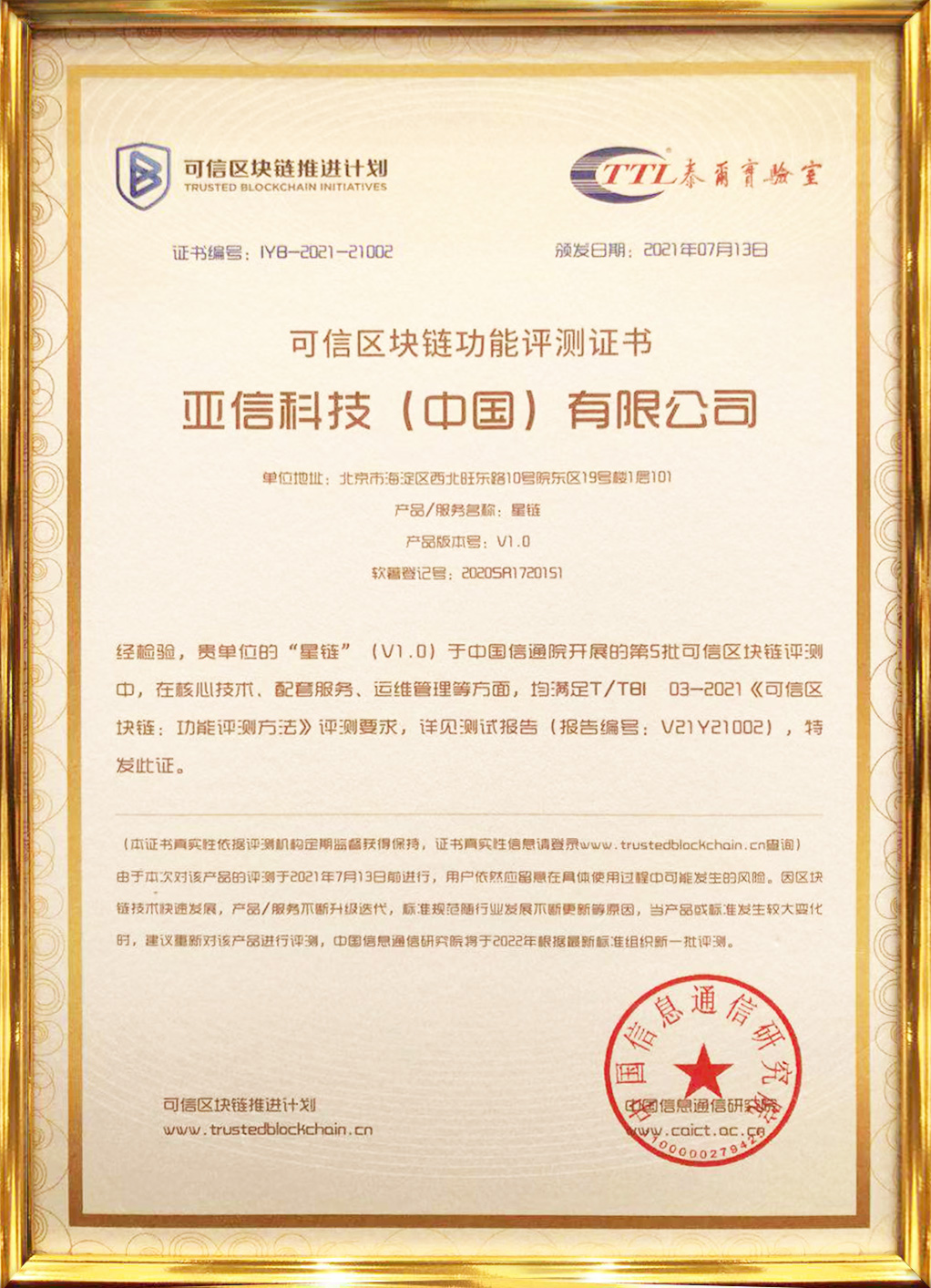 Policy guidance and authoritative evaluation promote the rapid development and application of blockchain products
The "Trusted Blockchain Function Evaluation" Of CAICT is the first authoritative blockchain product capability evaluation in China, covering multiple dimensions such as basic functions, special performance, special items of BaaS, special security items, special cryptographic items, supply chain finance, government affairs applications, certificate deposit applications, traceability applications, and electronic receipt applications. It evaluates the comprehensive product capabilities in an all-around and systematic manner, which has great significance in guiding manufacturers to conduct technological innovation and product development.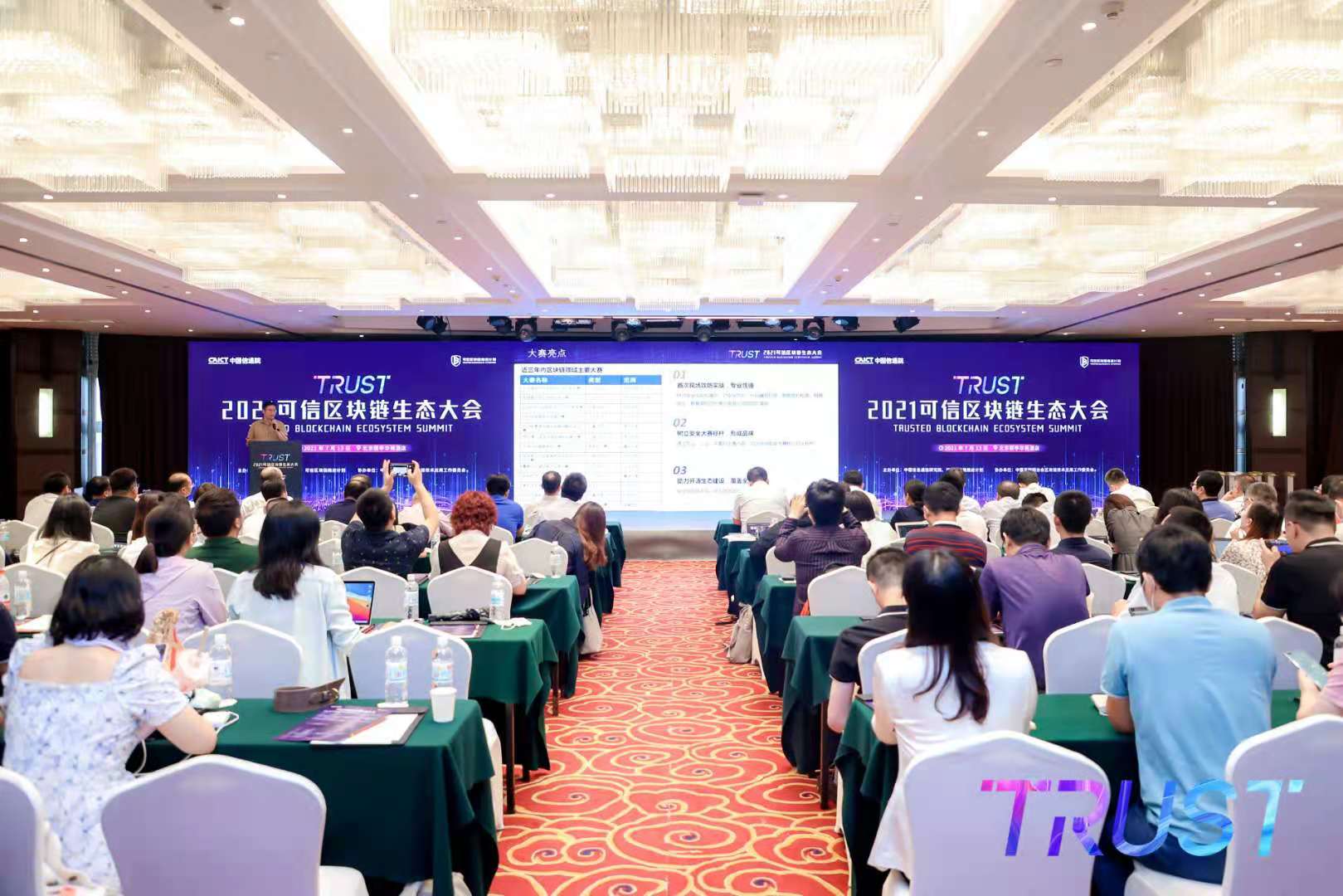 As a tamper-resistant and all-history distributed data storage technology, "blockchain" can effectively improve data quality, mine data value, and ensure data security. The "14th Five-Year Plan" determines blockchain as one of the key industries of the digital economy. The Guiding Opinions on Accelerating the Application and Industrial Development of Blockchain Technology jointly issued by MIIT and Office of the Central Cyberspace Affairs Commission clearly stated that the comprehensive strength of blockchain industry should reach the world's advanced level by 2025; a blockchain standard system should be initially established; a number of well-known products in the areas of product traceability, data circulation, and supply chain management should be cultivated; effective support should be provided to realize manufacturing power, network power, and Digital China initiative.
The AISWare STC blockchain product that passed the evaluation this time is an innovative product independently developed by AsiaInfo based on its own technical accumulation and business practice, which has been widely used in power, transportation, communications and other industries.
AsiaInfo's AISWare STC helps transformation and upgrading of vertical industry with its "trusted services"
Focusing on consortium blockchain, AsiaInfo provides a highly reliable basic platform for upper-level industrial applications to help customers mine data value, and improve the efficiency of data circulation and sharing based on its platform-based management, open services, enhanced blockchain technology and products which are high-performance, secure, reliable, and elastically scalable.
STC products have the following features:
1. Mainstream algorithms, safety and reliability, ecological collaboration, outstanding performance
It has a pluggable consensus algorithm replacement mechanism, supports the mainstream PBFT consensus algorithm, and can be equipped with the up-to-date HB-BFT and Dumbo consensus algorithms; supports the encryption mechanism in compliance with the standards of State Cipher Administration. STC's single channel supports million-level business throughput with millisecond-level latency, and can achieve linear growth through cloud computing ecology.
2. Provide high-quality blockchain services by the "four platforms"
STC is mainly composed of BaaS platform, service open platform, trust authentication platform, private data computing platform, providing customers with dozens of service support such as data management, license management, contract services, dynamic trust authentication, anti-counterfeiting traceability, collaborative support, and privacy protection.
3. Efficient and easy to use, rich in scenarios, and easy for cross-blockchain cooperation
The product can effectively cover multi-domain data to help customers' businesses quickly enter the blockchain, and efficiently solve business problems such as data traceability, lack of consistency, etc. It meets the needs of entering blockchain of multiple industries and dozens of scenarios, and facilitates enterprises to build or join industry alliances, so as to achieve data intercommunication and business collaboration between different blockchain alliances to accelerate ecological integration.
Business architecture
AISWare STC closely follows business scenarios of vertical industries and helps customers in various industries to effectively solve pain points such as cross-sector collaboration, data security, data credibility, etc., with good industrial universality and customized expansion space. In May 2021, the product was selected into the 2021 New Domestic Products Promotion Catalog for Information Technology Industry of China.