"Party members of the company are scattered in various places, then how can party members in different places participate in organizational activities? When organizing party members to learn party history, the plain graphics and documentary videos always seem less appealing..."
These problems are not rare. The problems such as difficult to organize party member activities, the single format, and the inconvenience of party members in different places have plagued many party building workers in enterprises. How to organize smart and efficient party building activities with the help of emerging technologies? AsiaInfo's "3D Cloud Party Building" provides a solution.
Technology empowers smart party building to make activities of party members always online
The Opinions of CPC Central Committee on Strengthening the Party's Political Advancement (hereinafter referred to as the "Opinions") proposes that emerging technologies such as the Internet and big data should be actively used to innovate the content and methods of party organization activities, promote "smart party building", and make political life within the party always full of energy. AsiaInfo's 3D Cloud Party Building is exactly a microcosm of the implementation of the Opinions, which provides a new choice for enterprises and institutions to realize smart party building.
Immersive learning at anytime and anywhere enables party member education to be at our side. In enterprises and public institutions, it is very common for party members to travel on business or be dispatched overseas for a long term, which makes it difficult for party branches to implement the "Three Sessions and One Class", party's theme day, and party member education. Based on the 3D Cloud Party Building platform, party members can participate sessions online and remotely, and party members in different places can also participate in organizational life in a "face-to-face" manner. Party organizations can also make immersive interactive party courseware on the platform to make party history learning visible, perceivable and immersive and put them personally into the scene. Not only session costs are greatly reduced, but the interest of learning is effectively improved, which greatly improves the quality of party member education.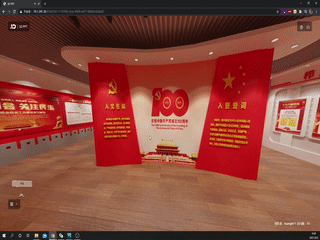 The integration of online and offline activities makes party building everywhere. Party organizations in all enterprises and public institutions have the need of onsite learning in the ideological and political exhibition halls, patriotism education bases, etc., but it is difficult to arrange all party members of the company scattered across the country to be disengaged from work to participate onsite learning. With the help of AsiaInfo's 3D Cloud Party Building, it is possible to break the time and space limitations of traditional onsite patriotism education, and realize "onsite learning" for all party members in a way of recurring scenes and intelligent interaction. The 3D Cloud Party Building platform supports the rapid construction of online virtual exhibition halls to realize multi-person interactive online visits and explanations, and also truly reproduce important historical nodes and patriotism education bases, so that party members can experience it personally without leaving home. It breaks the traditional way of publicity and deepening the results of learning and education, providing a new way for patriotism education.
AsiaInfo's 3D Cloud Party Building contributes to smart party building
AsiaInfo's 3D Cloud Party Building takes advantage of AsiaInfo's AISWare HyperView, integrating 3D, VR (virtual reality), AR (augmented reality) and other technologies, as well as the easy-to-use customization capabilities of 3D scenario workshop products to create immersive and interactive learning experience.
AsiaInfo's 3D Cloud Party Building has 4 major features:
1. 720° immersive panoramic interaction
The immersive presentation of party lecture resources realized through AR, VR, and AI technologies allows party lecture learning to "be vivid". Party members can learn through pads, large screens or VR glasses.
2. Customized VR exhibition halls
Free of space constraints and space and decoration costs, online virtual party building and ideological and political exhibition halls can be quickly constructed through the 3D scenario workshop. Virtual explanation service is provided, and sharing through social platforms is also available.
3. Efficient and easy-to-use panoramic VR production platform
Rapid construction of smart party building classrooms is supported on cloud, which is easy to operate. Collaborative rich material library and template library, online graphics and video tutorials are provided, which can be easily used by content creators.
4. Cross-platform and cross-terminal immersive learning
Dedicated network equipment connected to the 5G network and Party Building Cloud is provided to improve connectivity and real-time performance. VR devices and large screens with the characteristics of next-generation smart terminals are furnished, which can realize cross-platform and cross-terminal immersive and interactive learning.
Application scenarios
Learning of party members
The cloud party building solution supports local and remote learning, and supports seamless connection with video conferences to realize online multi-person interactive learning.
Leading Party group and mass meetings
Through local large-screen display, VR/AR interaction, remote meetings and multi-terminal access, a new form of leading party group and mass meetings is provided.
Online and offline activities
Large-scale online and offline activities such as press conferences are supported through multi-screen coverage linkage, multi-person collaborative meetings and large-screen display.
Online exhibition hall for presentation and publicity
The presentation and publicity functions of the exhibition hall are supported with highly technological exhibition tools and intelligent interactive display forms.
Smart party building is gradually deepened in the digital age. AsiaInfo will also persist in the deep integration of technology and party building work, continue to explore innovative technologies, and implement the original aspiration and mission of digital transformation.