On July 3, 2021, the finals of the first "China RPA+AI Developer Competition" hosted by "RPA China" was held in Beijing. Themed "Intelligent Innovation, Exploration and Application", the Competition invites universities, technology companies and RPA developers across the country to participate, gathering hundreds of professional guests from the government, academia, industry, technology, and capital. As the largest and most influential professional event in the RPA field in China so far, the Competition has attracted a total of 534 mainstream RPA software product manufacturers and university teams, including AsiaInfo, China Mobile, UiPath, ENCOO, Huawei, China Merchants Bank, China CITIC Bank, as well as Tsinghua University, Nanjing University, Nankai University, and Sun Yat-sen University, with more than 2,000 participants. After many rounds of intense competitions, the joint team of AsiaInfo and Tsinghua University "5G Smart Eye Quality Inspection Robot" stood out from many participating teams and won the national champion and grand prize with its overall score ranking first, and UiPath and China Mobile won the runner-up and third runner-up respectively.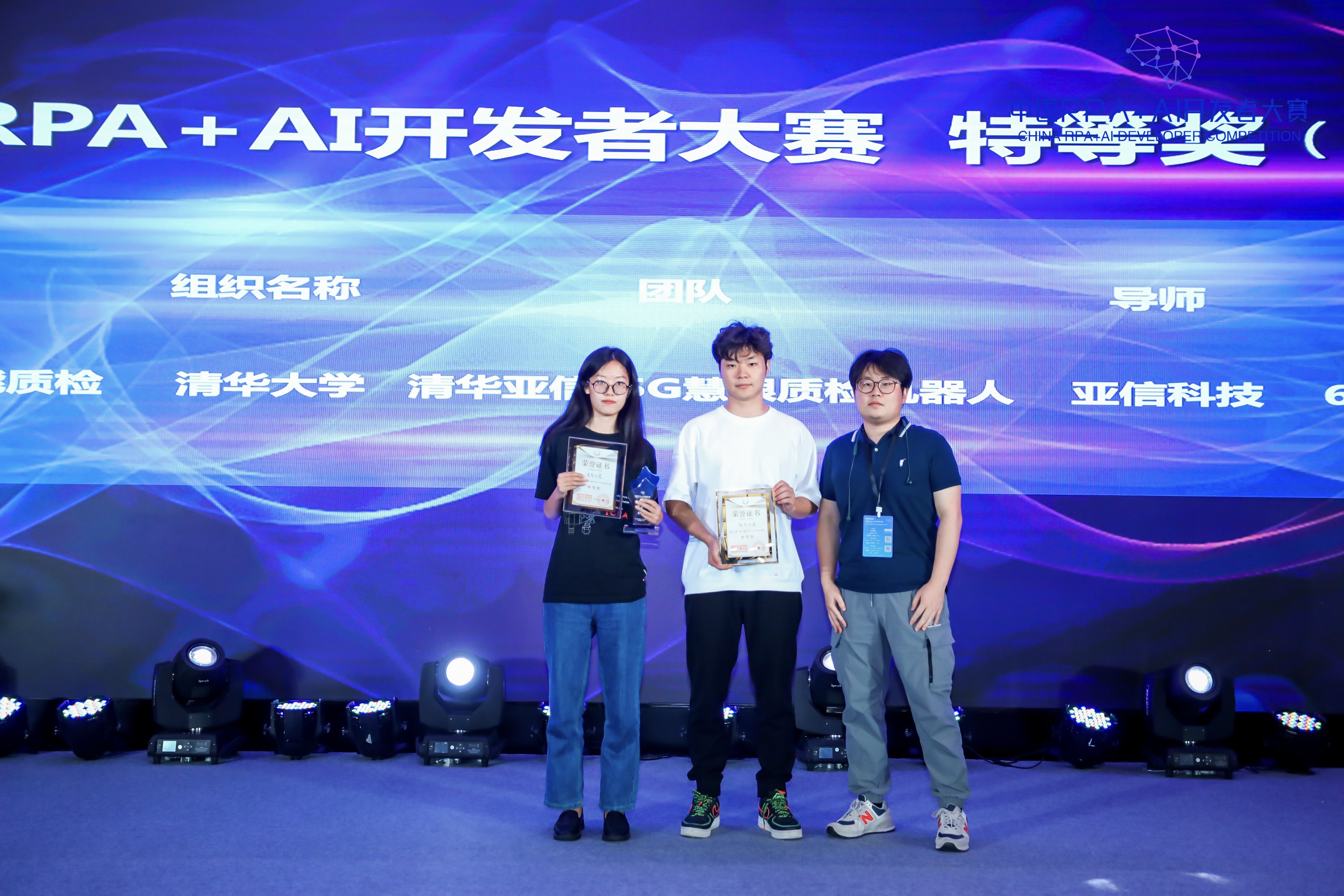 Champion award ceremony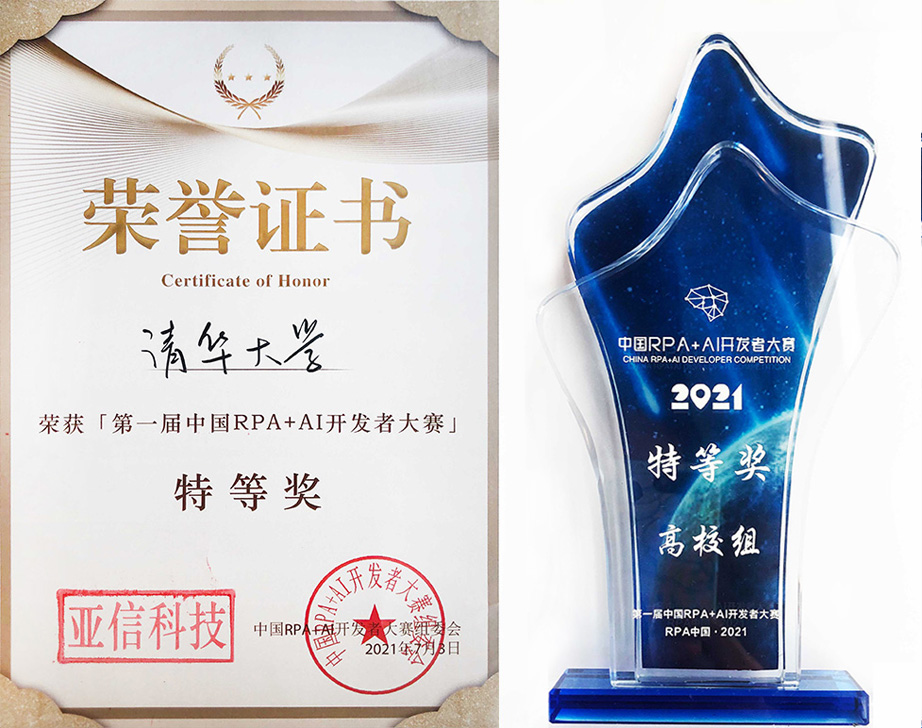 Champion certificate and trophy
Relying on AsiaInfo's AISWare AIRPA product
AsiaInfo-THU AIR Joint Lab of 5G Intelligence came out on top
AsiaInfo and THU AIR formed a joint team of "5G Smart Eye Quality Inspection Robot", and AsiaInfo served as the corporate instructor to provide product and training guidance. Based on AISware AIRPA, the robotic process intelligence platform independently developed by AsiaInfo which is high-quality, efficient and universal in pan-industry scenarios, the team of 5G joint AI laboratory from the Tsinghua AIR - AsiaInfo makes use of RPA and AI visual recognition algorithm capabilities to apply the product in "intelligent quality inspection of 5G base station construction", the typical application scenario of China's 5th generation mobile communication network, and won the national champion and grand prize of the Competition. UiPath and China Mobile (China Mobile Information) won the runner-up and second runner-up in the Competition.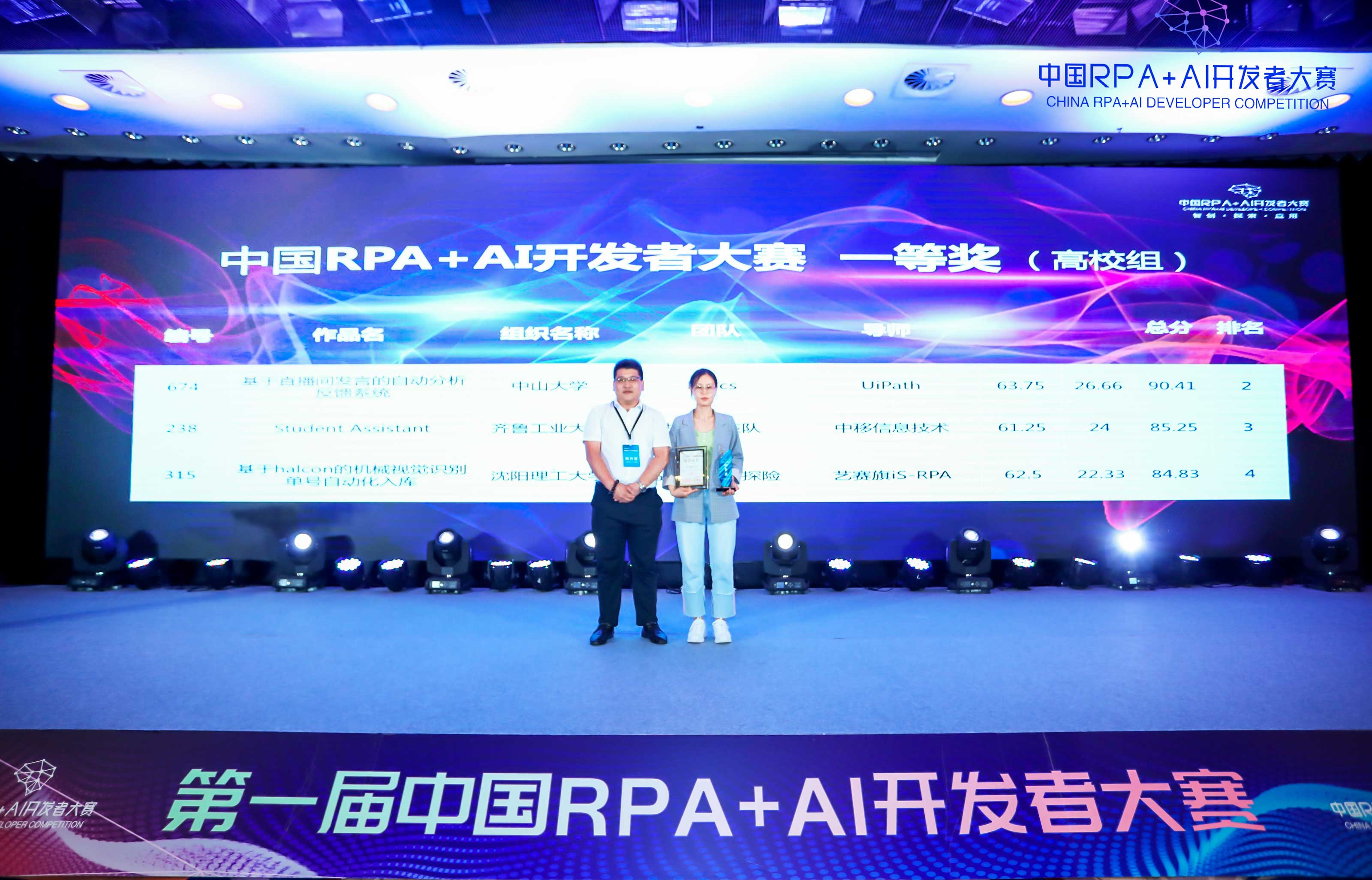 List of runner-up, second runner-up and last winner
With the large-scale advancement of 5G construction in China, it is estimated that there will be 15 million 5G base stations by 2030. Therefore, the quality control of the construction and maintenance of 5G base stations will be a key factor in guaranteeing the performance and quality of China's 5G network. The work of network quality inspection is highly repeated, so the automated orchestration is feasible for process, and the AI visual recognition algorithm can be used for the abnormality detection of base station quality. However, the traditional manual quality inspection method requires professionals to visit the scene for inspection or watch the video one by one remotely to judge the quality, which is inefficient and error-prone.
Based on AsiaInfo's AISware AIRPA robotic process intelligent R&D platform, "intelligent quality inspection of 5G base station construction" combines RPA technology with visual recognition CV technology, realizes system login, query of review work order, and download and picture extraction of monitoring video of 5G base station through process automation, and uses the base64 method to identify the quality and abnormality of the 5G base station on the vision service provided by AsiaInfo's AI platform AISware AI² after the extracted 5G base station pictures are coded and sent, so as to instantly determine the service status of the 5G base station, and realize the automation and intelligence of quality inspection of 5G base station.
The innovation of this technology lies in the use of YOLO5 to detect relevant information in base station video, which achieves a detection accuracy of more than 99% of mAP value; in addition, the quality inspection mode based on AI vision + RPA robot can be widely used in multiple quality inspection scenarios such as computer room monitoring, monitoring log compilation, switch, server status monitoring, and alarms in multiple industries.
The unattended review robots are utilized instead of manual work to perform base station quality inspection, which can perform tasks 7*24 hours, and the efficiency of quality inspection is much higher than manual quality inspection, which can shorten the construction acceptance cycle of base station; the pass rate of unattended review robots is over 99%, that is, when the construction volume of each province is about 2,000 base stations per month, it is equivalent to the situation where the review of 1,700 base station requires no manual participation, which saves approximately 340 man-hours per month for each province, and saves approximately 42.5 FTE per month for each province. The workload of network operators of communications operators is relieved, which allows network operators to concentrate on ensuring communication quality.
AISware AIRPA+AISware AI²
promote the robotic process from "automation" to "intelligence"
AISWare AIRPA integrates robotic process automation with AsiaInfo's "smart brain" to form five core competency sectors including the process robot development platform, robot steward, robot scheduling engine, AI service component, and RPA ecology, providing cross-platform, cross-system and cross-application process integration capabilities. Based on automated means, it undertakes highly repetitive and inefficient transactional work for enterprises/institutions, and realizes automatic discovery of process data abnormalities, automatic identification of process changes, and automatic accumulation of process knowledge through data intelligence, helping customers overcome the obstacles of efficiency, explore value depressions, and boost transformation and upgrading.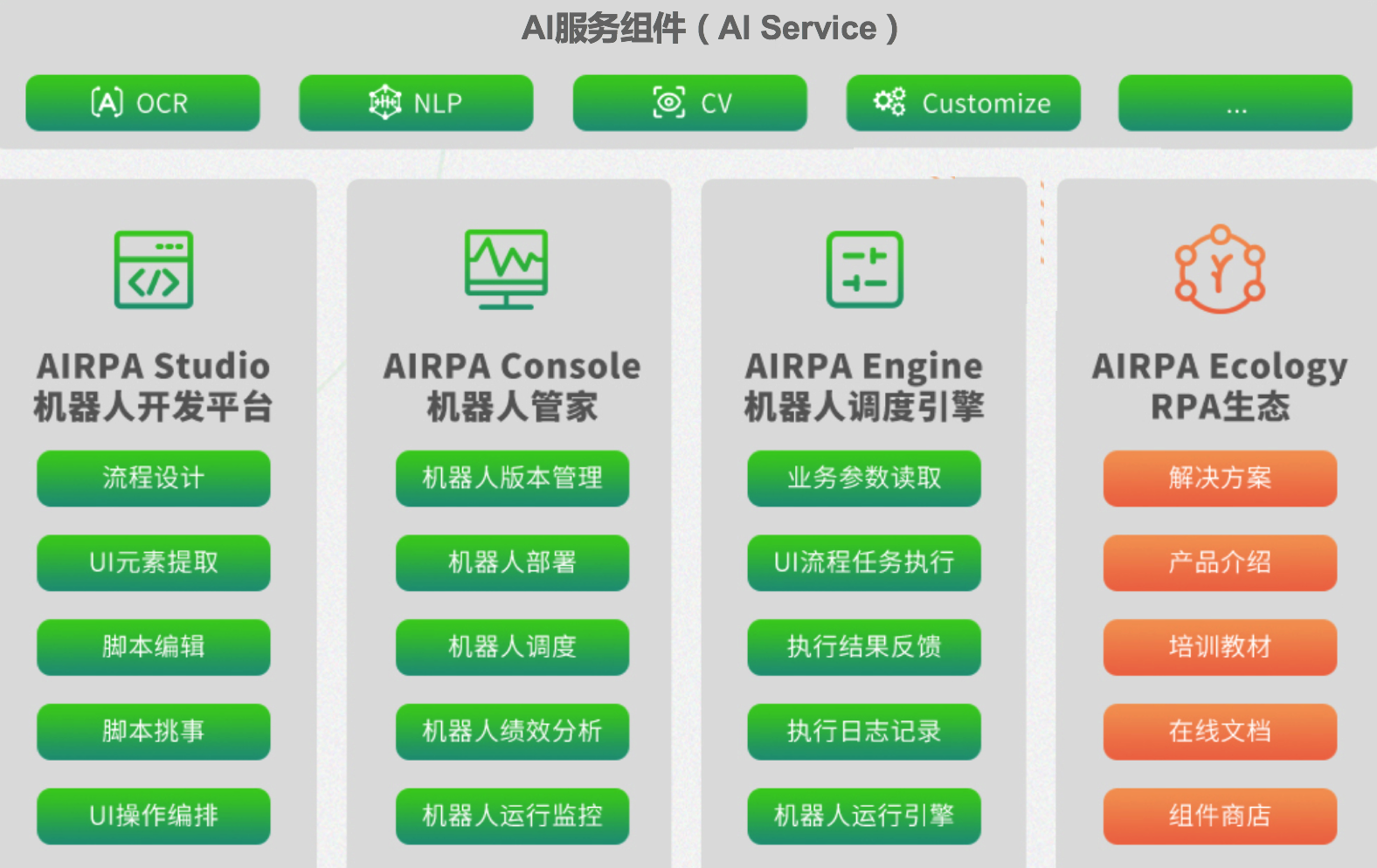 Core capabilities of AISWare AIRPA
Robot development platform
Provide graphical drag-drop process development tools as well as the visual and componentized RPA development environment, help customers improve robot development efficiency and reduce the threshold of process production in an autonomous, easy and flexible way.
Robot steward
Able to manage components, robot installation packages and node resources, establish execution plans based on business rules, provide unified management of task status, execution results and other information, support data chart display and visual centralized management and control.
Robot scheduling engine
Achieve the access effect of business systems in exactly the same way as manual operations based on the execution plans and through non-intrusive business processes to avoid human errors and record the execution log at the same time;
AI service components
Provide out-of-the-box AI capabilities such as OCR, NLP, and CV, support rapid access in the form of components, build intelligent data processing capability, and be able to link and integrate the AI capabilities owned by users.
RPA ecology
Provide users with the ecological resources of a "community" for learning and communication in the way of "portal + mall", and assist users to quickly use AIRPA, which efficiently build "digital intelligence" productivity.
Since its launch, AsiaInfo's robotic process automation R&D platform AISWare AIRPA has been widely applied in government affairs, communications, finance, industrial manufacturing, retail and other industries. The product has also recently passed the first batch of highest-level capability assessment certification of RPA of CAICT, and the intelligent collection project of financial risk control data implemented by the product has won the "2021 'Zhi Jiang' Outstanding Case".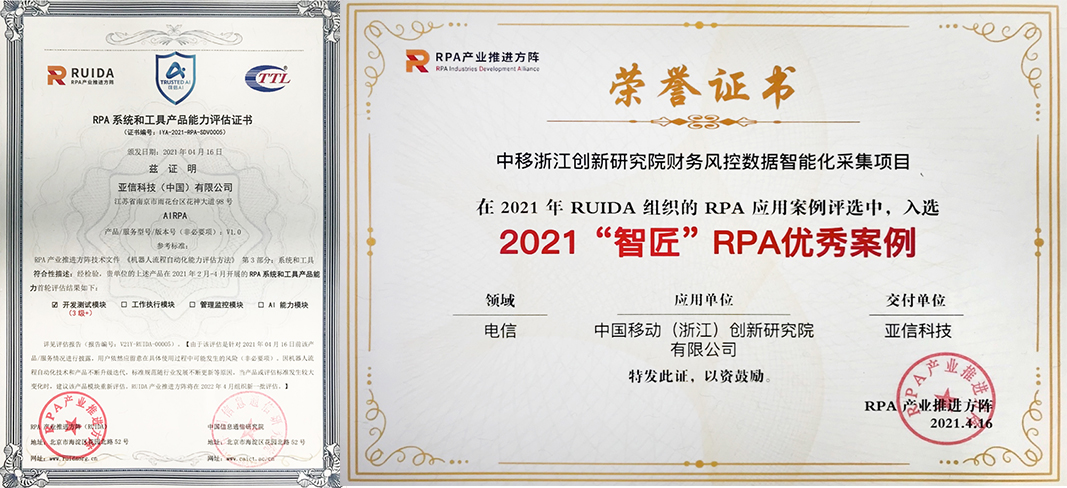 Product qualification of AsiaInfo's AISWare AIRPA
THU AIR-AsiaInfo Joint Lab of 5G Intelligence
Established in 2020, THU AIR-AsiaInfo Joint Lab of 5G Intelligence is committed to jointly building a national AI research center, setting a benchmark in the field of communications AI, and building innovative algorithm models and industry solutions. It also aims to promote the joint collaboration of "industry, university and research", advance the establishment of industry standards for 5G+AI, produce influential academic results, and build a scientific research practice base for cultivating high-end talents and an incubation base for cutting-edge new technologies in the field. Taking advantage of the multi-field research resources and industry expert resources of Institute for AI Industry Research, Tsinghua University, as well as AsiaInfo's rich communications knowledge and industry application scenarios, the joint lab has formed leading technical merit and complete solutions in the fields of 5G network intelligence, edging intelligence, reinforcement learning, and federated learning. Both parties have applied for more than 100 international and domestic patents in related fields; formulated over 20 international and domestic standards for 3GPP, GSMA, ITU, etc.; had more than 10 awards winning in international AI competitions; and published more than 50 5G+AI monographs and academic papers. All members of the joint lab come from well-known universities at home and abroad, with members having master or doctor degree or above accounting for 100%, which realizes the sharing and co-construction of high-end AI talents and capabilities. Through close cooperation between the two parties, an innovative operation model of AI algorithm research and development, operation, and service, which integrates industry, university and research, has been formed, adding and converging intelligence into AsiaInfo's global products in an all-round way.