On June 24, hosted by the China Academy of Information and Communications Technology (hereinafter referred to as: CAICT), the 2021 Big Data Industry Summit Results Conference was held in Beijing. AsiaInfo's AISWare DataInfrastructrue big data infrastructure platform, AISWare DataOS data middle-ground operating system, and AISWare DataDiscovery data discovery and analysis platform passed this batch of big data products certification of the Conference.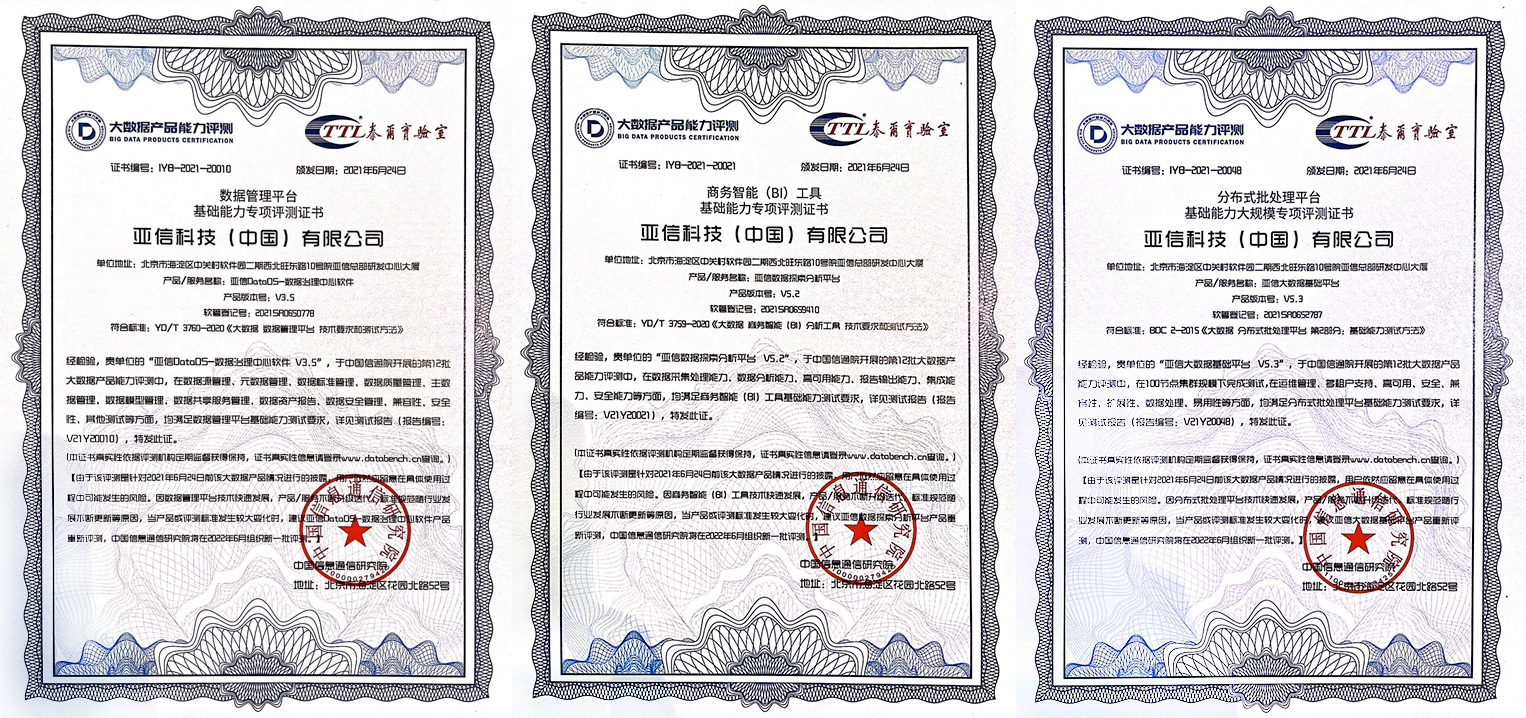 "Big Data Products Certification of China Academy of Information and Communications Technology" is the first authoritative evaluation system for big data products in China. It comprehensively measures the capabilities of enterprise-level big data products from multiple dimensions such as basic capabilities, performance, reliability, and security, provides professional support for government and enterprise users to select big data products, and has become an indicator for product R&D of manufacturers and procurement selection of users.
Based on its own big data technology innovation, product R&D capabilities and extensive practice, AsiaInfo has created a big data product system that closely follows the business scenarios of government and enterprise customers and has good industrial universality and customized expansion space. The three submitted for certification this time ranked first in the quantity of test cases, all of which passed, and finally obtained the authoritative certification.
A complete Hadoop ecological environment of technology, and the basic platform function of big data of integration of storage, calculation, analysis, processing, management and control, and operations have been provided, coupled with AsiaInfo's professional consulting and personalized services, to help customers create enterprise-level big data technology platforms that are low-cost, highly efficient, stable and secure.
Relying on the standardized workflow of the entire link of data collection, development, service and asset management, the information barriers of government and enterprise customers are broken, data islands are connected, and data integration and ecological opening are promoted, which helps enterprises build agile data middle-ground capabilities.
Agile and open data discovery and visual analysis tools. Through the self-help and visualized data discovery and analysis capabilities with terminology-based business and integrated analysis algorithm, business analysts are provided with low-threshold big data platform tools to complete data analysis and fully understand the nature of data through drag-and-drop operations, which constructs a convenient channel "from question to answer".
While successively obtaining relevant international and domestic competency certifications of big data products, AsiaInfo is also actively promoting the construction of an independent innovation ecosystem for domestic software, so as to constantly perform adaptation verification with mainstream domestic servers, databases, and operating systems, and contribute more to the development and growth of national software and ecological construction.