Since 2021, AsiaInfo has continued to deeply involve in the formulation of 5G technical standards of 3GPP (Third Generation Partnership Project), the most authoritative standardization organization in the global communications industry. 11 standard proposals submitted regarding the fields including intelligent network operations, communications blockchain and network AI have been voted and adopted by 3GPP and become new international standards.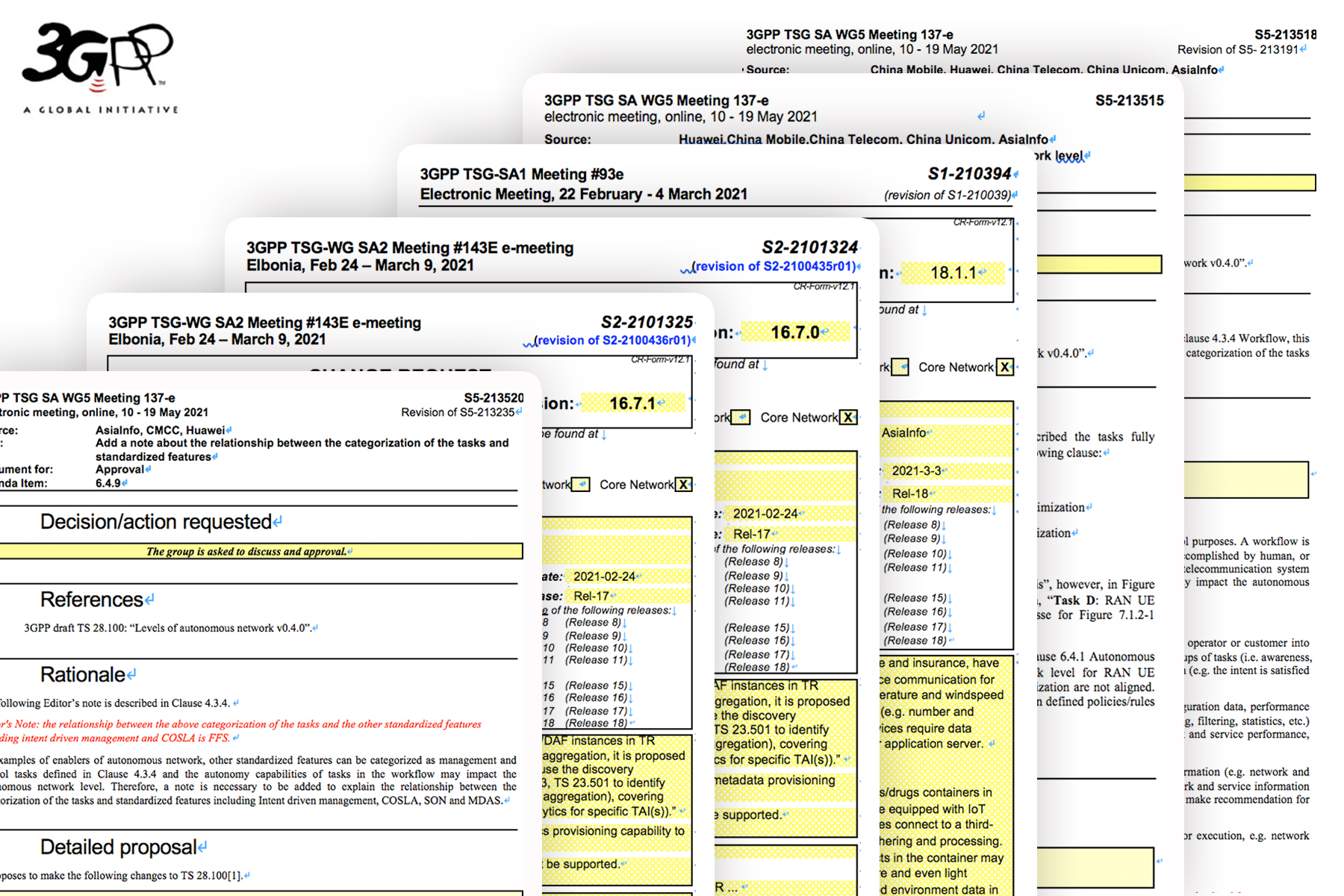 11 international standard proposals have been adopted
helping enhance the international influence of "China's technology"
In the past two decades, 3GPP has become the major standardization organization leading the development of the global communications industry, and its influence has been further demonstrated especially in the era of 5G. At present, it consists of more than 550 well-known enterprises (including network operators, terminal manufacturers, chip manufacturers, software service providers, infrastructure manufacturers, etc.) as well as academic research institutions and government agencies from more than 40 countries. AsiaInfo officially joined the 3GPP organization in 2018 and has independent voting right to participate in the discussion and formulation of standards and specifications in the communications industry with world-renowned companies and institutions.
Since 2021, AsiaInfo's 11 3GPP standard proposals have covered the fields such as multiple NWDAF deployments, intent driven management service (IDMS), autonomous driving network level (ANL), and blockchain technology applications of vertical industry. The adoption of the standard proposals not only demonstrates the technological research leadership of AsiaInfo in 5G fields such as NWDAF, ANL, IDMS, and communications blockchain, but further promotes the contribution and industry influence of AsiaInfo in the 5G field of 3GPP.

Based on the technical concepts of "Three Global",
AsiaInfo facilitates the development of 5G industry and empowers the transformation of vertical industry
The needs of 5G development and industry transformation have been driving a wave of new technologies. The gradual maturity of private networks, slicing, multi-dimensional billing, and network intelligence not only promotes the commercialization of "empowering vertical industry by 5G", but also allows "5G networks" to be the infrastructure for enabling technology evolution, application innovation, and industry transformation, which plays an irreplaceable role in boosting cost reduction and efficiency enhancement of production and operation, and the conversion of traditional and new drivers of the national economy.
Based on the 5G technical concepts of "global virtualization, global intelligence, and global perception", AsiaInfo has developed and formed full-stack products and solutions of 5G OSS and BSS, which have been fully commercialized in the communication operator market in China since 2019. A relatively complete 5G network product system including 5G network OSS, 5G network slicing end-to-end management, network big data, network AI platform and customer experience management, which are closely related to the 3GPP 5G technical standards at this time, fully supports the 5G network construction and operation, customer service and experience optimization of communication operators, and empowers the application for vertical industries.
At the same time, AsiaInfo continues to make innovations jointly with 3GPP, ITU (International Telecommunication Union), GSMA (Global System for Mobile Communications Alliance), ETSI (European Telecommunications Standards Institute) and other international and domestic industry organizations and enterprises, which have achieved many results in standard establishment, technology innovation, product development and other aspects, and works with partners to promote 5G development and application in vertical industries in order to contribute wisdom and solutions from China to industry iteration.