On May 7, AsiaInfo Technologies (China), Inc. (hereinafter referred to as "AsiaInfo") and Tencent Cloud Computing (Beijing) Co., Ltd. (hereinafter referred to as "Tencent Cloud") held a ceremony for signing the strategic cooperation agreement in Beijing. In the light of the principles of complementary advantages, equality and mutual benefit, looking forward to the future, mutual trust and mutual promotion, and common development, both parties will combine their respective competitive products and technical capabilities, and empower each other to create integrated products and innovative solutions with industrial competitiveness, and jointly expand market coverage. Witnessed by Gao Nianshu, Executive Director and CEO of AsiaInfo, and Qiu Yuepeng, Vice President of Tencent and President of Tencent Cloud, Yan Yan, Vice President of AsiaInfo, and Shen Ke, Vice President of Tencent Cloud, signed the agreement on behalf of both parties.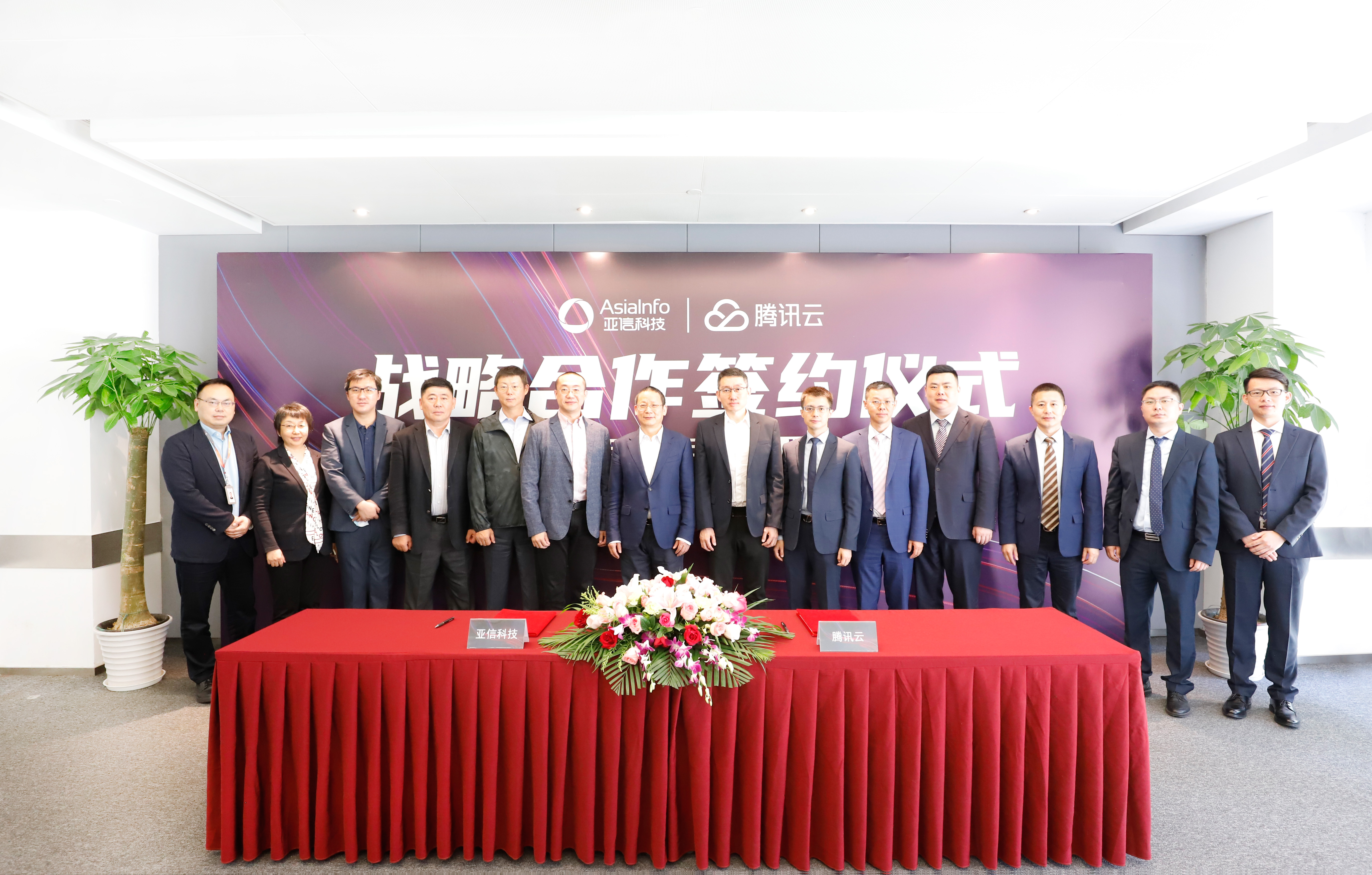 (The seventh from the left is Gao Nianshu, and the seventh from the right is Qiu Yuepeng)
According to the agreement, AsiaInfo and Tencent Cloud will carry out in-depth cooperation in the areas such as software localization, digital operation, cloud business of vertical industry, AI, middle-ground capability operation, smart city, security, industry expansion of operators, etc., and will jointly cultivate talents. To ensure the smooth progress of strategic cooperation, both parties will establish a mechanism of holding regular and irregular meetings of executives to guide and promote to deepen and implement the bilateral cooperation; organize a joint working group to coordinate relevant departments and units of both parties to specifically implement the cooperation.
Complementary advantages between digital intelligence and the cloud
Develop the industrial Internet market together to boost the digital transformation of industries
With the changes in the market environment, the gradual maturity of 5G, cloud computing, IoT and other technologies, and the burst of demand for "digital transformation" in vertical industries, the "consumer-oriented Internet" has shifted to the "industrial Internet" step by step, and the transformation and remodeling of industry chain and value chain of vertical industries currently have become major issues in the industry. Compared with consumer-oriented Internet, the demand side of the industrial Internet market has extremely high requirements on technologies, products, and customized services of the supply side. Therefore, the cooperation and complementarity between supply-side companies allow them to make full use of their advantages to guarantee the deliverables to customers, and to maximize the value of services.
As a leading provider of software products, solutions and services in China, AsiaInfo is committed to driving the transformation and upgrading of industrial customers in communications, finance, energy, transportation, postal service, broadcasting, and government affairs by relying on its "carrier-grade" products, services, operations and integration capabilities. Gao Nianshu, Executive Director and CEO of AsiaInfo, said that as AsiaInfo and Tencent Cloud are leading companies in their respective fields, the signing of the agreement in this day opened a new chapter in the cooperation between the two parties for the industrial Internet era and the digital transformation market of vertical industries, which is bound to set up a model of cooperation between technology companies in the context of "Digital China".
"As a pioneer of the industrial Internet, AsiaInfo and Tencent Cloud are highly consistent in the goal of boosting domestic industrial upgrading." Qiu Yuepeng, Vice President of Tencent and President of Tencent Cloud, introduced that Tencent Cloud is currently rooted in government affairs, education, transportation, medical and other physical industries, and has established several digital transformation standards. Tencent Cloud hopes that both parties will combine their advantages, penetrate into more vertical areas such as the communications operator market, and promote the digital transformation and upgrading of enterprises, so as to jointly boost sustainable social value innovation.
Liang Bin, Chen Wu, and Ouyang Ye, Senior Vice Presidents of AsiaInfo, Wang Liping and Li Yunchuan, Vice Presidents of AsiaInfo, Wang Jingtian and Yan Peng, Vice Presidents of Tencent Cloud, attended the signing ceremony.