On March 31, hosted by the China Academy of Information and Communications Technology (hereinafter referred to as: CAICT) and China Communications Standards Association, the "2021 Digital Transformation Development Summit Forum" was held in Beijing. Liu Liehong, Vice Minister of the Ministry of Industry and Information Technology, attended the forum and delivered a speech. The relevant leaders of the MIIT, SASAC, China Banking and Insurance Regulatory Commission, Beijing Municipality, academicians of the Chinese Academy of Engineering, and industry experts, representatives of leading companies in the ICT industry sit together to discuss digital transformation.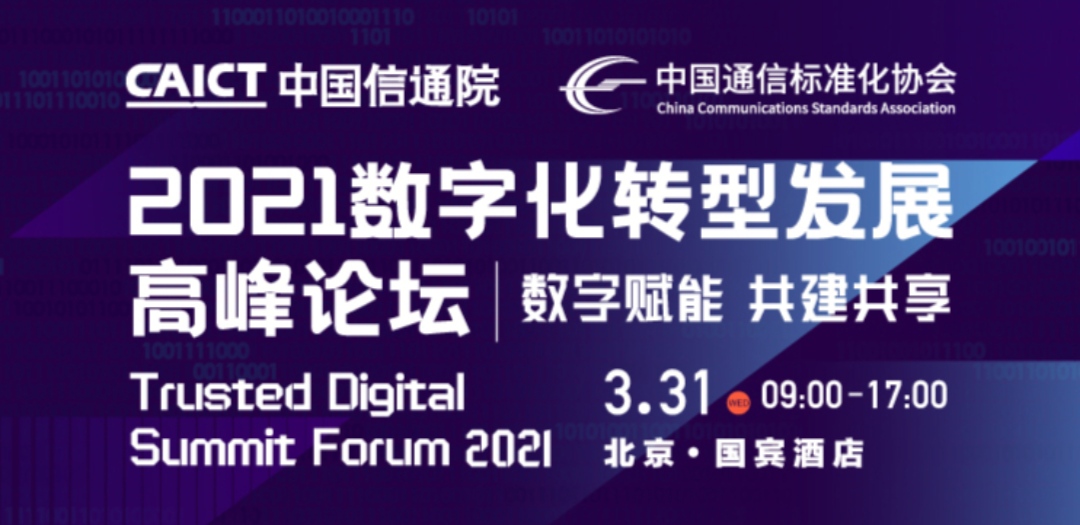 The conference released the results of "IOMM Model of Enterprise IT Digital Maturity" and the first batch of "Digital Trusted Service Evaluation (Vendor)", and announced a series of awards in the field of digital transformation. AsiaInfo successfully passed the first batch of "Digital Trusted Service Evaluation", and was awarded the "Service Group for Digital Transformation Enabling".
The results of first batch of digital trusted service evaluation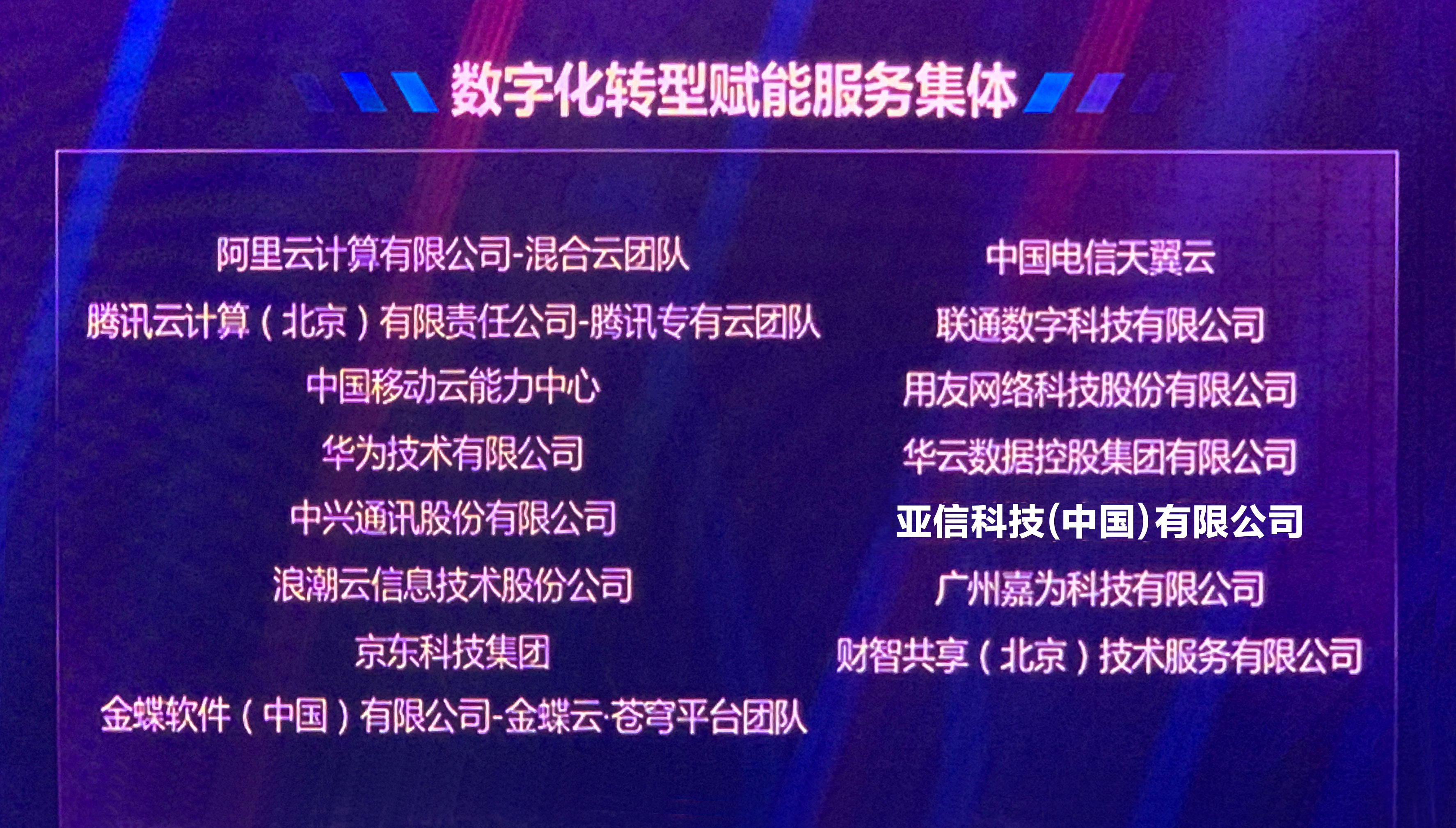 Service Group for Digital Transformation Enabling
AsiaInfo wields the hand of "digital technology" and throws the spear of productivity increase
The "Digital Trusted Service Evaluation" of CAICT believes that AsiaInfo "meets the evaluation standards of digital trusted service capability requirements in terms of digital scenarios, digital requirements, trusted and compatible ecology, platform-based products, digital service operations, and digital security trust services". It is the DICT technology innovation and practical capabilities which have been continuously refined and polished by AsiaInfo for 28 years that supports AsiaInfo in successfully passing the evaluation.
28 years of service experience for large-scale enterprises, proven ability and guaranteed service
Large-scale and complicated projects are good tests. Large enterprises have diverse and personalized demands in the process of digital transformation, so that they need IT service partners with stable capabilities and mature services. AsiaInfo's personalized service capabilities for large enterprises have been widely recognized in its practice in communications, broadcasting, transportation, energy, finance, postal service, government affairs and other industries, providing a strong guarantee for the transformation of customers in various industries.
"TBO" IT full life cycle service capabilities covering consulting & planning, construction delivery and operations
As a leading service provider of software products, solutions and services, AsiaInfo has gained the "TBO" IT full life cycle service capabilities covering industry consulting/project planning (Think), system construction/R&D delivery (Build), operation and maintenance (Operation) in a large number of project practices and long-term organizational transformation, in this way, customers can get "one-stop" services without having to access multiple suppliers.
A complete "digital and intelligent" product system, which is the result of
technological innovation and a guarantee for digital transformation
"Sharp tools" can make "good work". Digital transformation is inseparable from the support of digital technologies and products. AsiaInfo has formed a relatively complete AISWare product system including big data, AI, 5G, DevOps, digital operations, PaaS platform, IoT, billing and accounting and CRM, which can empower the companies/organizations under transformation at multiple levels and from multiple perspectives.
Leading DSaaS digital operation capability for large enterprises
"DSaaS Digital Operation" is strategic capability vigorously developed by AsiaInfo for the new background of "everything connected" and the growth needs of refined operation of enterprises. It is based on the model of "solutions + scenario-based SaaS applications + operation platforms + expert services" to provide comprehensive data mining, analysis, management, and application services for various industries to help companies reduce costs and increase efficiency.
The ability to build cloud and network in an integrated manner, which helps customers
migrate to the cloud and use the network "to achieve greater, faster, better and more economical results"
Enterprise digitization is inseparable from migration to cloud and use of cloud, and cloud computing capabilities cannot be achieved without network support. Therefore, "cloud-network integration" will continue to deepen especially when 5G and private networks become mature in the future. In terms of "cloud", AsiaInfo is the "excellent" cloud MSP, the highest-level in the industry, and it works closely with cloud vendors including Tianyi Cloud, Mobile Cloud, Wo Cloud, Alibaba Cloud, Tencent Cloud, Huawei Cloud, Baidu Cloud, and Kingsoft Cloud; in terms of "network", as the strategic partner of the three major telecommunication operators, AsiaInfo has a wealth of network operation and management products and mature solutions, which can provide vertical industries with "cloud and network integration" service capabilities and help government and enterprise customers migrate to the cloud and use the network "to achieve greater, faster, better and more economical results".
In-depth participation in the formulation of international and domestic industry standards and specifications
As a saying goes, "first-class enterprises establish standards". AsiaInfo is not only a member unit of many international and domestic organizations such as ITU, GSMA, 3GPP, ETSI, TMF, O-RAN alliance, China Communications Standards Association, Internet Society of China, China Alliance of Industrial Internet, etc., but also has independently proposed or deeply participated in the formulation of many industry standards and technical specifications. In 2020, AsiaInfo led and contributed to the formulation of 19 international technical standards.
Evaluation of the first batch of digital trusted services establishes a benchmark
for high-speed and high-quality advancement of digital transformation in various industries
At present, the "digital transformation" grows vigorously in China. The "14th Five-Year Plan and Long-Range Objectives Through the Year 2035" clearly state that it is necessary to "accelerate the construction of the digital economy, digital society, and digital government, and utilize digital transformation to drive changes in production methods, lifestyles, and governance methods".
With the promotion of national policies and the maturity of cutting-edge technologies such as big data, cloud computing, AI, and the Internet of Things, "digital and industrialized development" and "industrial digital transformation" have become the key words of economic development. In 2020, the scale of the added value of China's digital economy exceeded 40 trillion, and the contribution of the digital economy to the growth of the national economy continues to rise.
In the process of applying digital technologies to reconstruct business, process, and organization in various industries, how do market players determine their own level? How to choose a suitable digital product and find a qualified digital service provider? The results of "IOMM Model of Enterprise IT Digital Maturity" and the first batch of "Digital Trusted Service Evaluation" released by CAICT have authoritatively and professionally presented standards and examples for digital transformation, so that there will be rules and cases for the transformation of enterprises, industries and the entire society to follow.
In the face of changes in the international and domestic environment and economic situation, only by focusing on technological innovation, resolutely enhancing endogenous forces, and shattering the curtain of slower growth with the spear of productivity increase, can we effectively avoid involution. AsiaInfo takes the customer needs as the initial point, and takes forward-looking thinking, leading technologies, standardized products and customized services as the radius to draw a circle of "industry empowerment" for the fields of communications, radio and television, finance, energy, postal service, transportation, steel and government affairs. AsiaInfo will use this selection as an opportunity to work with partners from all circles to develop the digitalization in next decade, and make a great contribution to the cost reduction and efficiency improvement of various industries.