As the integration of technology and finance has accelerated in recent years, traditional commercial banks are facing the impact of "new economy" of the Internet in terms of payment, asset management, transaction, financing and other fields. A digital transformation to improve production efficiency and optimize user experience is imminent. AsiaInfo relies on its DevOps, an integrated platform for R&D and operations, as well as its capabilities in planning and construction, system specification, and application practices to support a large commercial bank in China in its agile transformation. After the implementation of the project, the bank's pilot team has developed a rapid delivery capability of business value, and the R&D cycle of eight pilot systems has been accelerated by 18.3% on average, far exceeding the anticipation.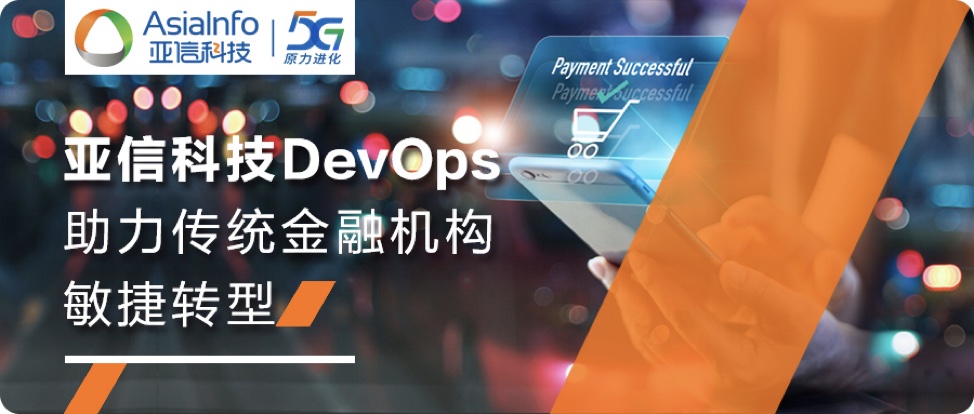 The construction of agile IT system helps traditional commercial banks actively respond to market competition
The commercial bank hoped to upgrade the bank's infrastructure, improve the efficiency of business value delivery, increase the utilization of cloud resources, and create a digital, intelligent, mobile, platform-based, and open, agile, and secure application system and IT architecture in order to empower financial applications to respond to the ever-increasing market competition. For this purpose, the bank decided to introduce AsiaInfo's DevOps, an integrated platform for R&D and operations, and its supporting services, and implemented the planning, construction, application and system specifications in an all-around way.
In terms of planning, the "end-to-end" capabilities such as requirements, design, development, testing, delivery, and operations are connected by relying on the DevOps platform to complete production activities in the entire field of R&D and delivery on one platform; in terms of construction, the management and framework system centering on agile transformation is built to achieve hierarchical management and capability optimization of projects, applications, and permissions; in terms of application, users are provided with more automated services, and user service experience is improved through precise feedback and systematic measurement; in terms of system, the system specification is implemented in IT construction to form a closed loop of continuous improvement of "system-platform-practice".
After the completion of the project, the DevOps capability improvement of the bank is mainly reflected in two aspects: firstly, an automated deployment pipeline from demand management to code base to software deployment is built through tool chain software, so that the business value delivery capability is significantly improved; secondly, the dynamic resource deployment, recovery and anomaly rollback of IT infrastructure are realized through the automated script provided by cloud platform, and at the same time, the automatic processing capabilities of product version control, change tracking, and complex problem analysis are formed, which greatly shortens the development cycle.
Based on this, IT application scripts or programs can be dynamically deployed, developed, and tested according to the actual business needs of the bank, and even one-click deployment and one-click rollback can be achieved in production environment, which greatly improves the business efficiency of the bank and enhances strength in market competition.
AsiaInfo's DevOps product + solution boost the IT transformation, cost reduction and efficiency increase for financial institutions
AsiaInfo assists customers in sorting out the application architecture, data architecture, and technical architecture of the integrated R&D and operations platform to build R&D management portals. At the same time, by relying on its DevOps product AISWare AiDO+ solution, it helps customers form an "end-to-end" continuous and agile delivery capability.
The main advantages of this integrated R&D and operations product and solution are as follows:
1. The sound dual-mode development system and tool chain
As AsiaInfo's integrated R&D and operations product, AISWare AiDO supports both the traditional waterfall mode and the agile development mode, forming a dual-mode combination of the R&D system. The product tool chain includes agile and lean development management, code quality management, continuous integration, continuous delivery, automated testing, open source governance, operations monitoring, measurement feedback, etc., sufficiently promoting the efficient coordination of various teams. A good closed loop greatly improves the overall output, facilitating all stages of software development to delivery to be "agile" in its true sense.
2. A mature platform with openness and customization capabilities and supporting modular function call
AiDO DevOps platform not only integrates the capabilities of AsiaInfo's products, but also supports the integration of third-party platforms and open source tools. AsiaInfo attaches great importance to the delivery experience of products, which can provide customized services according to the needs of customers in different industries. In addition, the platform components and products are loosely coupled to facilitate modular call of product functions.
3. High certification standards to ensure quality and improve efficiency
As a member of the first DevOps Standards Working Group, AsiaInfo participated in the preparation of Maturity Model of R&D and Operation Integration (DevOps) Capability, the first DevOps standard document at home and abroad, therefore, it has relatively complete normalization and standardization capabilities in all aspects. AISWare AiDO continuously optimizes and improves on the premise of meeting the DevOps "Grade 3 Standard Certification" in order to constantly meet customer needs.
4. Agile coaching service provided by the experienced coach team
The experienced DevOps agility coach and engineering team can provide on-site guidance for customers based on the situation of the project, and guide the team to promote the implementation of agile transformation.
5. Systematic construction and visible effects for better quality
AsiaInfo provides a staged and step-by-step DevOps system construction service. The visible effect is easy for customers to perceive the construction results of each stage; meanwhile, AsiaInfo's DevOps platform closely follows the core requirements of "built-in quality" and closely connects quality, safety, performance, auditing and user experience with the software delivery process and tools to further improve the automation process.
6. Environmental consistency management improves cloud resource utilization
Through modular pipeline assembly, end-to-end process visualization, templated automatic pipeline creation, as well as automated orchestration services, automated infrastructure and code capabilities, it helps customers realize the automatic and templated infrastructure orchestration, and supports the implementation of the environmental consistency management on the cloud platform, which is more likely to give full play to the value of cloud resources of financial institutions.
At present, AsiaInfo's integrated R&D and operations platform AISWare AiDO and its solutions have been widely applied in finance, communications, transportation, energy and other industries, providing customers with continuous "agile kinetic energy" for reducing enterprise operations costs, coping with fierce competition, and realizing digital transformation.