Hosted by China Academy of Information and Communications Technology and China Communications Standards Association, Data Asset Management Conference 2020 was held in Beijing recently. The conference announced the annual benchmarks and outstanding cases in data asset management and big data applications. The "Data Asset Management Practice of China Mobile Group Headquarters — Intelligent Data Asset Management System under 'AI+Big Data'", which was jointly created by AsiaInfo and China Mobile Information Technology Co., Ltd., stood out from more than 200 projects and was awarded the benchmarking case of 2020 "Galaxy" Data Asset Management.
AI empowers big data to create an intelligent "data asset management" for China Mobile
The above case proposes a data management strategy of "governance, management and use" based on the investigation and sorting of the data of China Mobile Group's various systems and explores a new data asset management method under the "1+N architecture". An intelligent data asset management system of "AI+Big Data" has been built through the introduction of cutting-edge technologies such as AI and knowledge graphs, data aggregation, convergence, integration and sharing has been achieved through the data integration among B, O and M domains, the release of the value of China Mobile's entire network of data assets has been promoted through the lean service capabilities including standardization, intelligence, visualization and micro-services. The key tasks are as follows:
1. Promote innovation in standard applications and establish a unified enterprise-level data standard;
2. Build a "reliable data asset zone" to realize the connection and sharing of data across the network;
3. Link the entire business process and realize the coordination of data quality processing mechanisms;
4. Add AI technology into the product and tool levels to improve governance efficiency;
5. Build a data governance graph system to promote the empowerment and application of governance capacity.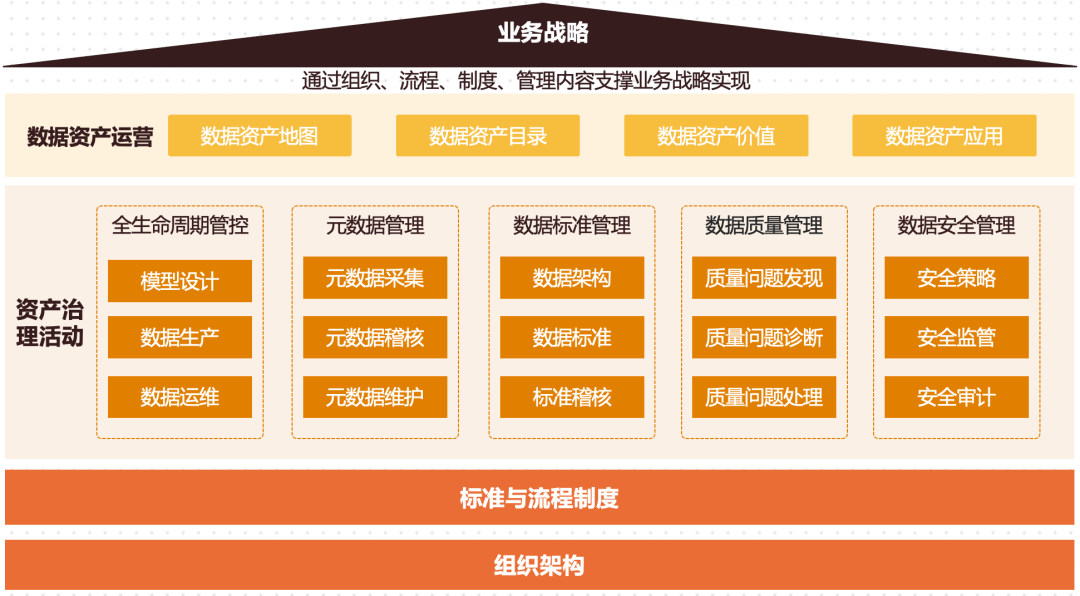 AI + Data governance
The application of "AI + Big Data Intelligent Data Asset Management System" of China Mobile has formed more than 100 specifications, established over 9,000 standards, managed hundreds of petabytes of data assets, and processed several petabytes of data each day. In addition, the system provides thousands of data model open services to the internal and external tenants of the Group, and provides intelligent services and capabilities for customers in various industries.
AISWare DataOS and AISWare AI² of AsiaInfo
"A pair of superstars" of intelligent management of data assets
Currently, the application of big data in various industries continues to deepen, and becomes increasingly prominent as a basic resource. Issues such as data right confirmation, data standardization, data security, privacy protection, circulation control, and sharing & openness have also attracted more and more attention from companies, industries, and even the state. Improving data governance with AI is the development trend of data asset management in the future. The combination of AsiaInfo's data asset management platform AISWare DataOS + global AI platform AISWare AI² not only effectively improves the efficiency of data asset management, but helps lower the threshold of data governance.
AISWare DataOS, the data asset management platform, provides convenient, efficient and visual data asset management tools and solutions for big data governance, operations and quality control personnel in various industries, helping companies and institutions solve the difficulties such as the dispersion of digital assets and data capacity, the lack of comprehensive support tools, and the value of big data cannot be delivered globally. The product not only focuses on the data governance process, but pays more attention to the timely application of management results. It relies on micro-service components, data catalogs and graphs, scenario-based application capabilities, and basic management capabilities to achieve "service-driven management and control", helping companies and institutions change from "passive management and control" to "active service".
AISWare AI², the global artificial intelligence platform, is an infrastructure used to build large-scale intelligent services and an intelligent engine to empower other tools and systems. It can provide step-by-step construction of algorithm models and full life cycle management services for the intelligence transformation of companies, and can help companies accumulate their businesses into algorithm models to achieve the purpose of reuse, combination innovation, and large-scale construction of intelligent services.
Both of the products belong to AsiaInfo's AISWare product system, so there is no barrier to integrate and apply with each other, which not only avoids the run-in process of product systems of different manufacturers during business development and reduces maintenance costs, but also contributes to efficiently embedding intelligent methods into data governance tools to quickly transform the product power into productivity.
In the future, data will be generated in a spurt with the in-depth development of 5G and the advent of the Internet of Everything. The continuous development of data governance and AI technology will also promote the integration of data governance and AI into more application scenarios and create greater commercial value. Mastering and rational use of data assets have increasingly become key capabilities necessary for companies and institutions to promote their own digital transformation.
"Galaxy" Case Selection
Under the guidance of MIIT, this event is a selection of major achievements in the field of big data jointly organized by the China Academy of Information and Communications Technology and the China Communications Standards Association Technical Standards Promotion Committee of Big Data (CCSA TC601). It aims to implement the related guidance on big data of Party Central Committee and the State Council, accelerate the cultivation of the data element market, give full play to the unique value of data as a production factor, summarize and promote the outstanding development results of the big data industry, and boost the application of big data in social production and life.