Recently, AsiaInfo (stock code: 01675.HK) and Shenzhen Smart Cities Technology Development Group Co., Ltd. (hereinafter referred to as: SSC) signed a strategic cooperation framework agreement in Shenzhen. Both parties will carry out all-round cooperation in the field of smart city construction and operation to jointly promote the innovative development of the construction of "Smart Shenzhen".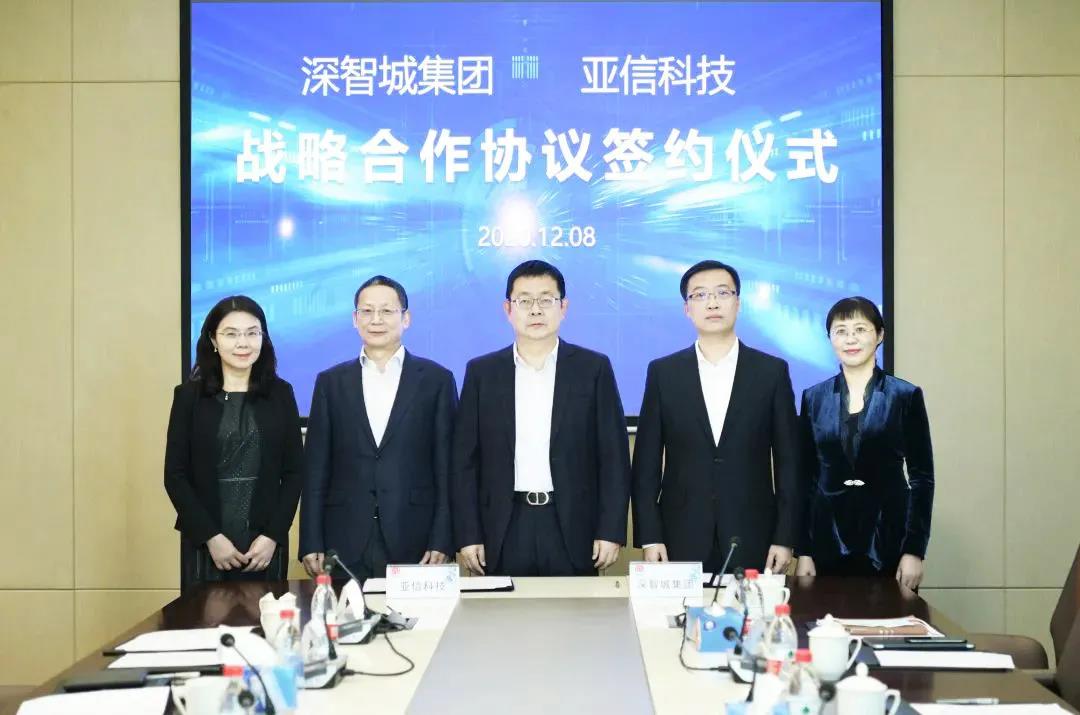 Witnessed by Jia Xingdong, Secretary of Leading Party Group and Director of the Industry and Information Technology Bureau of Shenzhen Municipality, Yu Xiquan, Secretary of the Party Committee and Chairman of SSC Group, and Gao Nianshu, Executive Director and CEO of AsiaInfo, the agreement was signed by Li Quan, Deputy General Manager of SSC, and Huang Ying, Senior Vice President of AsiaInfo, on behalf of both parties. Cheng Xiangdong, General Manager of Smart Cities Communications, Wang Chao, General Manager of SSC Investment, Chen Wu, Senior Vice President of AsiaInfo, and Hou Xiaoyang, General Manager of Wanxin Technology, attended the signing ceremony.
As a group company wholly-owned by the State-owned Assets Supervision and Administration Commission of the People's Government of Shenzhen Municipality, SSC develops the business layout around the full life cycle of data, concentrates on building smart city infrastructure, and works on building an integrated and intelligent private network system featuring "cross-generation, multi-system and resilient", in order to continuously expand derivative value-added services and build a "moat" for smart cities. At the same time, SSC is also actively exploring the smart service ecology for enterprises, and focusing on cloud computing, big data, Internet of Things and urban brain to develop the smart state-owned assets, smart state-owned enterprises, big data center construction, smart city scene applications, 5G network construction, industry development and other related businesses.
During this cooperation, both parties will closely cooperate with and complement each other in private network operations, IT operations, enterprise services and industry innovation research based on AsiaInfo's strong industrial comprehensive service capabilities and rich operating experience, and jointly promote the smart city construction of Shenzhen to a new stage.
It is believed that since SSC is committed to becoming a domestic leading and internationally first-class smart city infrastructure operator and ecology builder, while AsiaInfo has strong operational capabilities, under the correct guidance of Municipal Party Committee, Municipal Government and Industry and Information Technology Bureau of Shenzhen Municipality, this strategic cooperation can not only create win-win opportunities for both parties, but also explore new models and create new growth for the development of the industries related to smart cities of Shenzhen, and provide strong support for Shenzhen's efforts to create a city example of a great modern socialist country.
Gao Nianshu, Executive Director and CEO of AsiaInfo, said, "AsiaInfo has deep technical accumulation, industry empowerment experience and rich human resources, and has formed a unique core operational capability in combination with flexible market operation mechanisms", "AsiaInfo not only builds IT systems for customers, but also creates continuous value growth for customers and grow with customers by relying on high-level products, services, operations and integration capabilities." He believes that SSC is a "swift horse" in the smart technology industry. The two parties have a broad space for cooperation and a strategic layout which is based on the present and future-oriented, which paves the way for both parties to achieve their development goals and join hands to step toward the broad future.