At the beginning of 2019, AsiaInfo's annual report showed that the company surpassed the revenue milestone of 5 billion yuan in 2018. At the end of 2019, AsiaInfo mapped out a five-year plan to earn 10 billion yuan.


10 billion RMB almost doubles the company's annual revenues currently. It won't be easy to achieve such a goal in five years, but AsiaInfo draws up this development strategy based on its own judgment and determination. At present, AsiaInfo's core business, the business support system (BSS), has already occupied more than half of the market share. The company is adapting to the trend of digital technology applications represented by 5G+ABCDT (Artificial Intelligence, Block chain, Cloud Computing, Big Data and Internet of Things). This is an inevitable choice for AsiaInfo to expand its business while facing fierce competition in the digital economy.


Against this backdrop, AsiaInfo put forward the "1+3" development strategy of diversified operations (or "One consolidation, Three developments") in 2019. Driven by the "1+3" strategy, AsiaInfo will continue to consolidate its leading position in the BSS market while promoting the development of 5G operation support system (OSS), and expanding the data-driven operation (DSaaS) business as well as providing vertical industry customers with access to cloud technology. According to Gao Nianshu, executive director and CEO of AsiaInfo, BSS, 5G OSS and DSaaS will be three engines driving the business growth of the company.


On March 23, AsiaInfo announced its 2019 annual results, from which we can see that the "1+3" strategy has taken effect. In 2019, the revenue from the software business amounted to approximately 5.7187 billion yuan, representing an increase of 10.1% as compared with last year, in which the earnings from the data-driven operation services business registered a year-on-year growth of 83.9%. Meanwhile, the collaboration with telecom operators to carry out 5G OSS pilot projects has been in full swing, and the expansion into vertical market based on cloud services is gradually building up the cloud ecosystem of the company.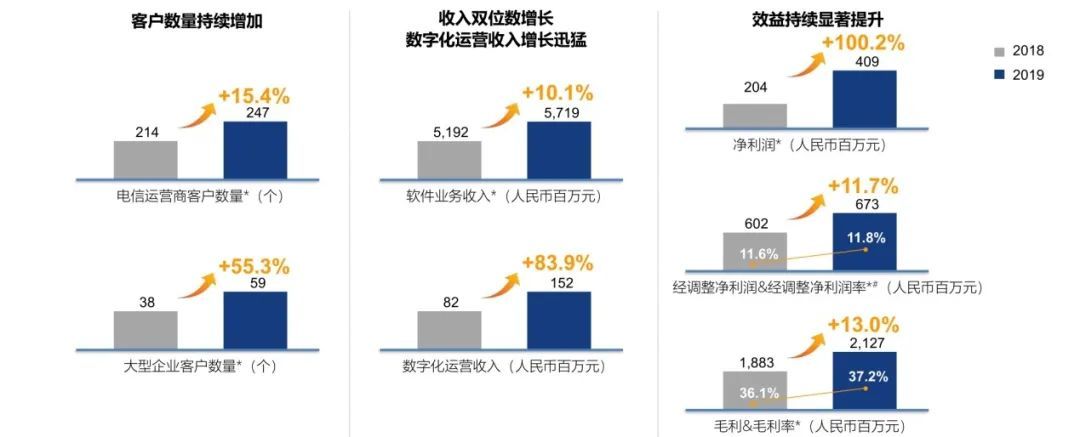 I think AsiaInfo is trying to step out of its comfort zone in a bid to meet the new opportunities brought by the application of 5G+ABCDT technologies. AsiaInfo will constantly expand new clients, new business and new models by relying on its "carrier-grade" products, services, operation and integration abilities accumulated over the 30 years of development. In this way, the company will blaze a new trail for business growth and create greater glories.


Seize the Opportunity of the Construction of New Infrastructure and Launch an Operating System for 5G Applications
Last June, the authority issued licenses for the commercial use of 5G network, which marks China's formal entry into the 5G era. Telecom operators began to launch 5G data plans, and the 5G network has been widely used in boosting digital transformation of all industries. The recent years have witnessed a frenzied expansion of new infrastructure featuring 5G network, industrial Internet and artificial intelligence, which in turn speeds up the development and application of 5G.


It is well acknowledged that 5G can change the society, just as 4G changed people's lifestyle. This is likewise a view shared by Tian Suning, chairman of AsiaInfo. In his opinion, unlike life-changing 3G and 4G networks, 5G can usher in an era of the Internet of Things. Enterprises will be empowered with a new type of network for digital transformation and the establishment of neural perceptual network system, which can bring revolutionary changes to business operation model
Undoubtedly, this is a historic opportunity for AsiaInfo, as the arrival of the 5G era will surely promote the upgrading of telecom software products and services that AsiaInfo has been focused on. The existing BSS business serves as the ballast to safeguard AsiaInfo's growth. Likewise, the new 5G OSS will emerge as the accelerator of the company's further development.
In the past six months, AsiaInfo managed to provide telecom operators with the first core billing product and network slicing system to support the commercial use of 5G network. Meanwhile, an intelligent middle-layer platform system and 5G communication AI system developed by AsiaInfo have been used by three major operators, which also accelerate the commercialization of 5G.


According to AsiaInfo's CTO, Ouyang Ye, AsiaInfo will support telecom operators' business, networks and management with 5G global virtualization, global intelligence and global perceptibility in the next five years. On the basis of these "three global domains", AsiaInfo will focus on five key research directions, namely, the development of a middle-layer platform system, 5G network intelligence, cloud products, the integration of B domain and O domain as well as AI-based communication services.
In particular, AsiaInfo has launched six product categories covering network performance management, network resource management and network failure management as a part of the construction of 5G OSS. In response to the demands of highly intelligent automated networks in the 5G era, AsiaInfo has also initially realized the automation and intelligence of 5G network O&M through the application of AI technology. This can help telecom operators greatly improve the O&M efficiency, guarantee operation quality and reduce operating costs.


In 2020, AsiaInfo will give priority to the automation and intelligence of the production system and business system of 5G network, thus empowering the systems with more intelligence, according to Ouyang Ye. In addition, the company will advance the integration of BSS and OSS domains and build a new generation of ecosystem by following the trend of global virtualization and global intelligence in the development of 5G network.



In 2019, AsiaInfo further consolidated its leadership in the BSS market and served 247 telecom operators, an increase of 15.4% year-on-year. At the same time, AsiaInfo continued to deepen its 5G pilot cooperation with R&D institutions and provincial branches of the three major operators in the field of 5G OSS. So far, AsiaInfo has partnered with 17 clients in the pilot projects of 5G's commercialization, 9 of which were teamed up in the first half of 2019.


Comply with the Cloud-Network Integration Trend and March into the Digital Transformation Market
The construction of new infrastructure involves many digital technologies, including 5G+ABCDT. The integration of these technologies is bound to be the cornerstone of the growth of enterprises as well as the whole economic and social development. Among them, 5G targets network connectivity, while the cloud technology solves the problem of computing.


As Tian Suning put it, "Cloud technology and networks are gradually combining together." In fact, cloud computing business is emerging as a focus of the development of Internet companies, ICT enterprises and telecom operators. As a market player in the telecom industry, AsiaInfo quickly captures the opportunities. Cao Weiqi, vice president of AsiaInfo, noted that AsiaInfo has to seize the market opportunities by building on past achievements and striving for new progress.


On the one hand, private cloud, public cloud and edge cloud applications are moving toward convergence as enterprises begin to rely on cloud technology to speed up the digital transformation. Except for experience in private cloud services, AsiaInfo also has close partnership with the cloud service sectors of the three major telecom operators. This lays the foundations for AsiaInfo to enter the cloud MSP market and provide the clients of telecom operators with access to more cloud services.


On the other hand, in response to enterprises' demands of multi-cloud management, AsiaInfo has extended its cloud MSP services from cloud hosting and O&M to cloud resale and value-added services, covering the links of consulting, planning, migration and value-added services. Customized and intelligent services tailoring to the needs of cloud vendors are created and the efficiency of cloud product application is further increased.


Up to now, on the basis of partnerships with the three major operators in the cloud computing business, AsiaInfo has also worked closely with Huawei and Alibaba Cloud Computing to promote the application of cloud services in more industries. Cao Weiqi noted that AsiaInfo will promote the integration of multiple cloud service products and continue to improve the ability in offering cloud resale, cloud management, cloud software and cloud value-added services. Besides, the company will explore cooperation opportunities with more cloud service providers and establish its own cloud brand.


I believe that AsiaInfo is opening up a broader path for the development of telecommunications software products or services and cloud services. Therefore, AsiaInfo will not just serve telecom operators and their users, but also provide more industries with access to cloud technology. Eventually, the company is called upon to embrace the huge market of digital transformation of all industries.



Apart from services targeting telecom operators, AsiaInfo has expanded its business to finance, transportation, postal, radio and television, energy, government, retail and other industries in recent years. In the future, the company will strive to be an enabler for the digital transformation of large enterprises in the 5G era. By the end of 2019, AsiaInfo has provided services to 59 enterprises outside the telecom industry, an increase of 55.3% over the end of the year. These partners include, but not limited to, China Post, China Life Insurance, State Grid Corporation of China and China Citic Bank.


Take the energy industry as an example. Featured by complex application scenarios, the energy industry is confronted with many difficulties in the digital transformation. For example, it is difficult to collect data; the cost of internal and external collaborative communication is high; and visual supervision on safe production has not yet been achieved. To solve all these problems, AsiaInfo develops a 5G smart energy solution, which secures the end network access and opens up the data acquisition and transmission channels. With the help of smart data available, the energy industry is able to realize smart operation and smart production.


Focus on Digital Operation Services and Fulfill the Value of Data
Recently, the Big Data Platform for Epidemic Prevention and Control developed by AsiaInfo has been listed as one of the cloud-based products for COVID-19 epidemic management and prevention.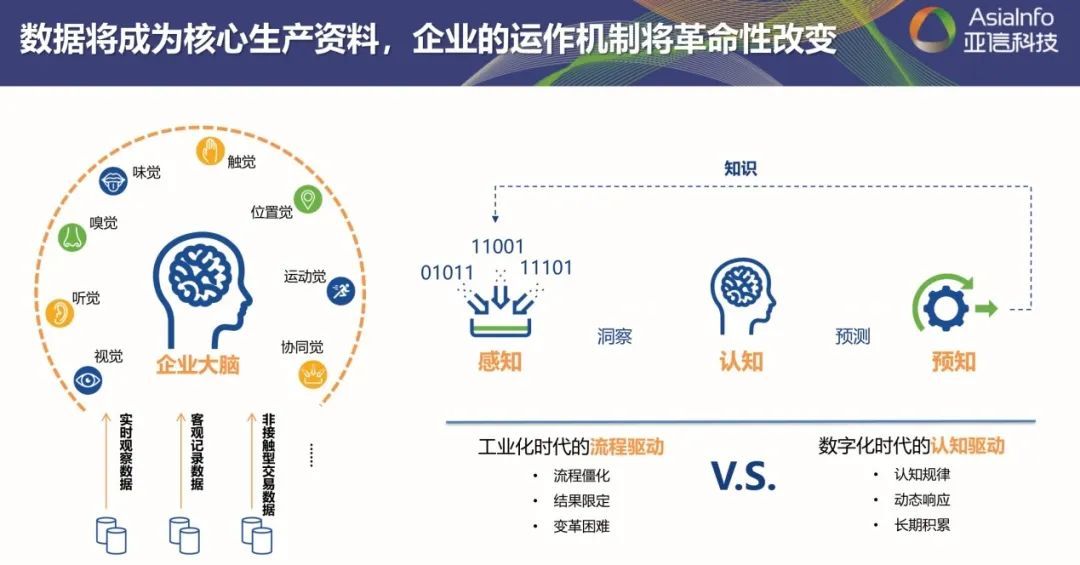 It is learned that the platform, based on the population data collected, operates well by relying on AsiaInfo's big data processing capabilities and AI technology. Supported by functions such as real-time human flow sensing and analysis, population movement and trend analysis, the platform integrates the movement of people with different scenes. This will help local governments and telecom operators know exactly how people move around in a given community. Relevant products and data-based services can also facilitate the decision-making and implementation of epidemic prevention and control.


Yet this is just the tip of the iceberg. The value of data is greater than that. With the advent of the digital economy, data has become a new means of production with enormous value and inexhaustible power, just like ore and oil. In particular, we have stepped into a new era of digital transformation powered by 5G-driven IoT and access to cloud services. In an increasingly digital world, our ability to acquire data resources of different dimensions has been greatly improved.


For enterprises, the potential of data is no longer limited to storage and management. Every market player should learn to fulfill the value of data through more scientific operations and the transformation from process-driven management to data-driven model. However, few companies can outperform AsiaInfo in supporting enterprises with digital transformation and data-based operations.


In the process of assisting the digital transformation of enterprises, AsiaInfo launches DSaaS, that is, data-driven software and services (SaaS). DSaaS merges together the client's data, the authorized processing data and the third-party's data in compliance with relevant regulations. In this way, SaaS products built on the past experience in operations and data analysis model can assist clients in realizing digital operations in specific scenarios.


According to Li Yunchuan, vice president of AsiaInfo, DSaaS products and services include the product lines of Smart Connection (IoT connectivity oriented), Smart Info (social operation tools like WeChat), Smart Operation (business growth oriented) and Smart Sharing (scenario-based operation tools that rely on operators' big data).



To date, AsiaInfo's DSaaS products and services have been applied to the fields of telecom operators, public services, government affairs, banking, insurance, automobile industry, as well as radio and television. Clients in these industry customers have seen higher efficiency of business management and operation. The 2019 annual results of AsiaInfo show that the revenue from the data-driven operation services business amounted to approximately 152 million yuan (a smaller share of the total revenues though), registering a year-on-year increase of 83.9%. The figure has implied that digital operation services will be a major contributor to the business growth of the company.
Besides, it will be of great significance to enhance the digital operational competency of more than 50 million small and medium-sized enterprises in China. According to Li Yunchuan, AsiaInfo will not only provide DSaaS products to large enterprises. In the future, the company wishes to make the most of its technology and means of digital operations to create a platform for small and medium-sized enterprises, on which they can improve their capabilities of digital operations and make profits.
Conclusion


With years of experience in the telecommunications operator market, AsiaInfo has gained a firm foothold in the traditional BSS business. Today, a new technology wave featuring 5G network has brought new developing chances for AsiaInfo. And the company is also targeting at a broader market that promotes enterprises to access to the cloud technology and digital operations.


More importantly, AsiaInfo has enhanced its core capabilities of products, services, operations and integration when serving telecom operators. This not just creates a solid foundation for AsiaInfo to expand broader market, but also encourages the company to achieve the goal of earning 10 billion yuan within five years.