The 5G era is coming. Unlike previous generations of mobile communication networks, 5G is widely applied in many industries, and that is where the vitality of 5G network lies. 3GPP has defined three commercial application scenarios of 5G, which enables 5G to advance the interconnectivity between people and things. An intelligent world featuring internet-of-all-thing or IoT is thus established.
As China's market leader and world's leading telecommunications software and system provider, AsiaInfo has more than 20 years of experience in offering carrier-grade products and services to telecom operators. In response to the requirements of 5G network application, AsiaInfo puts forward the "1+3" development strategy (or "One consolidation, Three developments"), namely, to consolidate its leading position in business support system (BSS) services while promoting the development of 5G network operation support system (OSS), expanding the data-driven operation (DSaaS) business and meeting the needs of vertical industry customers. In this way, AsiaInfo wishes to serve as an enabler for the digital transformation of all industries.

According to AsiaInfo's annual report in 2019, the "1+3" strategy has yielded rich fruits in the past one year. The data show that the earnings of the software business reached about 5.719 billion yuan, an increase of 10.1% compared to the previous year, among which the revenue of digital operation services increased 83.9% year-over-year, amounting to 152 million yuan. As of 2019, AsiaInfo has served 59 large enterprises in vertical industries, registering a year-on-year growth of 55.3%, and the customer retention rate exceeded 99%.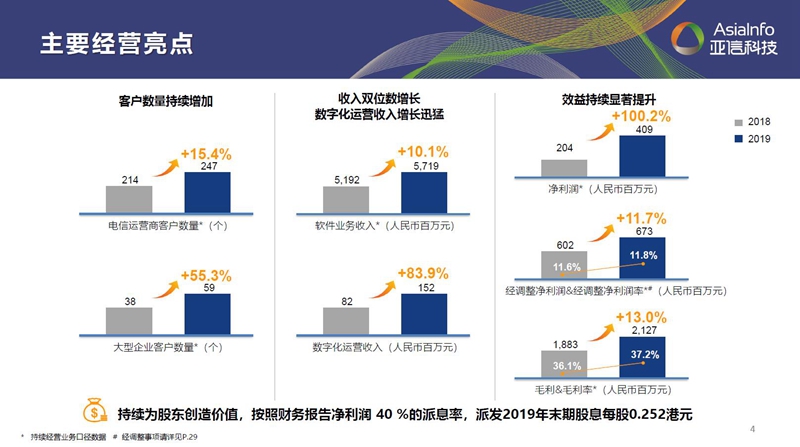 "Three Global Domains" Support the Commercial Use of 5G
Let's take a brief look at 5G's application for commercial purposes in China. On June 6, 2019, the Ministry of Industry and Information Technology issued licenses for the commercialization of 5G to China Telecom, China Mobile, China Unicom and China Broadcasting. On October 31, 2019, three major telecom operators simultaneously launched 5G data plans, ushering in the era of the full commercialization of 5G.
"AsiaInfo began to focus on the research and development of 5G network nearly two to three years ago. After 5G commercial license was issued in June last year, we launched the first batch of products and solutions to facilitate the commercial use of 5G network within two weeks." said Ouyang Ye, CTO and vice president of AsiaInfo, at a recent media conference. He noted that AsiaInfo would bring the second batch of 5G products to the market within this year to meet operators' new demands of the commercial use of 5G.
According to Ouyang Ye, in six months after the 5G commercial license was issued, AsiaInfo provided operators with the first core billing product, network slicing system and middle-layer platform system for the commercial use of 5G network.
Meanwhile, powered by the "1+3" strategy, AsiaInfo has further strengthened the market leadership in the BSS market targeting operators. In the reporting period, the company served 247 telecom operators in 2019, up 15.4% year-on-year. OSS business, one of the focuses of AsiaInfo's development strategy, has generated over 10 million yuan of revenue by partnering with 17 clients in the pilot projects of 5G's commercialization.
In 2019, AsiaInfo brought forward the concept of "Global Virtualization, Global Intelligence and Global Perceptibility", which was considered as the overall strategy of 5G development within the company. Global virtualization helps operators automate and virtualize network and business functions within the mobile communication ecosystem. Global intelligence aims to introduce intelligent processing to business operation and network systems within the core ecosystems of mobile communication. Global perceptibility is designed to optimize the experience and perception of users at the business and network level in the ecosystem.
On the basis of the "Three Global Domains", AsiaInfo will focus on five key research directions in 2020. Ouyang Ye said, "First, build a middle-layer platform system to offer technological support. Second, make the 5G network intelligence a reality. Third, enhance the capabilities of developing cloud products. Fourth, build the next generation ecosystem that integrates B domain and O domain. Fifth, apply AI to communication and implement intelligent services.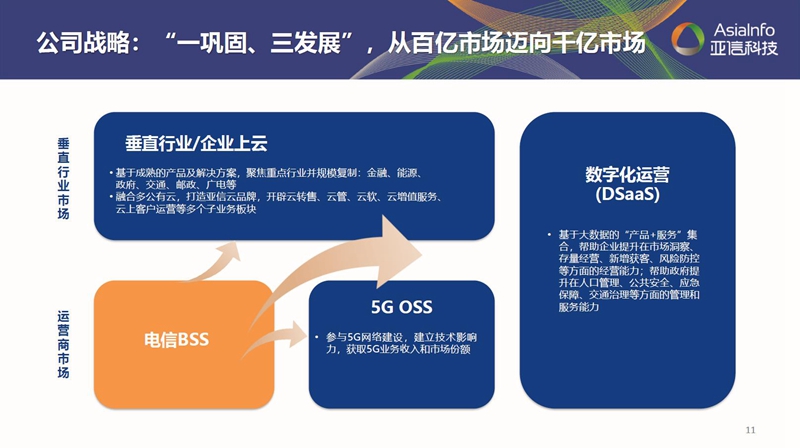 Expand to Vertical Industries and Drive their Digital Transformation
As mentioned earlier, the true value and vitality of 5G network lies in its application in different industries. Against this backdrop, AsiaInfo has been taking an active part in developing digital operations and establishing business partnerships with clients in vertical industries in recent years, which are two priorities of the "1+3" strategy.
"Currently, AsiaInfo's digital operation products include Smart Connection (IoT connectivity oriented), Smart Info (social operation oriented), Smart Operation (business growth oriented) and Smart Sharing (share ready-to-use scenario-based operation tools that rely on operators' big data). Li Yunchuan, vice president of AsiaInfo, said, "These four product lines imply that data and data-based technology are our core resources to help clients operate more efficiently. This is also the permanent mission of AsiaInfo's digital operation services business.
According to the 2019 annual report of the company, the revenue from the data-driven operation services business reached approximately 152 million yuan, representing a year-on-year increase of 83.9%. Meanwhile, AsiaInfo has expanding its business in various fields, with clients ranging from telecom operators to governments, police, financial enterprises, transport sector, radio and television providers, as well as new media. As of 2019, AsiaInfo has provided services to 59 large enterprises, registering a year-on-year growth of 55.3% and a customer retention rate of over 99%.
There is no doubt that digital transformation has become an inevitable trend in every industry. The global scale of digital economy reached US$30.2 trillion in 2018, accounting for 40.3% of global GDP, according to the China Academy of Information and Communications Technology (CAICT). Figures demonstrate that digital economy has emerged as a key driver of the global economic growth. And CAICT believes that data-based industry development will become the main battlefield of the digital economy.
Then how could AsiaInfo stand out and achieve significant results in 2019? As explained by Li Hui, vice president of AsiaInfo, based on its capabilities in "carrier-grade" products and technical development accumulated within operators' systems over the 20 years, AsiaInfo is able to provide its clients with solutions that tailor to their needs and the characteristics of the industry. Li said, "We hope to connect our clients with their employees and users to benefit all of them, so that the enterprise can reduce the cost and increase the profit."


Over the past year, AsiaInfo has followed the "1+3" strategy and made great achievements in opening up new markets in a wide range of industries, including postal, banking, insurance, radio and television, finance, electric power, healthcare, real estate and retail industries. "In the past one year, we have been highly recognized in a number of large projects, and I believe that we have established good relationship with large enterprises based on mutual trust." said Li.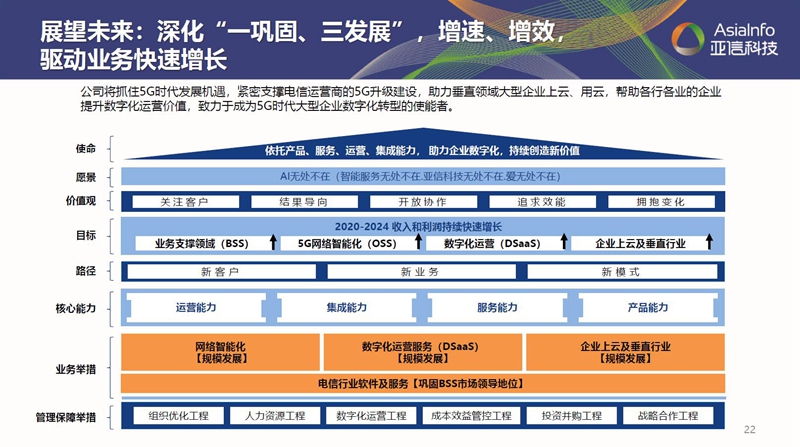 Work with Operators to Explore the Market in Each Industry
The outbreak of the new coronavirus at the beginning of this year has disrupted the normal life of all individuals and the work plan of businesses. As the epidemic has been brought under control nationwide, many enterprises begin to resume work and production. During the outbreak, the application of 5G in different industries has fully exhibited its advantages, and it also played a key role in the prevention and control of the epidemic. For the first time, 5G network has entered the life of the vast majority of Chinese users as a major contributor to higher efficiency. Once again, 5G truly accomplishes its value as it is widely used in many industries.
Since the outbreak swept across the country, AsiaInfo, as a leading IT system provider in the industry, has made enormous efforts to support the safe, stable and efficient operation of the IT systems of major telecom operators, so that effective communication services can be guaranteed. So far, the company has received sound feedback from many operators.
During the outbreak, the "big data platform for epidemic prevention and control" developed by AsiaInfo has obtained authoritative recommendations from CAICT and the Open Source Cloud Alliance for Industry (OSCAR). In response to the needs of epidemic prevention and control as well as the communication support, AsiaInfo has served local governments, telecom operators and vertical industry customers with 16 relevant products or solutions, including a population flow and epidemic trend awareness system, a 3D immersive reality monitoring system for sensitive areas, and an abnormal detection system targeting behavior anomalies among epidemic sensitive populations. All these products and data-based services have facilitated the decision-making and implementation in fighting against the epidemic.
Scenario-based products applied to epidemic prevention are only part of the efforts made by AsiaInfo to explore growth opportunities in vertical industries. Moreover, we believe that the 5G business cannot do without operators, and development opportunities arising in the 5G era are shared by users, operators and service providers. This has endowed AsiaInfo with competitive advantages in the market. Next, except for offering operation support systems to telecom operators, AsiaInfo will also provide them with more digital solutions. With a wider range of AISWare IO products and the expansion of vertical industry customers, AsiaInfo's data-based solutions will become a new engine driving the business growth of the company.

Powered by the construction of new infrastructure, AsiaInfo will further deepen its "1+3" strategy in the future. For traditional businesses, the company will seize the opportunities of 5G to reinforce its leading position in the BSS market. For emerging businesses, it will strive to achieve rapid and scalable development in 5G OSS intelligent network, DSaaS data-driven operation services and cloud computing technology for enterprises and in vertical industries. Looking ahead, AsiaInfo is bound to embrace the 5G network and drive the digital transformation of the whole society.