AsiaInfo is known to many people as one of the largest domestic telecom industry solution providers which provides core business support systems for the three major operators.


If this is what you know about AsiaInfo, you need to update your information about AsiaInfo. Today, AsiaInfo is no longer what you would expect to be.


At the end of 2018, AsiaInfo was listed on the Hong Kong Stock Exchange (stock code: 01675.HK). After returning to the capital market, AsiaInfo made new arrangement for the future market and determined the strategy of "one consolidation and three developments". The "one consolidation" is to consolidate the original business of AsiaInfo, that is, the BSS software business for operators; and the "three developments" are new business directions, that is, to develop 5G OSS and SaaS digital operation services on a large scale, enterprise cloud and vertical digitalization. Today, AsiaInfo has just released its 2019 fiscal report. Let's interpret these new business directions along with the financial report to find a different AsiaInfo.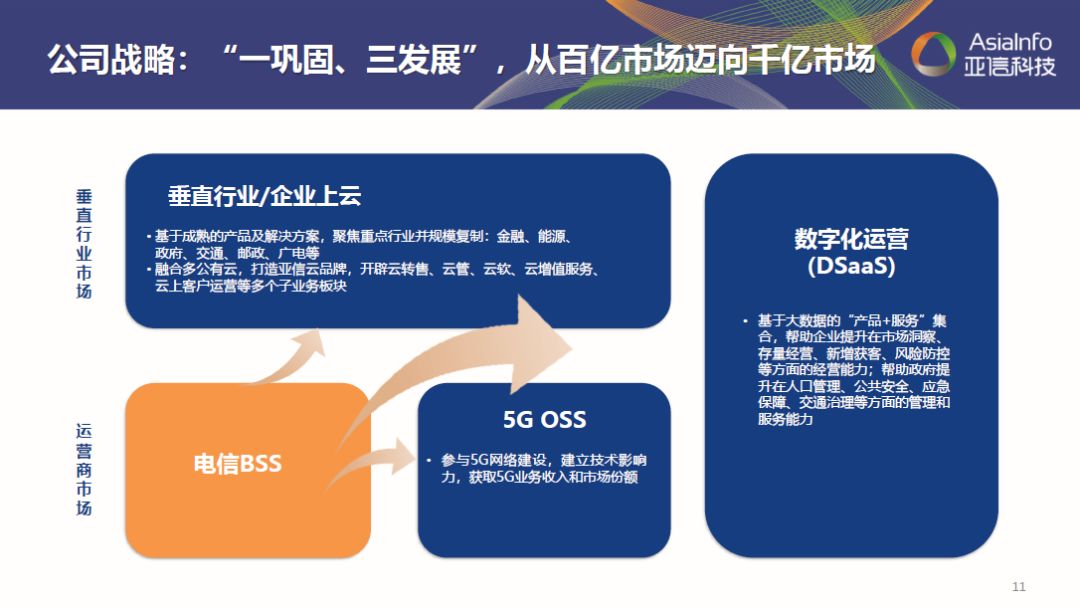 5G: Expanding from BSS to OSS


From the annual report, AsiaInfo's software business revenue in 2019 was 5.72 billion yuan, with an increase of 10.1% over the previous year, of which the revenue of the telecommunications business still accounts for the main part. There two keywords should be noted: 5G and OSS.


Since its establishment in 1993, AsiaInfo has provided services to operators for 27 years. But it concentrates more in the field of BSS business support systems (i.e., the front-office business systems of operators) than in the OSS operation support system of the operators' back-office. With the commercial implementation of 5G, this situation is changing.


As we all know, 5G is not just developed for individual users. Its high bandwidth, high reliability, low time-lag and large connections can bring many enterprise-level application scenarios. In particular, the adoption of network slicing technology enables different types of enterprise applications to run in the same network. As these features have put very high requirements on 5G network operations, AsiaInfo seizes this opportunity to push forward to the OSS business field of operators.


As soon as the 5G commercial license was released last year, AsiaInfo launched a series of 5G commercial products, including AI, billing, PaaS platform, network intelligence, big data, open source database, etc., to fully prepare for the 5G market.


Ouyang Ye, CTO of AsiaInfo, said that 5G personal applications and industry applications were currently in a period of steady development instead of explosive growth. On the one hand, the 5G infrastructure construction just begun, and network coverage was limited; on the other hand, there was a lack of killer application. It takes time to perfect the systematic solutions.


However, such steady growth is actually more favorable to the development of the entire industry and can bring long-term benefits. When introducing the R&D direction of AsiaInfo, Ouyang Ye particularly emphasized "integration", that is, the integration of BSS and OSS fields, and the integration of 5G and AI in the entire ecology and applications.


In addition, he also paid special attention to the "cloud-network integration" of 5G. Last year, AT & T and Verizon, two major US operators, partnered with Azure and AWS respectively to launch 5G edge computing services. For example, AWS Wavelength embeds cloud computing and cloud storage services at the edge of the operator's 5G network to support low time-lag enterprise applications.

Digital operation: Data-driven SaaS


AsiaInfo calls the digital operation business DSaaS, which is data-driven SaaS. There are also two keywords: SaaS and data-driven.


First of all, the business form is SaaS-based products that are delivered to customers as a service, including revenue models such as service subscription, fee-for-result, and share revenue.


Secondly, the business is based on data technology, which helps customers improve marketing effectiveness through data mining to directly contribute to business operations of customers.


Li Yunchuan, Vice President of AsiaInfo, who is in charge of the business, said that the DSaaS business of AsiaInfo has four product lines, including "Smart Connection" for the connection of ubiquitous Internet of Things, the social operation tool "Smart Info" based on WeChat and other platforms, the marketing tool "Smart Operations" focusing on business growth, and scenario-based operation tool "Smart Sharing" relying on operators' big data.


It can be seen from the above product description that the DSaaS of AsiaInfo is not targeted at specific industries, but emphasizes the combination of ubiquitous capabilities and scenario-based applications. This is also the development direction of the new generation of ISV in the future. It requires stronger abstraction capabilities to abstract common features from complex application scenarios to achieve standardization. At the same time, it requires stronger brand communication capabilities to allow more customers to perceive enterprises, especially SMEs.


In the specific process of customer expansion, it definitely needs a certain industry focus. Li Yunchuan said that currently AsiaInfo mainly targets the industries of government affairs, finance, energy, automobile, retail, etc., and hopes to serve more SME customers in the future.


According to the financial results, AsiaInfo's digital operation business revenue in 2019 reached 152 million yuan, with a year-on-year increase of 84%. In the overall revenue of AsiaInfo, although the proportion of this business is not high, it is very rare for a service-oriented SaaS business to achieve hundreds of millions of revenue in a short time. It is a striking start and has plenty of room for growth.

Enterprise cloud: Serve users in vertical industries


This business also has two keywords: industry applications and cloud MSP.


In the past, AsiaInfo focused on serving customers in the telecommunications industry represented by the three major operators. This time, it expands its business scope to other vertical industry markets.


Different from SI/ISV in other industries, AsiaInfo devotes more to industrial application areas related to new technologies, such as the Internet of Things, AI, big data, etc., and the cloud has become an important infrastructure for these emerging applications. Therefore, cloud MSP business is included in this business area.


Li Hui, Vice President of AsiaInfo, said that the current Chinese companies are no longer limited to informationization, but are transforming and upgrading toward digitalization and intelligence. In this process, 5G + ABCDT (AI, Blockchain, Cloud Computing, Big Data, Internet of Things) technologies have become a driving force. By seizing this breakthrough point, AsiaInfo entered the industry application market.


Li Hui said that the service capabilities, integration capabilities, operational capabilities and product capabilities accumulated by AsiaInfo in the past have played an important role in the industry software market. Certainly, with the entry of new industries, AsiaInfo also needs more industry experts with deep understanding of various industries.


Just under such background, the energy industry team led by AsiaInfo's Vice President Chen Haixia joined at the end of last year. Chen Haixia said that AsiaInfo provides three major types of services for energy customers: the first one is the integrated software and hardware solutions related to wireless private networks and the Internet of Things, the second one is products and services related to big data and cloud services, and the last one is AI-related services such as intelligent operations and maintenance.


In the process of helping industry customers to have cloud services, AsiaInfo is also improving its cloud capabilities, developing its own cloud management platform and cloud toolset, and then establishing strategic partnerships with major cloud service providers to become a cloud MSP (Management Service Provider).


Cao Weiqi, Vice President of AsiaInfo, said that as a cloud MSP, AsiaInfo provides users with a series of services such as cloud consulting, cloud planning, cloud migration, and cloud operation and maintenance to help them migrate from traditional architectures to cloud platforms. In 2019, AsiaInfo has become the MSP core partner of Alibaba Cloud and the partner of CSSP cloud service solution of Huawei Cloud. It will cooperate with more major cloud service providers in the future to provide customers with hybrid cloud and multi-cloud management services.


After introducing three new business directions of AsiaInfo, we can easily summarize its transformation and upgrade path: from the telecommunications industry to more vertical industries, from traditional IT to new technology areas represented by cloud, big data, and AI, and from software development to SaaS service operations.


According to the plan of Gao Nianshu, CEO of AsiaInfo, it will strive for generating operating income over 10 billion yuan in the next five years. By then, the revenue of new businesses of AsiaInfo is expected to account for half of its revenue, and its transformation results will also be tested through practice.