On February 26, the Ministry of Industry and Information Technology (MIIT) announced the list of pilot demonstration projects for the development of big data industry in 2020. AsiaInfo's"Data Middle-ground Application Demonstration Project for Ultra Large-scale Data Clusters"was listed as the"Pilot Applications of Key Technologies of Big Data". The list was released to the public after strict application and review in accordance with MIIT's requirements on pilot demonstration projects for the development of big data industry in 2020.

Based onAISWare BigData, the company's big data product suite with independent intellectual property rights, AsiaInfo has developed a large-scale data cluster middle-ground solution that is adaptable and close to application scenarios, which is successfully selected into the "Pilot Applications of Key Technologies of Big Data" of this list.

Inthe solution, a unified big data middle-groundis established through full-stack capability innovation, which aggregates total enterprise data in the manners of unified standards, unified management and control, and unified opening,achieving centralized management, resource sharing, and on-demand distribution of big data at"enterprise-level" andsolving the problems of scattered data, different standards, and lack of security management and control. By consolidating the application of the global and the entire network of data, it also strengthens the outward output of big data product capabilitiesand promotes big data cooperation and value realization while providing rich big data applications to meetthe internal business needs of enterprises/institutions, which helps build a unified, open and sustainable digital ecosystem
The AsiaInfo AISWare BigDataproduct series adopt cloud-native technology to transform functions such as data collection, data integration, data governance, data security, data development, data opening, and data operation into "microservices", forming open tool products which are programmable, pluggable and can be integrated. These products not only cover the advanced technologies required in each stage of big data analysis, but also take into account the needs of organization, process, ecology and collaboration, thus allowing each enterprise/institution to base on its needs to create the PaaS capabilities of big data middle-ground that meet its needs in combination with the data middle-ground tool services and other related cloud services provided by AISWare BigData.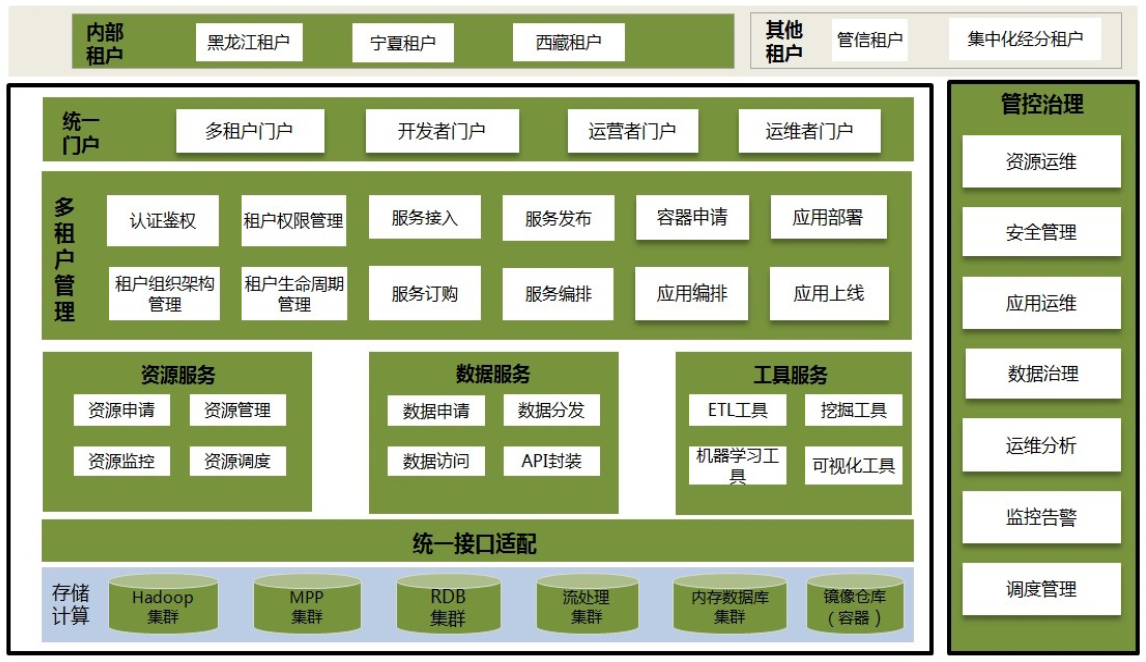 At present, the big data middle-ground has been usedin China Mobile, covering the entire information network of more than 900 million users, through which remote scheduling and management of multi-data center can be realized in more than 20,000 large-scale clusters in Harbin, Hohhot and Northern Information Port. At the same time, the platform also has world-class big data storage and computing resources, rich database resources, massive container resources, and complete big data development and management tools. The middle-ground possesses the capability of 5G network expansion so as to use 5G network features for real-time data analysis and the full opening of service capabilities in the 5G era. In May 2019, at the TMF European Summit held in Nice, France, the big data middle-ground project based on this technology solution stood out from 162 innovations and won the "Best Asset Use of TMF"
This selection aims to further implement the Notification of State Council on Printing and Distributing the Executive Summary Concerning Promoting the Development of Big Data and the MIIT's Development Plan for the Big Data Industry (2016~2020), promote the implementation of the national big data strategy, and practically boost the big data technologies and thedevelopment of industrial innovation. Focusing on the four major categories of fusion applications of industrial big data, innovation applications of big data for people's livelihood, pilot applications of key technologies of big data, and enhancement of big data management capabilities, the selected pilot demonstration projects are intended to summarize and spread the replicable experience and practice in various fields through pilot and demonstration to promote the healthy and orderly development of the big data industry.