At the beginning of 2020, China was hit by the pandemic of the novel coronavirus pneumonia, or COVID-19.


The pneumonia pandemic has posed heavy pressure on Beijing. This mega-city, also China's political, cultural and international exchange center with large mobile population, is now facing a challenge to stop the further spread of the virus.
AsiaInfo, one of the high-tech enterprises based in Beijing, takes up its responsibilities and contributes to the fight against the novel coronavirus. The company has made enormous efforts to support the safe, stable and efficient operation of the IT systems of major telecom operators, so that effective communication can be guaranteed during the pandemic. As telecom operators began to offer emergency services in response to the government's work against the pandemic, AsiaInfo set up a temporary working group led by Gao Nianshu, the CEO of the company. Experts from different regions were soon gathered to support the local telecom operators in building a big data service system. The well-established system using agile processes is of great use to containing the pandemic.

On January 21, China Mobile's Beijing Branch needed to gather a group of big data technical experts to build an emergency response team to support the pandemic prevention and control work across Beijing. AsiaInfo, as one of its partners, reacted quickly and mobilized all its resources to join the team. Dozens of algorithm engineers and modelers from Beijing, Tianjin, Chongqing, Northeast China and many other places grouped together to make their contribution. Relying on its strength in real-time massive data processing technology, big data mining, data masking and algorithm, AsiaInfo has built a user identification model in just 10 hours. This model, aiming to find out the flow of mobile population and potential risks, takes into account typical scenarios of COVID-19 infections caused by imported cases, contagious diffusion and peak passenger flow returning to Beijing, as well as COVID-19 control within communities. It can provide precise data analysis of information sensing and risk prediction, which plays a key role in the battle against the spread of the virus.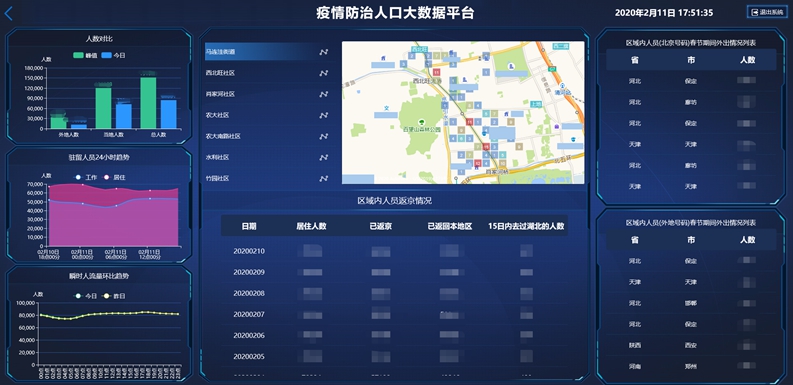 Led by China Mobile's Beijing branch, AsiaInfo has established a big data platform used to analyze the population mobility during the COVID-19 pandemic. Supported by better functions of real-time human flow sensing and analysis, population movement and trend analysis, the platform integrates the movement of people with different scenes. This allows different areas in Beijing to have easy access to information on the status quo of the pandemic and the population mobility within a given jurisdiction. Meanwhile, AsiaInfo also assists telecom operators in setting up an interactive platform for COVID-19 pandemic information and notification in communities. The platform applies powerful big data and grid management tools, as well as AI technology, to provide services like contactless face authentication and indoor human flow analysis in similar communities, industrial parks and office buildings.

As of February 10, AsiaInfo has submitted more than 140 analysis reports on the COVID-19 pandemic to Beijing municipal government, 16 district governments and some subdistrict offices. In this process, the company has supported China Mobile's Beijing branch in helping decision makers at all levels win the battle against the pneumonia pandemic.

In the next two weeks, Beijing will face greater pressure on pandemic prevention and control as large numbers of migrant workers return to the city. AsiaInfo will continue to try its best to serve major telecom operators and the local government. A data-based analysis of the resumption of production in office buildings and industrial parks will be conducted. Necessary technological means will be also applied to business areas, schools and hospitals to collect real-time pandemic data and development trends. All these efforts can contribute to the production recovery when the pandemic is over.

"We need to strike a good balance between the needs of disease control and production. By building an all-round data system to help the government to improve administrative efficiency and ensure scientific decision-making, we hope to help the authorities tackle the novel coronavirus pandemic in a more targeted and efficient manner." said the relevant responsible person of AsiaInfo.

As part of the pandemic control efforts, AsiaInfo has made full use of its big data platform and AI product system. It quickly built a data-based platform that could identify the movements of population in different regions. Real-time data analysis and prediction could help local telecom operators know exactly how people move around. Then with the data given by operators, the authorities were able to respond more effectively to risks resulting from imported cases, secondary infection cases or clustering pandemics of COVID-19. With digital platforms, analysis reports and real-time modeling, AsiaInfo has made every effort to facilitate the Beijing government's anti-pandemic work.
The custom-developed platform is responsive to the government's needs and has the following six advantages:

1、Provide extensive coverage and serve the needs of the majority by integrating the data resources of major telecom operators;

2、Use advanced network technology to provide real-time, safe and reliable data for the sake of effective prevention and control against the pandemic;

3、Safeguard users' data security, and protect their rights and interests through encryption and data masking;


4、Display real-time pandemic information around the clock to identify risks timely, ensure scientific decision-making, and facilitate the implementation of virus-control measures;
5、Serve administrative regions at all levels with multi-level grid management system. Both macro-management services and micro ones are offered to meet the needs of local communities when fighting against the virus pandemic at the front line. A 100m×100m grid management system on the platform can help the front-line staff speed up the thorough search of infections and enhance the risk prevention;

6、Identify the developments of the COVID-19 pandemic by providing multi-dimensional insights into its tendency and potential risks it brings to the city. The data of the flowing trend and size of the mobile population in Beijing can also help relevant departments find out those at higher risk of infection.

It is learned that AsiaInfo has cooperated with telecom operators on some major national events to provide analysis reports on demographic data. With AsiaInfo's established and reliable technologies and platforms, the data will be of great help for decision makers to battle the pandemic.