On December 25, the "2019 Hunan Information Technology Application Joint Innovation Base Establishment and 'PK Ecology' Product Launch Conference" was held at the National Supercomputing Center in Changsha. The conference aims to fully demonstrate the latest innovations of the "PK system" (an operating system with completely independent intellectual property rights developed by the Institute of CETC, and "PK ecology" is an industrial ecology extended by PK system) and to integrate with production, learning, research and application, in order to give play to the technology and spirit of "Tianhe and Galaxy supercomputers" and create a new situation in the innovative application of information technology in Hunan.


Subsidiary of AsiaInfo - Hunan AsiaInfo Software Co., Ltd. (hereinafter referred to as Hunan AsiaInfo) was invited to attend the conference as a founding member unit of the Autonomous & Controllable and Information Security Industry Chain in Hunan Province. Yang Yingnan, General Manager of Hunan AsiaInfo, made a comprehensive introduction to AISWare AntDB database products from the perspective of research and development, product design innovation and performance, and practical application cases.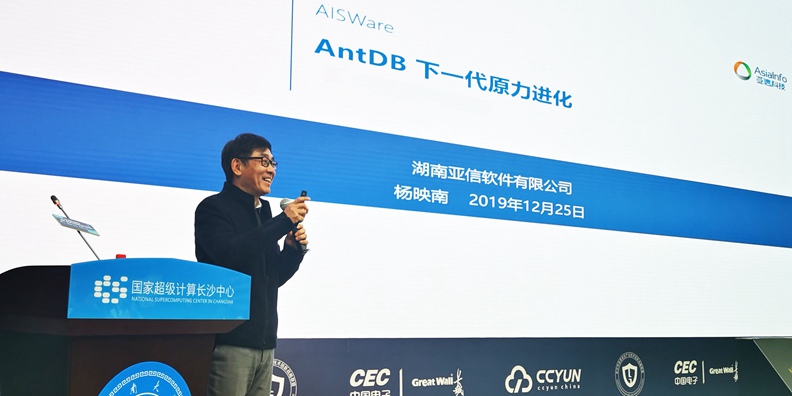 AntDB database products come out again
Independent innovation is integrated into the system of "PK ecosystem"
At present, AISWare AntDB distributed database products have been adapted to the "PK" platform of Great Wall, and have been widely applied in many companies in the industries including telecommunications, broadcasting and postal service, as well as in the internal systems of AsiaInfo, covering more than ten provinces nationwide. There are dozens of practical cases with remarkable application effect, which has been widely recognized by customers.


The product is independently developed based on advanced open source PostgreSQL, having the characteristics of scalability, multi-tenancy, high reliability, high performance, low cost, easy operation and maintenance, and transparency to business. It is an excellent "finance level" large-scale parallel processing distributed relational database product, since it provides PB-level data processing capabilities by using the MPP architecture and integrating transaction processing and online analysis operations. Equipped with "enterprise-level" performance features such as online second-level capacity expansion, finance-level data security, parallel execution engine, bionic self-healing design of database, and multi-modal SQL analysis engine, it well supports the billion-level user market applications.

Mode of "profound R&D, rapid service"

Comprehensive guarantee for rapid application and stable operation of products
In addition, as a standardized database product, AISWare AntDB, through following the mode of "profound R&D, rapid service" and relying on AsiaInfo's localized service teams across the country at the same time, is able to provide customers with 7*24h efficient customized services of higher quality and faster speed. Customers also enjoy product certification training services to ensure seamless connection from product launch to application.


AISWare AntDB product has maintained zero-failure operation since its launch. Having passed the distributed transaction database standard test of the China Academy of Information and Communication Technology and won the Annual Best Product of the China PG Association, AISWare AntDB product is an independent innovative database product that meets national industry standards and meets the demands of high performance and high security.


Application cases:
(1) By using AntDB distributed SQL optimizer and parallel execution engine, an operator's big data aggregation self-service analysis platform in a certain province realized the optimization strategy of internode parallelism for the group by operation of associating more than 10 tables with more than 70 fields, as well as the process parallelism inside the nodes. With the performance increased up to hundreds of times, the customer's business need for analyzing massive data in seconds has been met.

(2) An operator of a certain province carries 80T storage capacity of all historical data of CRM from 2003 to the recent 15 years, and provides instant query service for 113 business channels through the historical database query platform, with an average response time of 60 milliseconds, saving millions of costs. Since the launch of the product, it has been operating steadily for 2 years without any faults.