On December 18, AsiaInfo (Stock code: 01675.HK) signed a strategic cooperation agreement with Hebei Broadcast & TV Media Co., Ltd. (hereinafter referred to as HBTM) and iFLYTEK in Shijiazhuang city. Supported by the information interaction and sharing of artificial intelligence, the Internet of Things, big data and new media, the three parties will connect the upper stream and downstream of the industrial chain for a robust industrial ecology, and set an industry benchmark of hypermedia in the age of 5G communication.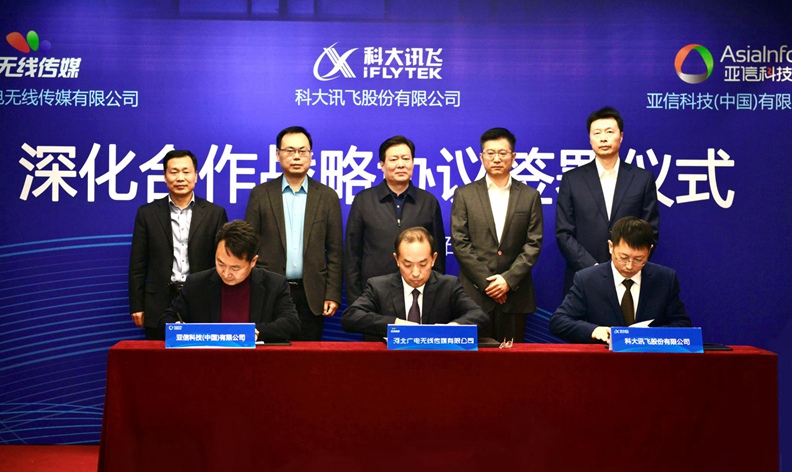 At the signing ceremony, attendees include Mr. Wu Hongru (Deputy Director of the Publicity Department of the Hebei Provincial Party Committee, Director of Hebei Radio and TV Station, and Chairman of HBTM), Mr. Ji Jianying (General Manager of HBTM), Mr. Xiao Jun (deputy director of Hebei Radio and TV Station), Mr. Li Yunchuan (vice president of AsiaInfo) and Mr. Liu Songlin (vice president of iFLYTEK). The agreement was signed by three representatives from the three parties, namely, Mr. Jiao Lei (Chairman of HBTM), Mr. Wang Qinglin (Vice General Manager of AsiaInfo Operations Division), and Mr. Sun Guangcheng (General Manager of the Marketing Department of iFLYTEK).
Advance toward Industry Restructuring and Jointly,Create a New Paradigm for Smart Hypermedia


HBTM is a new media flagship enterprise affiliated to Hebei Radio and TV Station (Group). As a mainstream new media platform, it has more than 16 million IPTV users, covering over 70% of households and population in Hebei Province. The strategic cooperation aims to leverage the resource superiority of each party, and based on that, to boost leading technology and media convergence through advance application development, product design and project incubation.
They officially inaugurated the establishment of a "Joint Innovation Lab for Smart Hypermedia" after signing the agreement. A joint working group was also formed to conduct a series of specific research, development and application in such fields as "AI + new media" integrated innovation, user positioning and operation, and data value exploration.


Abundant Industry Practice and Business Operations,Help HBTM Create New Audiovisual Flagship Media
As a leading software and relevant services provider, AsiaInfo relies on its capabilities of offering carrier-grade products, services, operations and integration so as to boost the digitalization among vertical industries. With a market share of over 50% in the radio and television sector, AsiaInfo does business in more than 30 provinces or cities. It provides "enterprise-level" full-service operation support and services for the upstream and downstream entities of the industrial chain.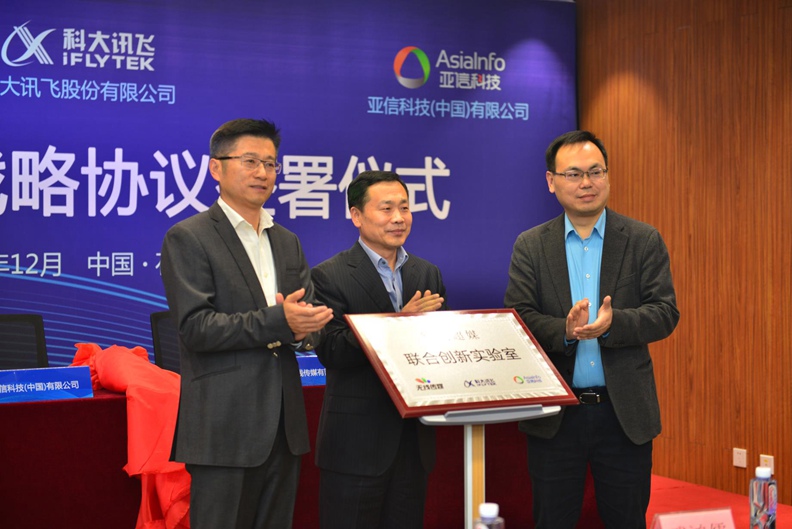 Over a decade of experience in this sector keeps expand the product system of AsiaInfo and also examines the theory and method of its business operation. In response to broadcasting and television sector's need for digital transformation, AsiaInfo constantly provide systematic products and solutions. Also, its collaborative digital operations can help relevant players set up a powerful IT system that can respond to business quickly. This system will serve as a great helper of clients in reinforcing precision marketing, user stickiness and user experience.


AsiaInfo empowers digital TV, IPTV, OTT and other platforms and network operators with better digital production and operation support. It is exploring potential for "intelligent radio and television" services, as well as new modes of intelligent operation to support media convergence. These efforts are made to offer long-term, stable and reliable products or services to partners in the broadcasting and television industry.


Vice president of AsiaInfo, Mr. Li Yunchuan noted that in recent years, AsiaInfo has been committed to the strategy of "new clients, new business, new models + services, products, integration and operation". Relying on its carrier-grade products, services, operation and integration, it always provides clients with innovative user-experience-driven digital operation services, pursues shared growth with clients and creates new value. The signing of this strategic agreement is another good example for AsiaInfo to fulfil its commitment. Its further cooperation with other industry partners can complement each other's advantages and contribute to the digital transformation and upgrading of the broadcast and television industry.