Recently, with China Mobile Communications Group Zhejiang Co., Ltd. (hereinafter referred to as "Zhejiang Mobile") made a breakthrough in the exploration of 5G SA new billing capacity, making Zhejiang Mobile take the lead in providing 5G SA billing capacity.
As a pilot province for 5G development of China Mobile, Zhejiang has not only witnessed the early construction of 5G network, but also the construction of industry-leading 5G IT supporting system for connecting network and market. The overall construction is guided by the business strategy of "no card change, no number change, no package change, just change to 5G mobile phone" and based on the Group specifications and 3GPP R15 specification, so as to explore the construction of 5G NSA/SA dual mode and convergent billing capacity. From the technical theory to the business practice, the leapfrog development and the connection between the B domain and the O domain have been realized, which helps promote the 5G commercial process in China to move forward steadily.
High Quality IT Systems and Business Supporting Capabilities Guarantee the Generation of the First Batch of 5G Experience Friendly Customers in China
In April, Zhejiang Mobile completed the 4G core network upgrade, taking the lead in having the network capability to support users' 5G Internet access (NSA mode). Under the NSA mode, ordinary users who originally used USIM cards can adopt the "no card change, no number change, no package change, just change to 5G mobile phone" mode. They can become 5G users by simply inserting the USIM card into a 5G mobile phone, which brings great convenience for ordinary users to experience 5G services.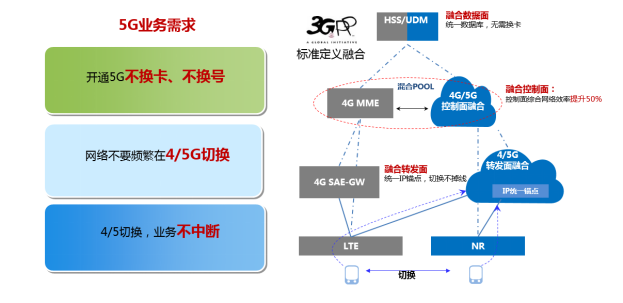 In order to ensure the "5G friendly customer recruiting activities" to be launched smoothly, Zhejiang Mobile has integrated high-quality resources in the shortest time and worked with AsiaInfo and other supporting companies to quickly draw up the construction plan, so as to accelerate the development, testing and joint debugging docking, and ensure the successful recruitment of the first batch of 5G experience friendly customers in China. The IT support system has successfully completed the first batch of 5G billing.
"End-to-end" Business Supporting Capacity Helps Build 5G SA Convergent Billing System
The 5G SA convergent billing capacity construction carried out by Zhejiang Mobile and AsiaInfo has strictly followed the 3GPP standard and the Test Specification of 5G Data Service Convergent Billing Interface of China Mobile. Based on the existing IT middle ground capacity of Zhejiang Mobile and combined with 5G business features, it has formed 5G end-to-end business supporting capacity and built 5G business acceptance, opening and convergent billing capacity under the SA network architecture.
At the level of business acceptance and opening, it first tried to get through the UDM interface of 5G independent networking element, carried out development and testing of 5G SA instructions, and completed a total of more than 1600 4/5G instructions for 122 types of businesses, such as account opening, account cancellation, phone-halting and phone-resuming, and card replacement, with a total of four rounds of joint debugging testing. Secondly, the unified acceptance mode is created to realize the unified experience of product packages, business acceptance and user perception under the two networking modes (NSA and SA). Finally, it built a unified 5G self-opening capability to support 5G self-provisioning in the two networking modes (NSA and SA); in this way, after users switch to 5G phones, 5G service can be realized in the background once the phones are connected to the network.
In terms of convergent billing, the active practice of SA service-oriented interface capability of the new 5G specification was carried out first, which realized the access, load balancing, routing and distribution capabilities of billing messages, and completed a total of more than 200 use case tests such as SMF network element interface and iterative joint debugging tests of 40 key functional cases. In the test process, some problems of unclear protocol were also found, such as inconsistent format of 4/5G interoperable message, message timestamp, service node address and UPF_ID of F10 interface protocol in 3GPP specification. In addition, the provincial standards and definitions have been implemented, which can provide valuable joint debugging test experience to the follow-up SA billing for the whole Group and the whole industry. Secondly, it has built 5G offline and online convergent billing capabilities, formed a unified 4/5G billing processing process for phone bills, and realized the unification of customer information, billing, fee deduction and reminding, etc. Finally, the core element models of products, charges and subjects with 5G characteristics were established to meet the needs of business marketing, and the 5G multi-dimensional charging methods were also explored.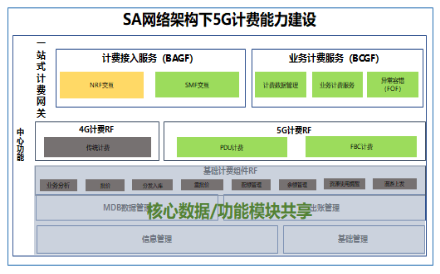 Meanwhile, all components of 5G SA convergent billing can be deployed in the resource pool, so as to support dynamic capacity expansion and reduction and make the best use of Zhejiang Mobile's existing IT basic cloud platform resources to maximize the utilization of resources. In this way, while ensuring the smooth operation of 4G system, 5G system can also achieve rapid iteration and rapid support.
IT Supporting System Continues to Empower 5G-driven Digital Economy Development
In the future, with the increase of 5G application scenarios and the innovation of business patterns, new dimensions such as time delay, rate, connections, slice, QoS and so on will appear constantly. The supporting side of network and business also needs to realize billing support of multiple modes and multiple dimensional combinations according to business differences.
AsiaInfo will continue to explore and improve 5G multi-dimensional and multi-mode billing capabilities, give play to the "carrier-grade" product, service, operation and integration capabilities, and help Zhejiang Mobile and more large corporate customers to continuously explore new business development patterns. It will keep deepening cooperation and innovation with vertical industries, support the co-construction of 5G ecosystem, create differentiated high-quality 5G service experience for enterprises and individual users, and promote the development of 5G industry and the construction of digital economy in China.
Currently, there are four main categories of announced 5G tariff schemes for operators around the world: the first one is unlimited bandwidth provided according to the rate; the second one is the traditional way of charging by traffic; the third one is to bundle 5G wireless router hardware for charging; the fourth one is a more mature "multi-dimensional billing" which is closer to realistic scenario. The multi-dimensional and multi-level billing method focuses on the deepening of 5G application in the future. Especially when it comes to the corporate users in the industry market, different ways of traffic, rate, time delay and service (such as standard definition, high-definition, high-definition video, etc.), vertical industry applications (industrial production, telemedicine, etc.) and the connection of different devices (sensors, mechanical arms, home appliance, automobile, etc.) will have different effects on the service and billing patterns. While creating more business opportunities and providing enterprises with more flexible package options, this will undoubtedly bring more challenges to the operating and supporting sides of the network and business.