Based on the voting of all representatives, AsiaInfo (stock code: 01675.HK) was elected as a vice chairman unit of AII and senior vice president Chen Wu became vice chairman of AII. The newly-elected vice chairman units also included China Aerospace Science & Industry Corporation, China Telecom, Haier, Huawei, Alibaba, Inspur, China Datang Corporation, etc.
Guided by the Ministry of Industry and Information Technology (MIIT), more than 100 enterprises from industry, information & communications and internet established the Alliance of Industrial Internet (AII) on February 1, 2016 to speed up the development of China's industrial internet and facilitate industry-university-research-application cooperation of industrial internet. AII gathers leading enterprises and scientific research institutes of industry, information & communications and security and builds industry-university-research-application cooperation platform. So far, it has a total of 1,015 members. AII has established "12+9+X" organizational structure, carried out top-level design, technical R&D, standard formulation, test bed and industrial practices and published several research findings.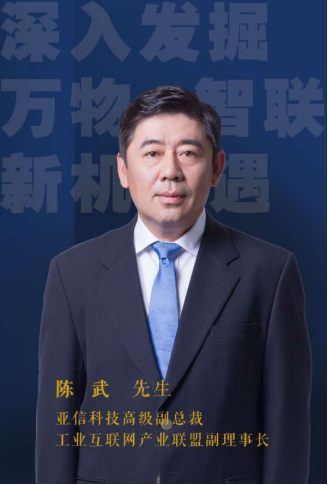 As many national policies are rolled out, industrial internet has become a key engine for boosting real economy. As a newly-elected vice chairman unit of AII, AsiaInfo provides support and services for the government's decision-making and enterprises' production to jointly advance the industry-university-research-application cooperation of AII. Founded in 1993, AsiaInfo is one of the first Chinese enterprises to introduce internet into China, and it has undertaken about 1,000 big internet projects of China's six backbone network programs, e.g. ChinaNet, CUNet, CMNet.
AsiaInfo is committed to enabling digital transformation of large enterprises. AsiaInfo has been engaged in telecom market since its inception, so it has accumulated rich experience and strong technological strengths. Bolstered by its capabilities in product, service, operation and integration, AsiaInfo provides business transformation and digital software products and relating services for telecom operators and other large enterprises. Meanwhile, AsiaInfo is actively embracing AI, IoT, big data and other emerging technologies, and it has established a complete AISWare product system covering CRM, billing, big data, IoT and smart network to facilitate digital transformation of enterprises in different sectors.
Currently, AsiaInfo has innovative practices in smart community, smart retail, IoV, IoT and public services, and it serves over 300 large enterprises in key fields of energy, radio & television, postal service, finance, insurance and automobile, of which more than 100 operate in industries of postal service, radio & television and energy. AsiaInfo has achieved remarkable success in industrial internet. Chen Wu, vice chairman of AII and senior vice president of AsiaInfo says, "AsiaInfo will continue to take advantage of its capabilities in product, service, operation and integration to develop new customer, new business and new model, accelerate digital transformation of large enterprises, boost economic growth and do its bit to build China into a strong manufacturing power and strong cyber power."