On March 21, the 27th China Content Broadcasting Network Exhibition (CCBN2019) themed by "Integration Leads the Vision, Intelligence Connects the Future" was held in Beijing. As the largest provider of software products and relating services in radio, television and telecom industry, AsiaInfo (stock code: 01675.HK) was invited to attend the exhibition. Meanwhile, AsiaInfo made a keynote speech entitled Build Enterprise-level Business Operation Capability, and Explore Radio & TV Business Model Transformation at the "Cable Digital TV Operator International Summit" and discussed new operation model and new industry opportunity with industry experts and partners on March 19.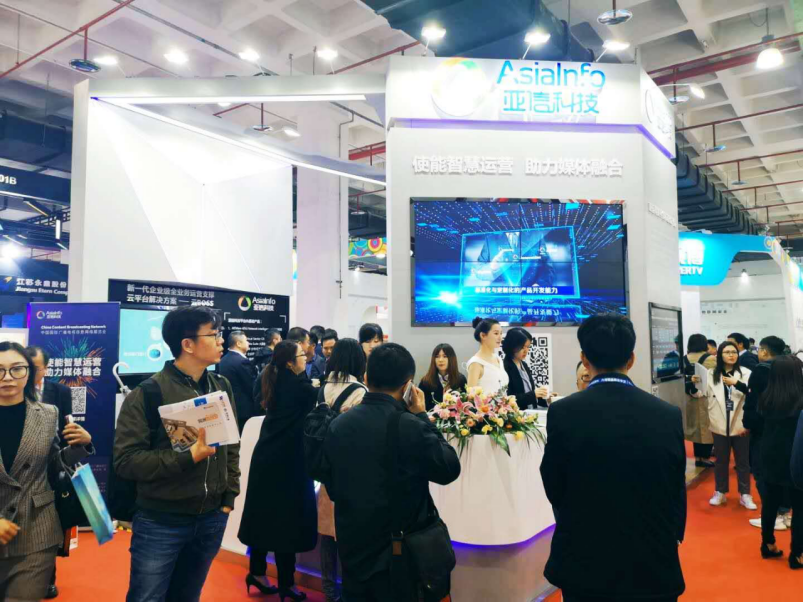 A shift in industrial ecosystem calls for "smart operation support"
According to current radio & TV industrial chain, industrial chain entities of content, platform, network and terminals have evolved into complicated co-opetition relationship from previous linear cooperation. They are using their own strengths to seek a shift to media integration, smart broadcasting control, smart operation and smart terminals, etc.
Entities of industrial chain are clearly aware that media communication environment has taken on a new feature of "de-centralized, self-organizing". "Capturing customers" is fundamental for successful transformation, and it has gradually become acknowledged that customer operation is a new driver for an enterprise's sustainable growth.
Cable digital TV operators and IPTV platform operators take a leading position in the competition of "connecting customers", as they possess vast digital TV and IPTV customer base. It is a new focus of business development regarding how to strengthen the connection between enterprises and customers and improve service capability. With rapid advancement in big data, IoT, AI, cloud computing and broadband technology, radio & TV industry is presenting a development trend of ecosystem-centered business and platform-based operation.
1. Ecosystem-centered business leads to business model changes
The development of ecosystem-centered business has brought about much thinking over how to shift business models: a shift from connecting location to connecting people; a shift from traditional business of digital TV to diversified business integration; a shift from self-owned channels to socialized contacts; a shift from partner platform management to "platform enablement". All these questions should be seriously treated.
2. Ecosystem-centered business contributes to tremendous changes in elements of commerce
The development of ecosystem-centered business comes with huge changes in elements of commerce in the operation system of radio & TV operators. It demonstrates new features of customer generalization, product diversification, channel socialization and strengthened cooperation ecosystem, which presents a new challenge for operation capability of operators.
Currently, radio & TV operators is facing problems of non-unified customer management system, poor product integration, limited service channel, lack of collaboration, 'closed-source' partnership system, simple marketing model, etc.
Therefore, a shift of "customer-centric" business model as well as operation system capabilities in customer integration, product integration, channel integration and partner integration is crucial for radio & TV operators to turn themselves into "integrated information service operators".
Enable smart operation, facilitate media integration
With more than 10 years of technological accumulation in radio & TV industry, AsiaInfo has rich customer service experience. It enjoys more than 50% market share in radio & TV sector and serves over 30 provinces.
To keep pace with development trend of radio & TV industry, AsiaInfo launched a series of products and solutions at the exhibition and forum, including AISWare AIF Enterprise PasS, AISWare Bigdata Suite, AISWare AI², AISWare Billing, AISWare Vertical Sector CRM, AISWare 4/5G Network Intelligence 4/5G, AISWare AntDB, DevOps AiDO, "New Generation of Enterprise Business Operation Support Cloud Platform-Cloud BOSS Solutions", integrated marketing solution, inbound business operation support solution, grid service solution, smart business hall solution, smart data sharing, smart community, smart city, smark park, IoT platform, media integration in districts and counties, which fully helps radio & TB operators to improve their business & operation capabilities.
In particular, "New Generation of Enterprise Business Operation Support Cloud Platform-Cloud BOSS" is a big highlight, as it adopts overall architecture design of "thick PaaS, thin applications", creates enterprise-level technology capability middleground (i-PaaS) and business capability middleground (A-PaaS, D-PaaS), improves elastic extension capability of corporate IT architecture, corporate application access and responsiveness to demands, introduces the concept of "service assets" and strengthens corporate service standardization, openness and reusability. It helps fully improve customers' capabilities in technology and business.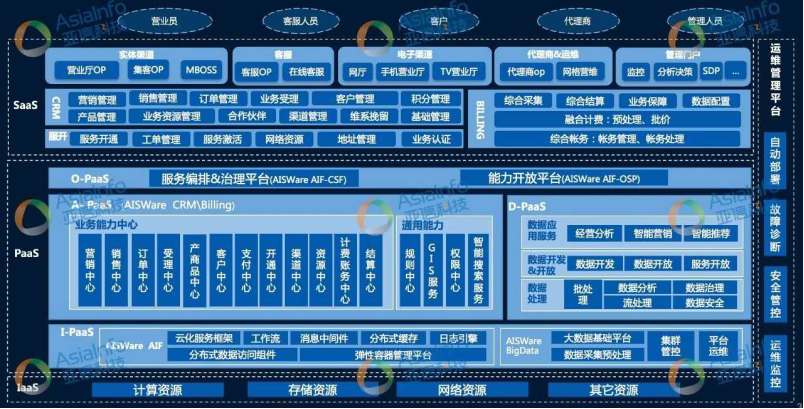 1. Technology capability
(1) Separation of application and service: open capability, service governance and orchestration, micro-service open architecture;
(2) Separation of service and data: distributed service access, support heterogeneous data source, vertical/horizontal segmentation;
(3) Elastic extension of deployment capability: container-based deployment, visualized monitoring, smart operations & maintenance.
2. Business capability
(1) Customer integration: weaken the relationship between locations and customers, unified management of digital TV customers, internet customers and future industrial application customers;
(2) Production integration: realize an integration of digital TV and OTT business, physical and non-physical integration, self-owned and cooperative business integration;
(3) Channel integration: unified system for orders and channels; an integration of self-owned channels and social channels;
(4) Smart marketing: build scenarized real-time marketing capability and data marketing capability
(5) Open capability: create ecosystem applications in a quick and standardized way.
AsiaInfo's "New Generation of Enterprise Business Operation Support Cloud Platform-Cloud BOSS" will allow enterprises to respond to customers in a flexible and efficient way and help turn them into "integrated information service operators". Currently, AsiaInfo has in-depth talks with customers in several provinces, and has won recognition among them.
AsiaInfo fully implements the strategy of "Three New Four Capabilities", maintains market orientation, explores development trend of the industry, uses its capabilities in product, service, operation and integration to provide digital production & operation support for platforms (digital TV, IPTV, OTTTV) and network operators, seeks new opportunities of "smart radio & TV" business and new model of smart operation, enables smart operation, assists in media integration and stays committed to becoming a long-term, stable and reliable partner for radio & TV operators.