At 9:00 am, December 19, 2018, AsiaInfo Technologies Limited (1675.HK) became listed on the main board of the HKEX. The founder and chairman of AsiaInfo Tian Suning, CEO Gao Nianshu and senior executives attended the listing ceremony. Chairman Tian Suning made a short speech. Till now, AsiaInfo, China's largest provider of telecom software products and services, will start a new journey to embrace brighter prospect.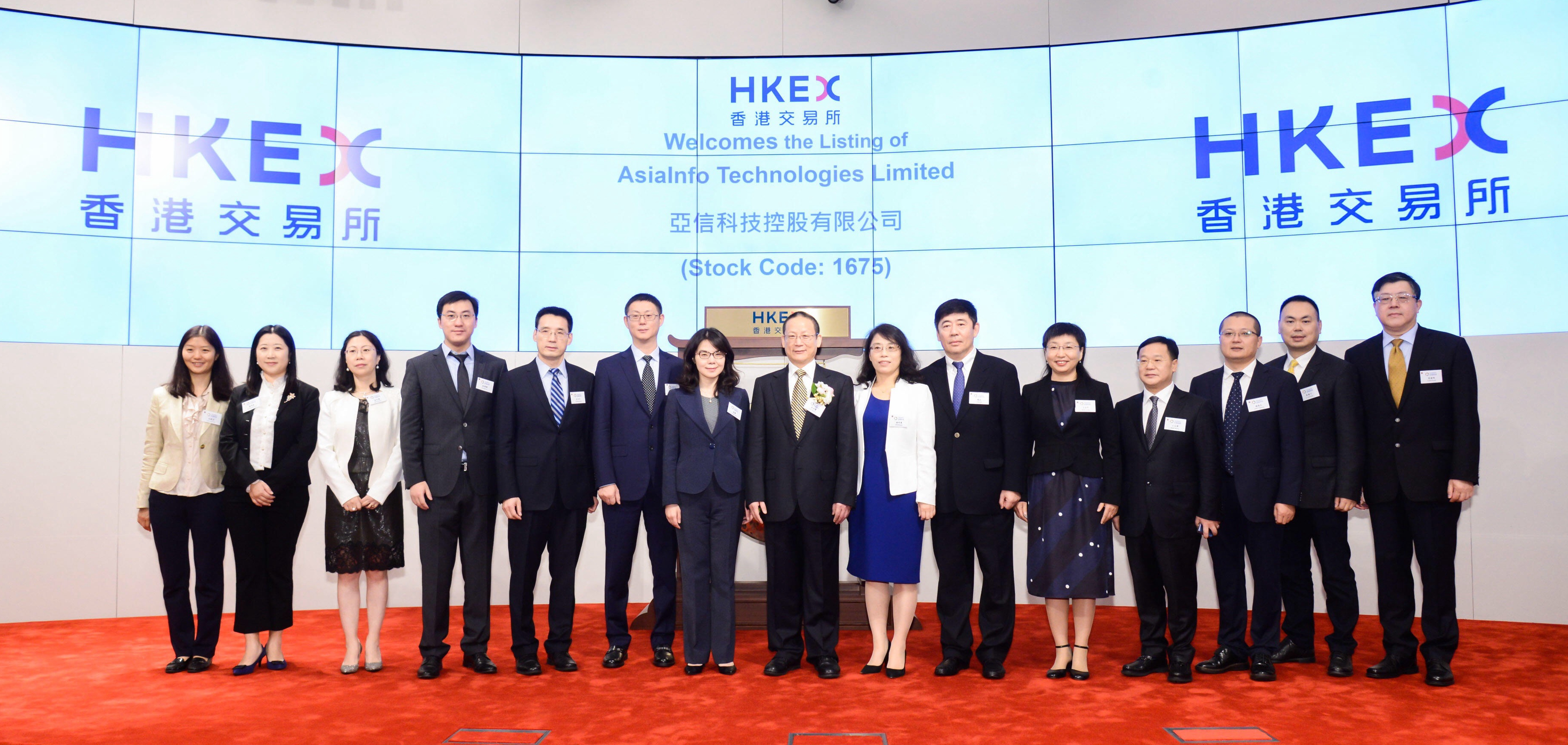 Sustained business performance makes AsiaInfo a preferred choice for investors

Founded in 1993, AsiaInfo is long-term partner of China Mobile, China Unicom and China Telecom. It was engaged in the design and construction of several significant information infrastructure projects. After more than 20 years of operation in operator market and telecom industry, AsiaInfo has built strong capabilities in technology, product, integration and operation. Currently, AsiaInfo owns more than 500 types of software product mix, including CRM, billing, big data, IoT and smart network products, allowing AsiaInfo to satisfy growing demands for key business operation of telecom operators and large companies.

Supported by its comprehensive and professional telecom products and services, AsiaInfo has established its leadership in the market of technologically advanced telecom software products and services. Based on the revenue in 2017, AsiaInfo enjoys 25.3% market share in telecom software industry and relating industries to lead the industry. Besides, it claims 50% BSS market share, and it retains more than 99% of its clients comprising telecom operators and large companies.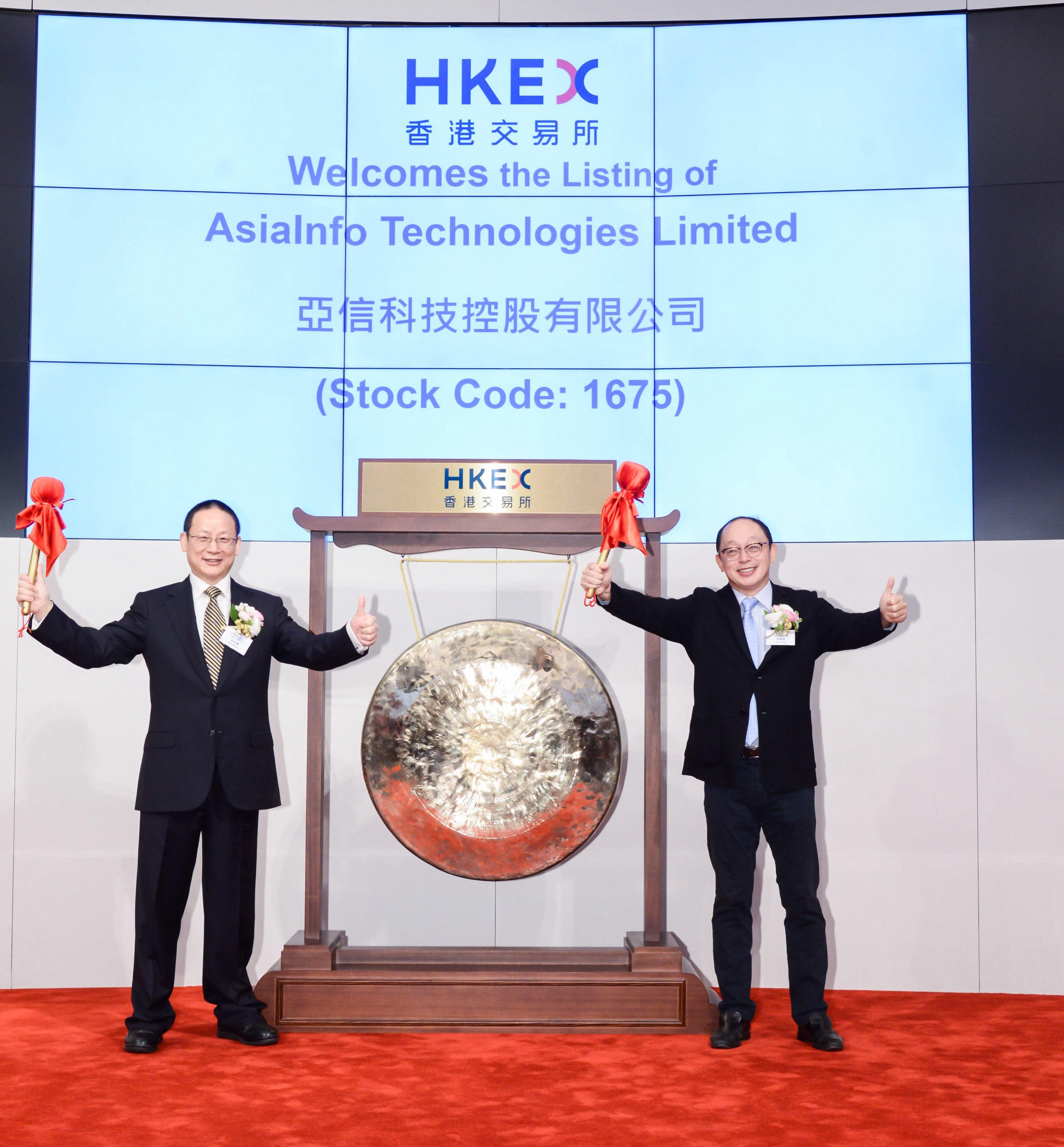 Sustained business performance makes AsiaInfo preferred by quite a few investors. Baidu Holdings Limited, Lenovo Manufacturing Limited, Shanghai Wondertek Software Co., Ltd. and Crotona Assets Limited (a wholly-owned subsidiary of Kingdee International Software Group Limited) are major investors of AsiaInfo, which injects strong confidence into the market and investors.

Smart connection era: AsiaInfo gears up for the "connection" revolution

Industrial internet, also smart connection, is not simply an upgrading of 3G and 4G, but a completely new network architecture. Tera-scale connection will be the most important technological revolution.
"The listing is not the ultimate purpose, but an important process of achieving future business operation goal. All management staff of AsiaInfo will work together to deliver better results for public shareholders and take more responsibilities. Today is not only a new beginning for AsiaInfo, but also a big day for AsiaInfo people", said the founder and chairman of AsiaInfo Tian Suning at the Global Offering. Indeed, capital market is not faring well at present, but a truly good company never shrinks from the "cold snap", as truly competitive species are usually nurtured in cold winter.

Currently,AsiaInfo has created automatic O&M management tool AISWare 5G to help operators better handle huge challenges of quick online operation and network stability facing telecom equipment cloud deployment and software defined network, which is meant to provide network O&M management and operation support featuring all-domain virtualization, all-domain intelligentization and all-domain perceptibility.Meanwhile, AsiaInfo has built smart sharing big data platform based on operators' data size, which can integrate seamlessly with enterprises in other industries, provide industry-wide data analysis and decision-making basis for digital transformation of enterprises and help them establish industry-wide connection. In addition, AsiaInfo has offered a series of product & service solutions for smart community and IoV.

AsiaInfo plans to spend 35% of the funds raised in this listing on boosting its R&D capability and expanding business coverage and market share of emerging industries like digital operation services, IoT and smart network; approximately 25% of the funds will be used for making strategic investment and acquisition, broadening business scope and exploring advanced applications in products and services.

The AI-driven smart connection has begun to occupy people's living and work space. In the future, AsiaInfo will further improve its capability in telecom software product and service solutions to help more enterprises to accelerate digital transformation. At the same time, AsiaInfo will step up R&D and innovations in IoV and AI to enable smart operation and help "transform clients into operators".