On November 5, 2018, Beijing, the telecom software industry leader AsiaInfo entered into strategic cooperation agreement with the world's largest Chinese search engine company Baidu. Both parties will start an all-round cooperation in AI, big data, cloud computing, IoT, 5G applications and talent training so as to jointly drive the development of industrial ecosystem and technological integration in new technology fields of China. Chairman of AsiaInfo Tian Suning and president of Baidu Zhang Ya-qin attended the signing ceremony, and CEO of AsiaInfo Gao Nianshu and vice president of Baidu Yin Shiming signed the agreement of strategic cooperation.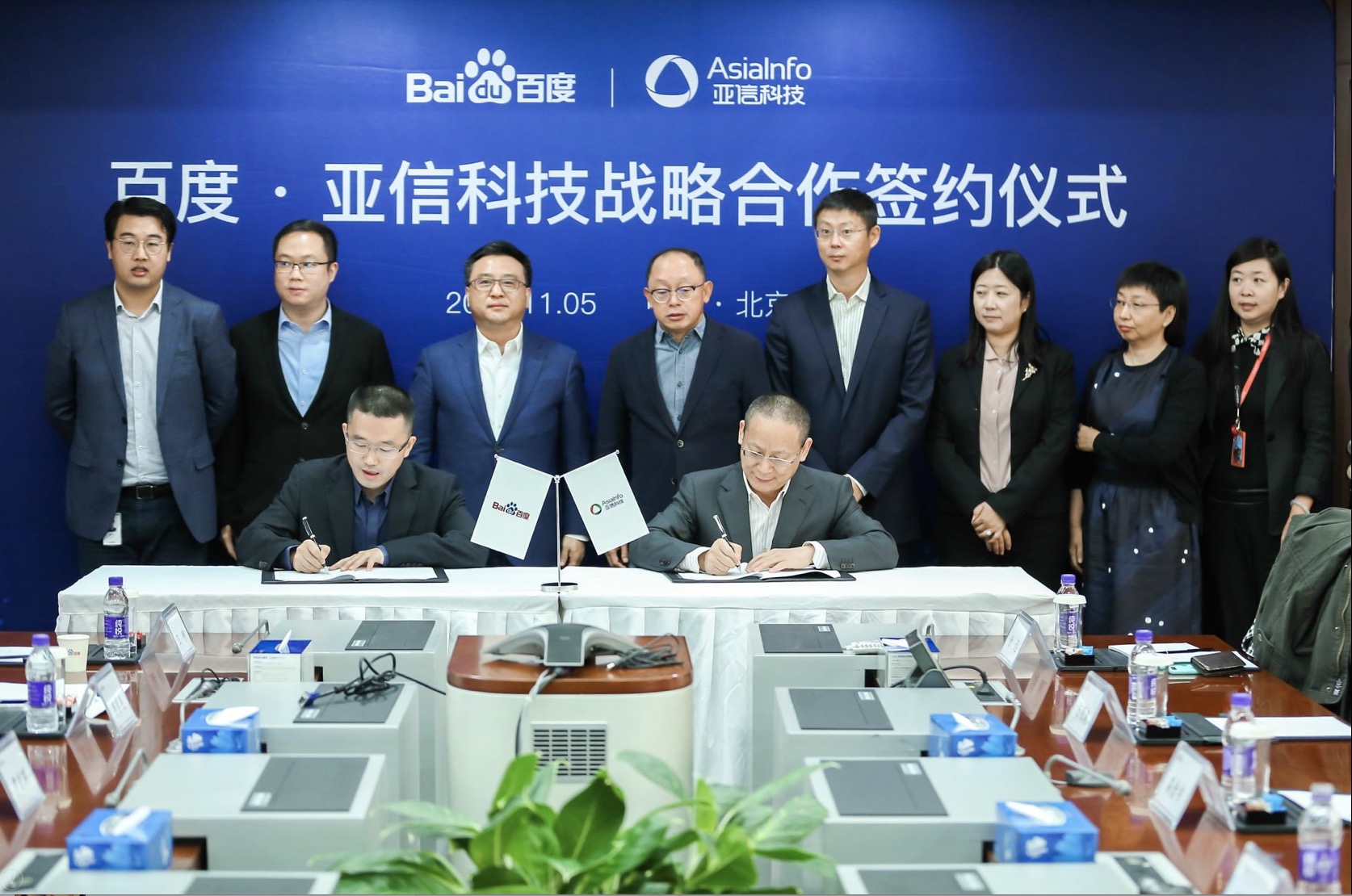 Senior officers of both parties shared information about their company, business and key technologies and expressed the wish for maintaining good cooperation, exploring development opportunities in new fields and exploring new customers together.
Founded in 1993, AsiaInfo has been dedicated to telecom industry, so it possesses great technological strength. Currently, AsiaInfo is focusing on AI, big data and IoT and expanding its business into fields of big data operation and intelligent services from operation support system. Meanwhile, it has made significant breakthroughs in finance, Internet of Vehicles, public services and 5G. In the future, AsiaInfo will provide intelligent services for operators, promote intelligent transformation of enterprises and build a new paradigm of industrial cooperation.

Chairman of AsiaInfo Tian Suning said, "people are moving towards intelligent society with various technologies, but the precondition of this is to realize intelligent operation. It would be impossible without the support of AI, big data, IoT and software products. The cooperation between AsiaInfo and Baidu will further exploreproduct technologies and solutions, and provide enterprises with more intelligent products and services in the future."
As a high tech firm, Baidu is built on technological innovation. It focuses on developing core internet technology and talent training and enjoys competitive edge in search, AI, cloud computing, big data and IoT. President of Baidu Zhang Ya-qin said, "The cooperation with AsiaInfo will not only help AsiaInfo innovate its enterprise services and achieve business growth, but also help Baidu quickly transform its new technology services and achieve market coverage."
Meanwhile, Baidu and AsiaInfo will scale up efforts in 5G technology R&D. They will form a joint research team dedicated to network slicing and edge computing research. They will work out end-to-end solutions for the public and enterprises and create an easier and smarter life.

The strategic cooperation means a great opportunity for both parties to engage in a new round of global technological revolution and industrial transformation. It is of great significance to advance new technologies and has considerable effect on deepening win-win cooperation and boosting new technology applications; meanwhile, it will also produce more high-end tech talents for the future development of AI.