On June 12, the 16th China International Software and Information Service Fair (the CISIS) opened in Dalian, Liaoning. AsiaInfo won the Most Influential Enterprise Award, and its machine learning platform was awarded the Most Competitive Product Award. Meanwhile, AsiaInfo was awarded the title of 2017 Independent and Reliable Corporate Core Software Brand at 2018 China Information Security Annual Conference.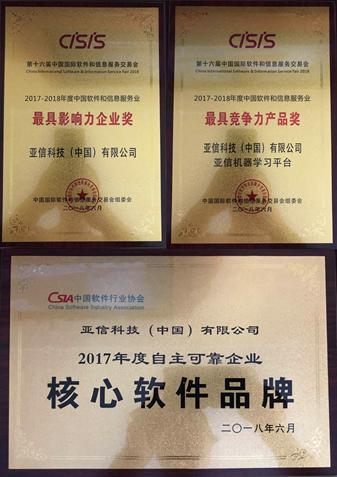 AsiaInfo is a market leader of China's telecom software products and services. As a service provider operating for more than 20 years, AsiaInfo combines its insight into telecommunications industry with AI, IoT and big data and has achieved remarkable success in fields of intelligent community, intelligent retail, Internet of Vehicles, public services and intelligent operations and maintenance by capitalizing on its service capability, product capability, integration capability and operational capability. The Most Influential Business Award fully demonstrates comprehensive strength of AsiaInfo.

The machine learning platform, awarded the Most Competitive Product Award, is built on the container technology and adopts international leading and mature open-source technology and architecture, so it features intelligent aided modeling, intelligent model optimization, model sharing and one-stop modeling experience. The integrated solution of "platform + application + service" helps enterprises to develop intelligent perception, analysis, learning and decision-making capabilities and reshape the pattern of digital industry. The big data expert Dr. Zhu Jun of AsiaInfo said, "in the upcoming era of 5G-based smart connection era, the machine learning platform of AsiaInfo will put intelligence into operators' underlying architecture to upper-level application, provide simple, interactive, constantly self-optimizing and user-friendly AI platform and help customers explore the value of big data and promote industrial transformation. "
At 2018 China Information Security Annual Conference held during the CISIS, AsiaInfo received the title of 2017 Independent and Reliable Corporate Core Software Brand awarded by the CISIS Organizing Committee and China Software Industry Association. Since its foundation, AsiaInfo has been upholding the tenet of "developing the country with technology" and pursuing continuous technological innovation. Presently, it owns a series of core products consisting of AISWare Big Data, AISWare Billing and AISWare CRM, which has supported digital transformation for several industries like telecom operators, finance and insurance.

In addition, several government officials visited the stand of AsiaInfo. The big data expert Dr. Zhu Jun of AsiaInfo was invited to make a keynote speech titled Demonstrate the Value of Communications Big Data, Start New Operation of Intelligent Connectivity, introducing to the participants AsiaInfo's big data exploration efforts.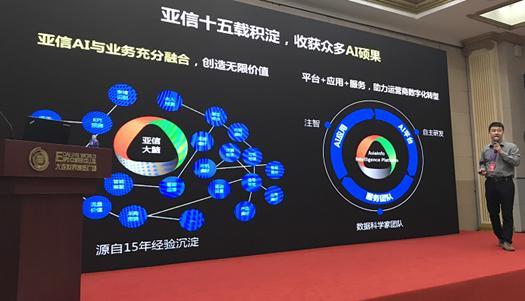 In the future, AsiaInfo will continue to implement customer-centric strategy, stick to independent innovation, develop new technology, new business and new model, help enterprises with digital transformation, promote China's further digitalization and make AI everywhere.